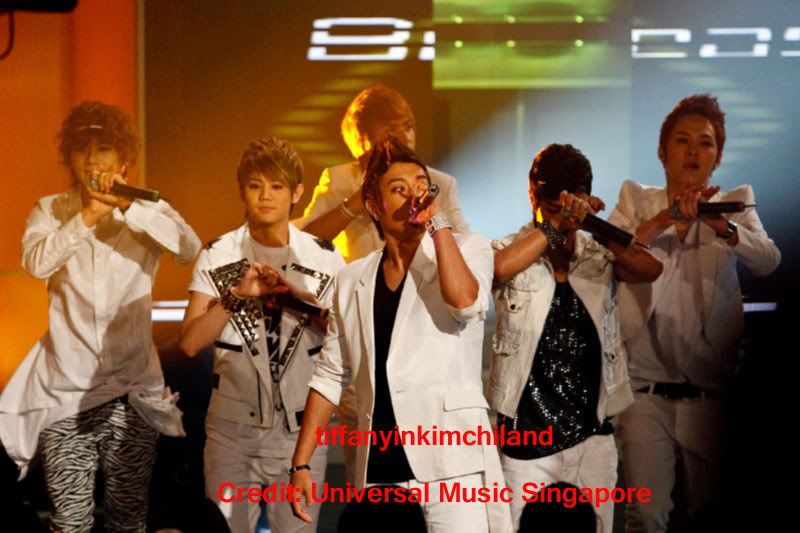 By now, most KPop fans would have known that Beast is heading to our sunny island again, less than 2 months after coming here for a
showcase in June
. Coming together with them will be sister group- 4Minute.
No, no, they are npt coming here for any showcase or fan meet. They are actually here as part of the celebrations for
Youth Olympic Games
, which will happen between 14th August to 26th August. The last leg of the torch relay was in
Seoul
yesterday.
As one of the sponsor, Samsung will host 4 concerts on the 13th, 14th, 20th and 22nd. These concerts will be held at the
The Promontory, Marina Boulevard
. There will be a main artiste for each of these concerts.
13th August- 4Minute, Beast
14th August-
The Click Five
20th August-
Nicholas Teo (Zhang Dong Liang)
22nd August-
Alarice
For a full line-up of the programme, click
here
.
And now, how to get those tickets?
Well, first of all, they are not for sale. So there are only 3 ways to get them (for the moment).
1) Buy a Samsung Galaxy S phone from SingTel. You will get 1 set of passes from Pack A (13th & 20th),or B (15th & 22th). These passes include a pair of
VIP passes
for 2 concerts, ie, total of 4 tickets.
or
buy a Samsung Wave & Monte phone from SingTel. You will get 1 pair of
Guest passes
for 1 concert,ie, total of 2 tickets.
2) Join the contest organised by Samsung. Basically, you have to upload a video on why you want to watch the concert and meet Beast or 4Minute. Yes, you read it correctly, the winners will not only get a pair of VVIP tickets but also meet the artistes backstage. 3 winners to be chosen in total. Contest starts from 4th August and ends on 9th August. For more details, please check out
Samsung's facebook
. The first entry was done well but I find it a little too long. Personally, I think 1-2 minutes is the max. But then, that's my opinion.
3) Err...not one that I encourage, but buy the tickets off those who do have them. Samsung FB has set up a seperate page for this
here
. Note that Samsung is not in charge of this. All transactions are between individuals.
Just how many tickets are there? Here's a breakdown:
1,000 VVIP (700 on Aug 13 only as lots of governmental officials would be there)
2,500 VIP
1,500 GUEST
All will be free seating within their individual sections. VVIP seats are reserved for corporate partners and SYOGOC guests. General public can stand outside the barricade to watch the concert...provided you can get a space.
Samsung has given out limited VVIP passes on their facebook contests in the past few days and it is stated that this video contest will be the last. But you never know, so I guess the safest would be to check out their
Facebook
or
Twitter
.
It would also seemed that Running into the Sun is involved in bringing Beast and 4Minute into Singapore. Check out their
Facebok
for more infor.
Good luck everyone in winning those exclusive tickets.
Many thanks to Samsung for the information and quick response to my queries.