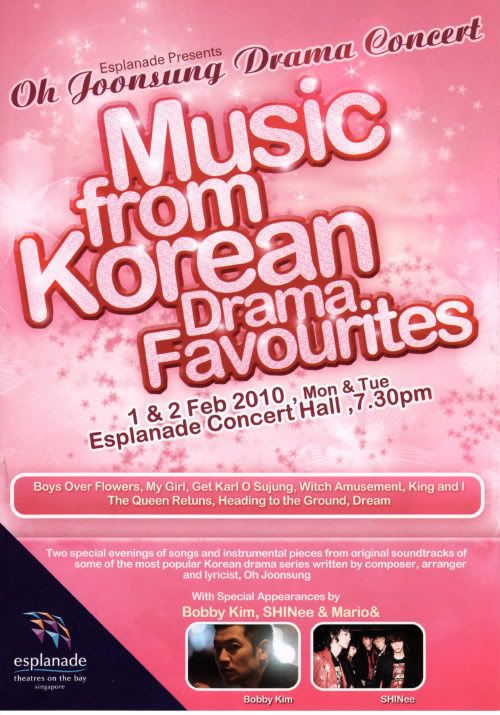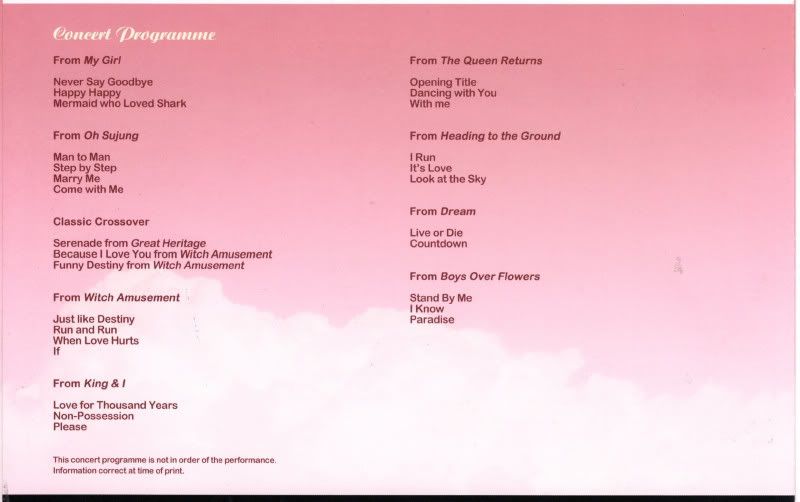 These are the songs that Oh Joon Sung will be playing on the 1st and 2nd February during the concert. Drama clips from the drama will be shown in the background whilst the music is being played.
And oh...Oh Joon Sung and Bobby Kim should be signing autographs after the concert. Err...no Shinee..they will not be signing. I think after seeing the mayhem at Shinee's autograph signing session at Lot 1 yesterday, it would be difficult to arrange one. Things should be controllable with just Oh Joon Sung and Bobby Kim.
Edit on the autograph signing session by Oh Joon Sung and Bobby Kim
You can bring any of the cds for them to sign. But of course, it has to be relevant lah. Or if you want to, you can purchase the cds there. The cds on sale are
1)Boys Over Flowers (Special edition costs $50. Not sure if there's a normal edition)
2)Heading to the Ground ($20)
3)Dream ($20)
4)The Queen Returns ($20)
Frankly, $20 for a cd is pretty reasonable. And except for the BOF, I don't think the other 3 osts are available for sale in Singapore.
But if after attending the concert, you want to listen to the songs again and don't want to buy..here's your chance. Stand to win a copy of the 4 cds below. They will be signed by Mr Oh Joon Sung (yes, the composer himself).
1) Boys Over Flower
2) Heading to the ground
3) Dream
4) The Queen Returns
Much thanks to the organiser, The Esplanade Co Ltd for the giveaways.
How to win? Just answer the following question:
Q) Which drama did both Shinee and Bobby Kim sing in?
Email your answer to kimchilandpromotion@gmail.com with the following details:
1) Your name (as in i/c or passport)
2) Your i/c number
3) Your contact number
Contest ends on 5th February, 2359.
See you all at the concert. ^^
Related posts:
The Music of Oh Joon Sung- Bobby Kim
The Music of Oh Joon Sung- Shinee
The Music of Oh Joon Sung