Weekends are always busy for me...even worse than weekdays, so apology for this late post. Although I've already updated the news on my twitter
Tiffanyonthemov
.
Quest is opening up the tickets sales Jun Ho's showcase for its members first. Confusing? Ok, let me see if I can explain this.
Quest is setting up a general fan club. They are expecting to bring in more K artistes, organise tours and plan other activities, so I guess there should be more exciting events in the coming months. Hence, they started a fan club. Now, when I say Fan Club, I guess it is no different from say...becoming a member of Kinokuniya or Poh Kim Video etc.
There are 3 packages- the most expensive being Package A @$250 which give you:
Seats in the platinum category (sounds so much like credit cards) to watch the showcase, photo and autograph session (with the 2 boys), one Zuno cd. I believe there are other privileges as well like discount in the stores etc. But seriously, at this moment, I think everyone is only interested in Junho's showcase. Of course, membership means got renewal fees lah. But I supposed you can always decide if you want to renew it later.
Membership is now opened. Refer to Quest page for your FAQ and infor
here
. Please read properly hor.
Oh...it seems the membership card and t-shirt designed by the twin brothers...and Jun Ho even wrote out letter for SG fans. I must say all these events getting more and more professional. FT Island had a personal message for SG fans for their showcase earlier.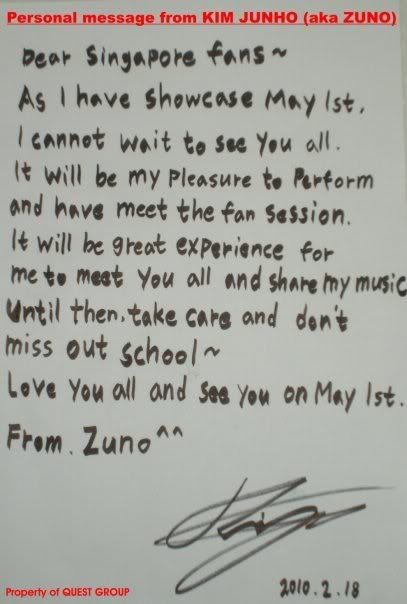 Also, you may want to check out Quest's tour to Korea if you are keen to go Korea anytime soon. Most of the venues are normal- like Coffe Prince cafe, Namsan Tower etc. The one spot that really stands out is the visit to M.NET and MBC for the variety shows. 2AM is confirmed for M.NET Countdown and SNSD is confirmed for MBC's 쇼 움악중심. I guess 2AM will be singing
Can't let you go even if I die
and SNSD will be singing
Oh!
.
More details
here
Too bad I can't go. I would have loved to visit M.Net. I went to KBS's Music Bank some years ago and had a great time. ^^