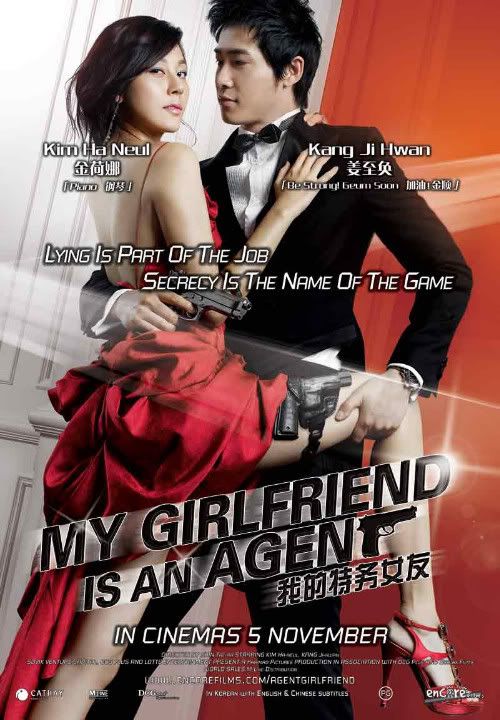 Cast: Kim Ha Neul (Ahn Soo Ji,안수지), Kang Ji Hwan (Lee Jae Joon,이재준)
thread on soompi
Official site- Encore
My Girlfriend is an Agent trailer- Singapore version
Kiss scene BTS
Behind the scene
According to Kang Ji Hwan during the press conference in Singapore,
'My Girlfriend is an Agent'
beat
'Terminator 3'
when it opened in Korea in April this year. It has since sold 4 million tickets. Not bad for a romantic-comedy movie.
Synopsis:
Kim ha Neul (Ahn Ji Su) is a veteran secret agent- cool, calm, well versed in martial arts and very observant. She's good at her job.
But it is a slightly different case when it comes to love. She loves her boyfriend, Kang Ji Hwan (Lee Jae Jun) dearly. But being a good secret agent comes at a cost- She works 24/7. Her boyfriend is sick of her lies and frequent absence due to her job as a 'tour guide'. He decided to leave her and Korea for good. He calls her one last time at the airport...hoping...
But she is unable to answer the phone or get to the airport in time because...she was busy working again.
3 years passed. She does not hear from him at all and is broken hearted. She starts dating this very nice man, who seemed to offer all that a woman could wish for in a marriage.
Then one day, whilst working undercover as a cleaning lady in a toilet (hmm....do men in Korea continue their nature call even if there's a woman cleaner around? For that matter, does it happen anywhere else?), she spot a familiar 'jet of spray' (I'm not sure if it was the 'hose' or the 'spray' she recognised. Hehe!). It was none other that Lee Jae Jun.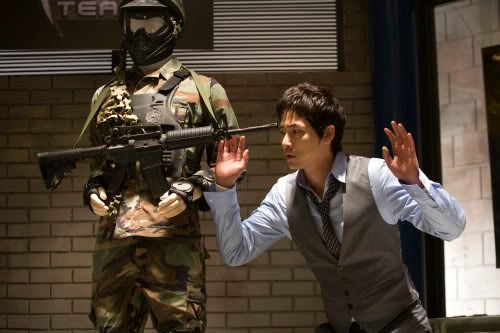 Lee Jae Jun had come back to Korea, officially as a certified accountant. But in actual fact, he had joined the secret service organisation too, but in the overseas department. So now, they are both working in the same organisation, just different departments. But of course, neither knew.
Along the way, they both end up working on the same case and in the process, each thought the other was the baddie.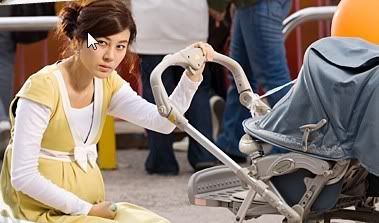 Will they save their love and their counry without killing each other?
Thoughts:
It is actually not easy to do a action romantic comedy movie as easy as it seems. Not only must it be funny enough, the couple must have enough spark between them.
Kim Ha Neul had proved that she was capable of being funny in the hit movie with Kwon Sang Woo,
'My Tutor Friend'
. I've always wondered why she never did more comedy roles in dramas. Until
'On Air'
, I'm afraid she's been a little typcast to do the 'sad, crying' roles. Indeed, one of the reason why she took on this role was because she has never done a action role before.
In the first 5 minutes alone, you see her doing a high speed boat chase in a wedding dress. Throughout the movie, she attempted many more stunts. Not bad for one who has never done any action movie before.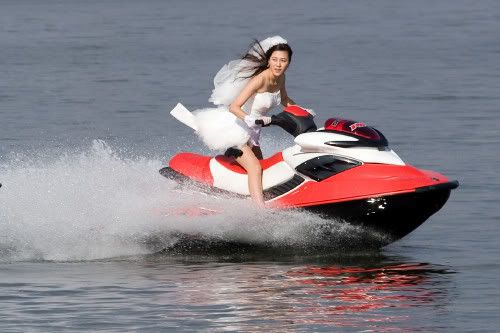 As for Kang Ji Hwan, I had already know he was a funny guy from the drama,
'Capital Scandal'
. And in this movie, he was in his element (I loved the way he flexes his fingers. hehe!) Playing a bumbling, newbie secret agent, he was 'blur as a sotong'. He certainly managed to deliver that comic look effects.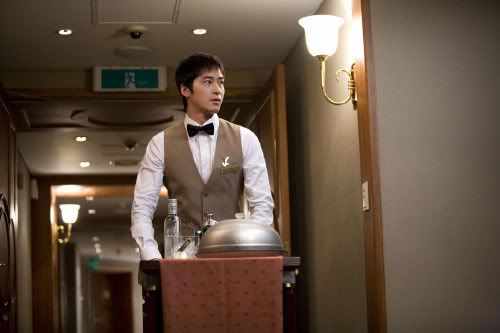 But it was his squabbling moments with Kim Ha Neul that was at it's best and funniest. The discussion about breast was hilarious. And the last fight/ dance scene was a nice touch. And I do like the final twist about the her boyfriend (the one she was going to get married to during Kang Ji Hwan's absence)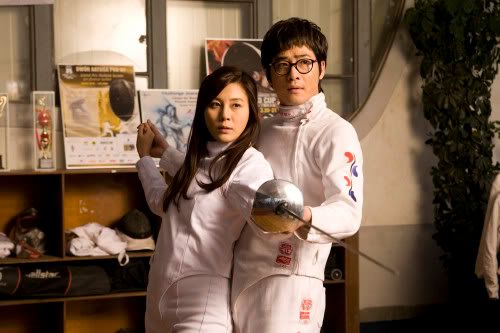 Whilst the is not laugh-a-minute nor as action packed as I thought it would be initially, the chemistry between Kim Ha Neul and Kang Ji Hwan was good enough to cover everything else. It was enjoyable and worth spending that precious 90 minutes or so to watch. No wonder there was some rumours about the 2 of them dating. hehe!
Kang Ji Hwan has since received the Best Actor award for this movie in the Daejong award and Kim Ha Neul has been nominated for the Best Actress in the upcoming Blue Dragon award.
Kang Ji Hwan's latest movie has already aired. Titled
'Love is Blind'
, his co-star is Lee Ji Ah. This is part of the 'Telecinema' series. You can watch the mv
here
And Kim Ha Neul? She is also involved in the same 'Telecinema' series, though her co-star is with Ji Jin Hee. Titled
Paradise
, it will be released later in December I think.
My Girlfriend is an Agent promotion:
The very nice people at Encore films have given me 5 sets of movie premiums to be given away. Consisting of the official movie poster and the spy set below.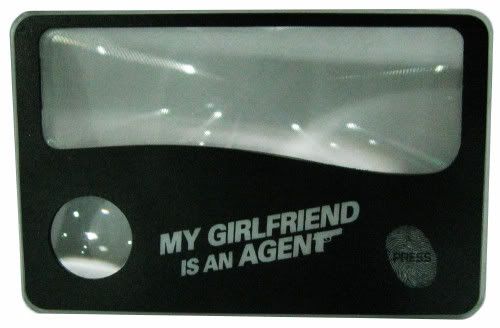 (p/s- Don't ask me how to use this. I haven't figure it out beyond the fact that it lights up)
Just answer the following question:
Where did Lee Jae Jun and Ahn Soo Ji furst meet again after 3 years?
Send you answer with the following details to: kimchilandpromotion@gmail.com
1) Your name
2) Your contact
3) Your email
4) Your address
T&C:
1) This promotion is open only to residents of Singapore
2) Promotion ends on 2359, 30th November 2009
3) Winners will be notified via email and also posted here
4) Please do not post your answers here as it will not be accepted. Please send your entry to the email above
5) The poster will be folded for easy mailing
Ok. I think that's all. Hope I haven't missed out anything. ^^