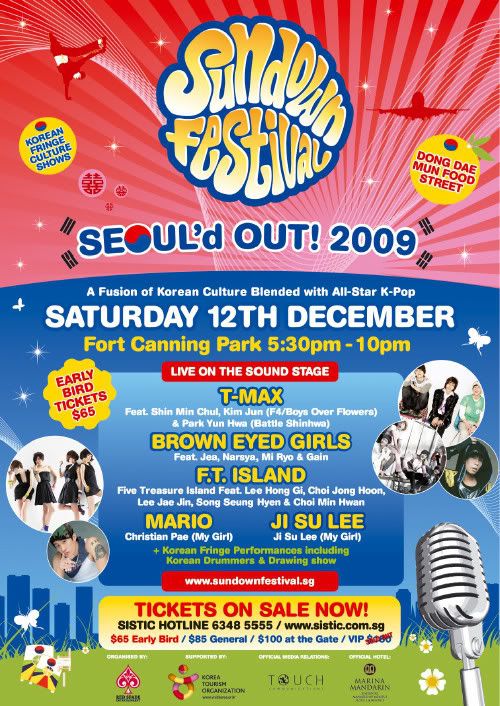 It's seems to be raining K news these few days. Remember in my earlier post, I mentioned that a little bird told me that there might be a concert coming up? Well, it has just been confirmed.
ta-da!!!
Sundown Festival 2009
I don't have the exact detials yet except for the date and the artistes who are coming. But I do know that fan meetings are being planned. Will write more about these artistes and the programme later when I have additional news.
Hmm..... FT Island must have liked Singapore. I guess they were encouraged by the turnout and response during their last concert here. It will be good to see them as I missed their concert here then.
And oh....I think ticket sales start only next week. Now, don't ask me how come the VIP tix already sold out even before the sales starts BUT, I guess there are quite a few sponsors. Besides, if it's going to be open air...how to have VIP seats har? But I do like the idea of open air concert. Reminds me of the concert I attended for April Snow in Korea plus all the other concerts I attended at Fort Canning Park.
Ok, now let's cross our fingers that it doesn't rain on that day. ^^