Some of you may be aware that I bring in Korean magazines and books. The magazines are on sale at Kinokuniya Takashimaya. The magazines will be available today. You can check out my
Tiffany's Attic
to find out what are the titles that are in this month. The magazines are limited in quantity, so do go down and get them if you are interested. For
Junior
and
Asta TV
, they are also available at Comics Connection and Poh Kim (from next week).
Lee Min Ho in Singapore
Ok, a little update about Mr Go Jun Pyo aka Lee Min Ho. The people handling this event seemed to be a little disorganised. Maybe it's the first time they are handling such a big artiste? Or maybe got communication problem? Hmm......
Anyway, you should know by now that you can get the scratch cards from both stores (Plaza Singapura and Ion Orchard. Also, the promotion is on until 23rd October. From what I've read on the forum, don't think there are many winners yet and definitely got no winners for the VIP cards yet.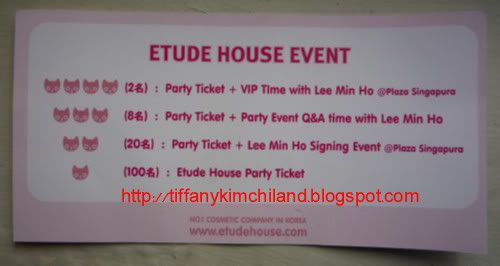 I spent about $30+ and got 2 'Sorry' cards. My friend had 3 'Sorry' cards. Hmm...someone raised a question that I was thinking about since the launch of this promotion...what if all the tickets are not won by the end of the promotion. How ah? The staff go? Lelong? Auction off?
And this is the latest schedule for him. Credit: nickwest_joic @ soompi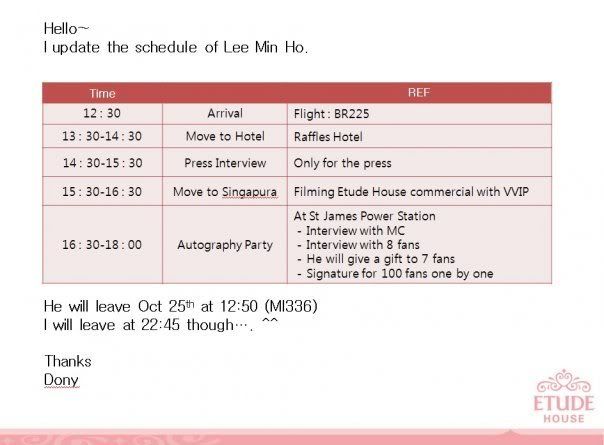 And yes, he is scheduled to go KL after Singapore. Supposedly for 3 days but hor...again, no official release yet.