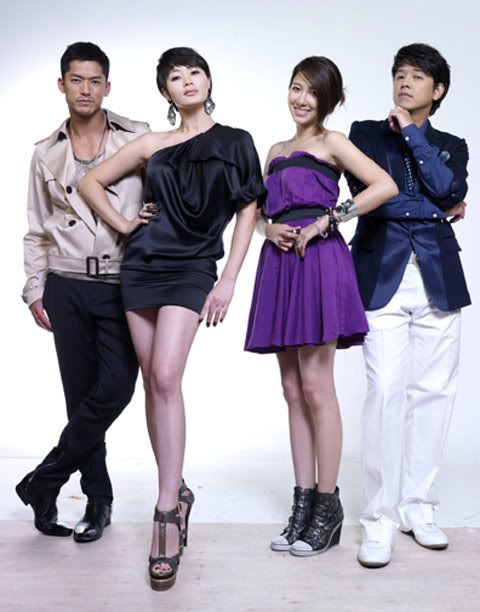 Cast
Kim Hye Soo
- Park Ki Ja (박기자)
Ryu Si Won
- Seo Woo Jin (서우진)
Lee Ji Ah
- Lee Seo Jung (이서정)
Lee Yong Woo
- Kim Min Joon (김민준)
SBS Korean official site
thread on soompi
Javabean review
Trailer
I was going to write about
'Brilliant Legacy'
when I started watching this, and now I'm rather hooked on the show, so I guess I'l talk about this first.
'Style'
is based on a novel (yes, another one!) and is supposedly the Korean version of the
'The Devil Wears Prada'
. Now I can't make a comparison since I haven't watched the movie (yeah, yeah, I know it's good but I missed it lor). It is also a little similar to the HK drama with Lisa Wang in it-
'野蛮奶奶大战戈师奶'
but without the MIL/DIL parts.
The Women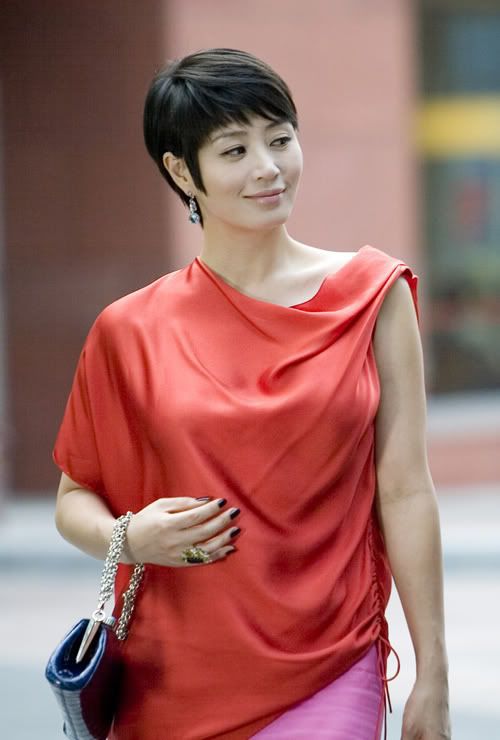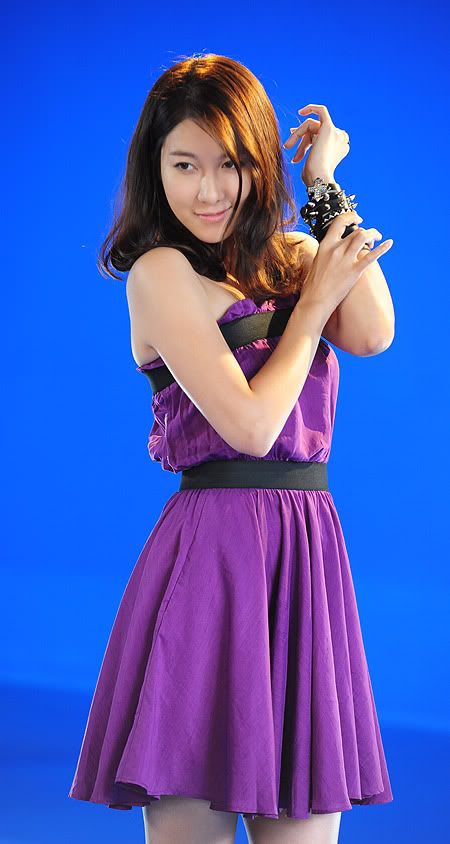 The Men?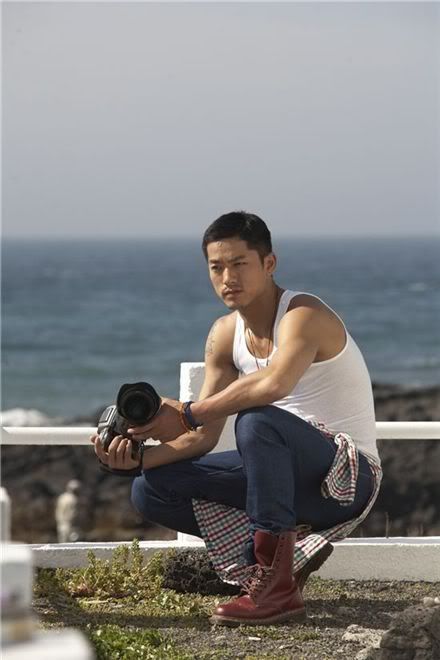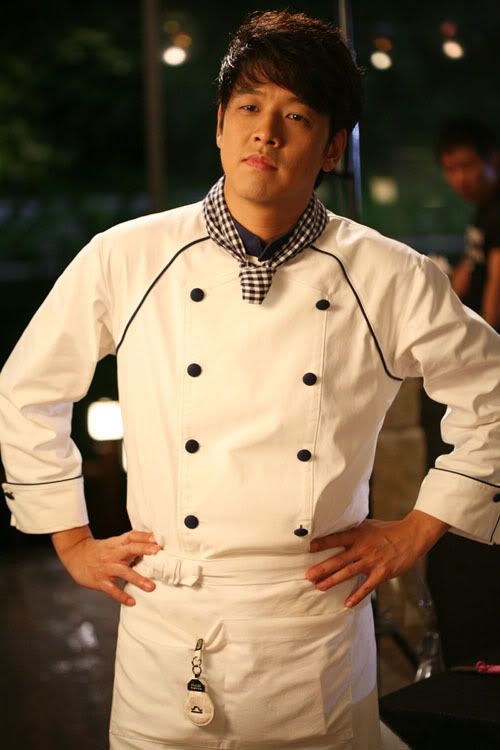 Anyway, Park Ki Ja (Kim Hye Soo) is the editor (after ousting the prevsious editor) of the fashion magazine, Style. She is not pleasant. You can even say she is scheming or worldly (which is probably a nicer word). And very direct, though won't classify her as bitchy. Think the writers have not given her much bitchy lines (or maybe I've seen really bitchy people in my line of work. hehe!) She is very, very focus on her job as she has given 10 years of her life and sacrificed alot to be where she is today. She must really love her job.
Lee Seo Jung is the new kid-on-the-block, who's been assistant editor for more than a year. She is full of energy and ideas as she's still new to the job. But precisely because she is new, she tends to create quite a few disasters and problems as well, as she has yet to learn the art of PR and personal skills.
Seo Woo Jin, a chef, is the son of the orginal founder of the magazine but he is ostracised by his own step-sister because his mother (a good friend of hers and a model) had an affair with her father. And before he died, he left Woo Jin in charge of the magazine, as the magazine was created for his mother. Although Woo Jin is reluctant to take on the job as he has no interest in fashion, he does it anyway for the sake of his mother. Hey, this is K drama, so of course, got this kind of plot lah.
Kim Min Joon is the ex-boyfriend (?) of Park Ki Ja. Now, I put a question mark because, according to the character description, he is supposed to be gay/ bi-sexual. Anyway, whatever it is, he came chasing her all the way from London. But in some strange twist (not in K drama though), Lee Seo Jung ends up his house-mate. And oh yes, he is a brilliant photographer and works for the magazine.
What do I find interesting about the show? hehe! Because I find it rather fascinating to watch all the negotations, deadline and scheming that's done behind the scene. Probably because I'm also in the same line though thankfully, I don't do fashion magazine. I just wish they would concentrate more on this aspect instead of the relationships. And of course, many aspects in the drama are exaggerated... but they do have some truth in them.
But the one big reason to watch this drama (at least for me) is the fashion. I don't think Kim Hye Soo has worn the same outfit twice. And she is not known for her sexy figure for nothing. As a woman, even I find her absolutlely jaw-dropping. Now she is what I call a real woman (even if some parts of it may or may not be enhanced....hahaha!)
These greeted us in the very 1st episode. I like...especially the sunglasses. But how does she walk in those killer stilettos?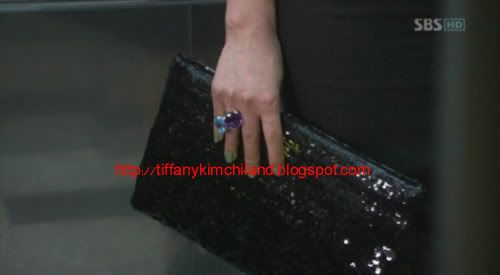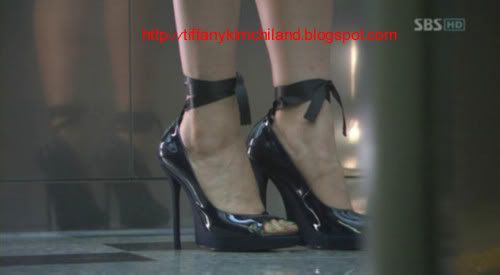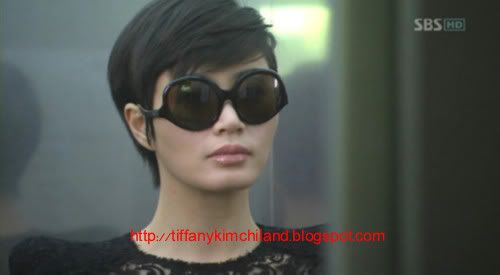 Just look at her clothes...and figure...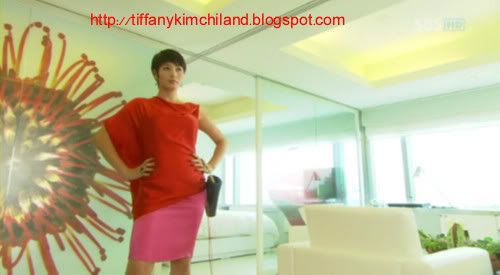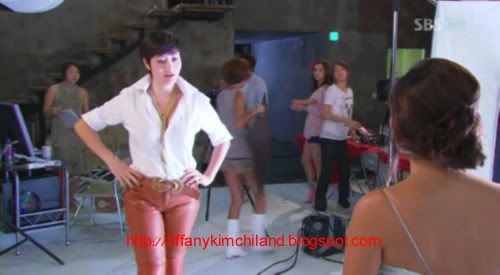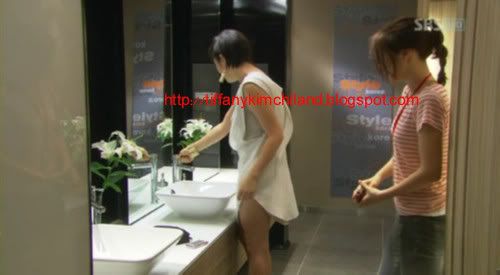 But I wish they wouldn't so much focus on her ample assets. I mean, you can hardly missed them so is there any need for zoom-in? I swear I could ee them heaving away..
And just look at those legs and shoes. She actually went jogging in them in that episode. It's suicidal to stand in them already, let alone run in them.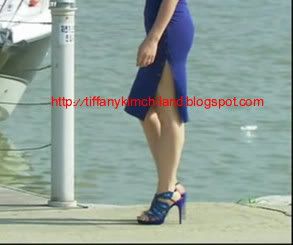 But some clothes I do find a bit strange. Why would anyone wear this for a meeting, even if the meeting is with a key personnel from a top fashion brand. Hmm...like mama-san leh.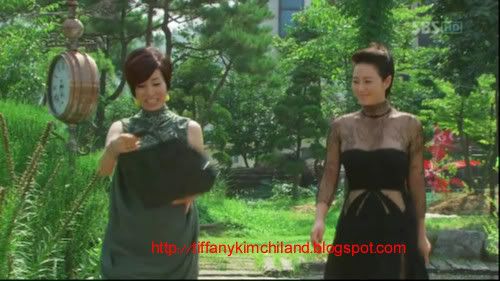 What do you think? Think got enhanced or not huh? hehe! Me so mean....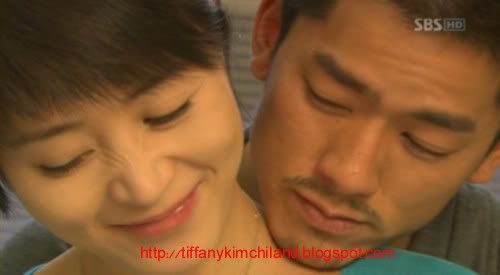 Seriously though, she is a rather good actress. But then, of course she is veteran already.
The other person with a style that I really like is Lee Yong Woo's. Rather drool-worthy I must say. I can only hope that he is not really gay/bi-sexual in the drama. Because if he is, that he would be targeting Ryu Si Won, which I think would be such a waste. Lee Yong Woo, as a model, is very new in the acting scene. This is his first drama but he has appeared in MVs before.
Check this out...is he hot or what?-
dance at the club
And this scene reminded me so much of Chun Jeong Myun in
'Fashion 70's
. Actually, rather erotic...ooops...
changing room scene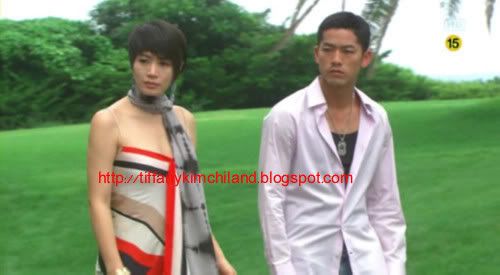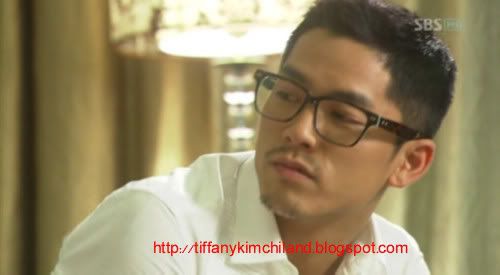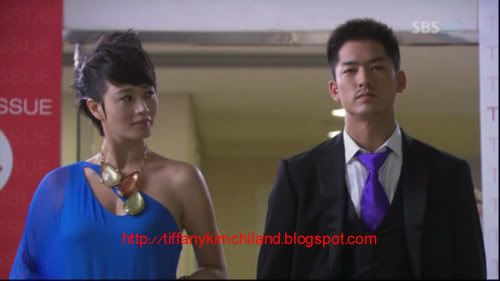 Lee Ji Ah has been very lucky...though a relatively new-comer, she has been the main or semi-main lead in all her dramas, alongside big names like Bae Yong Joon in
Tae Wang Sa Shin Gi aka The Legend
and Kim Myung Min in
'Beethoven Virus
. I was rather impressed with her in
'Tae Wang Sa Shin Gi aka The Legend'
but this has not been the case so far in this drama. In fact, she was outright OTT in the 1st 3 episodes. Thankfully, the writers stopped the 'I'm-young-and-cute-so-I-must-shout-and-scream' actions in her character. Her dressing has also changed for the better in the later episodes as her character matures and learns what it is like to be in the real world. Will she get better in her acting though?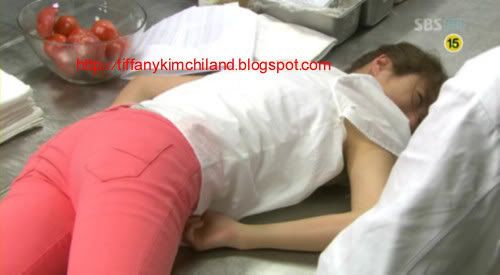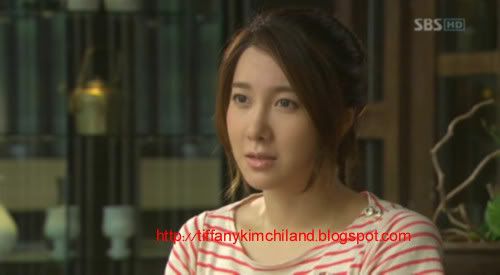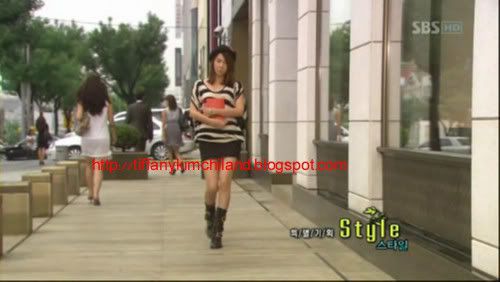 Finally, Ryu Si Won. Like Park Yong Ha, he has based himself in Japan for the last few years and is immensely popular there. Unlike Park Yong Ha though, who blew me away in his comeback drama,
'On Air'
, Ryu Si Won still doesn't get me excited. I'm sorry, fans of Ryu Si Won, maybe it's just me. But he still seems the same as he was in
'Beautiful Days'
. And what were the stylist thinking of when they dressed him? I mean c'mon, suits with shorts?, cowboy tie? huh?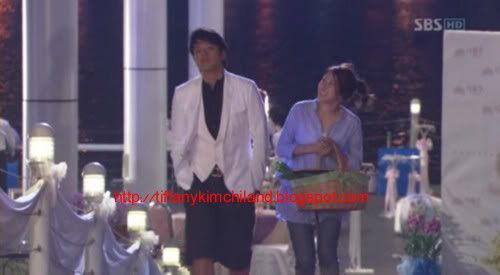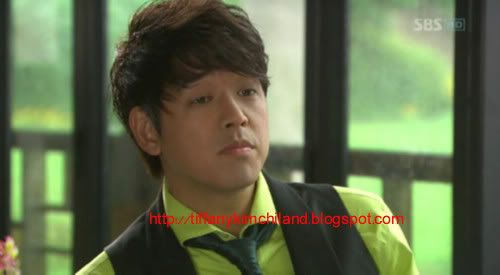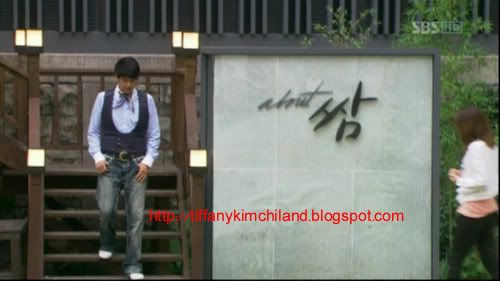 But on a personal level, I heard he's really, really nice. He came to Singapore for the F1 last year and had an informal fan gathering. I was told he was totally without airs and very friendly. Wonder if he will come again this year. He's very much a racing buff. And oh, he also sang one of the song in the ost with Seo In Young. You can listen to it
here
, with clips from the drama.
I don't think I can end this very, very long blog without talking about Kim Hye Soo again. Bae Yong Joon fans will be familiar with her as she co-starred with him in the 1999 drama,
'Did We Really Loved?'
. Although it didn't achieve high ratings, many of his fans (me included) see this as one of his best drama. But anyway, this was how she looked then in the drama.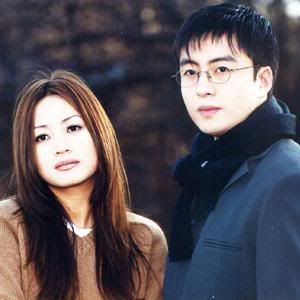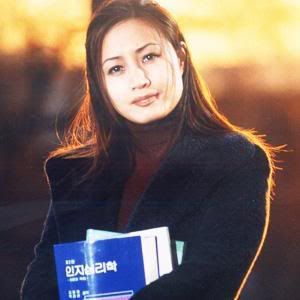 Guess I'll continue with this for awhile.
So what are you all watching?