BYJ arrived in Osaka, Japan this afternoon. The crowd was unbelievable...as massive as his last visit to Tokyo, Japan 3 years ago.
But he looks really good and most important of all, he looks happy.
In recent years, many Korean artistes have embarked a second career in Japan. For some strange reasons the Japanese have been so receptive towards K pop, especially the artistes. Well, ok, maybe not strange...as there have been many analysis and articles on this phenonmenon.
Only in Japan can you have a fan meeting easily numbering in thousands (and this is only for B-list artistes). For BYJ, who is still weilding much power in Japan after 4 years, his coming fan meeting in Osaka for TWSSG reportedly has about 35,000 fans attending.
35,000...that's alot. I can't even begin to imagine the crowd...and they would be predominently women.
Recently, a staff at Kinokuniya asked me if I am able to import any photography books of Korean stars into Singapore. My reply? All these books are published in Japan, where they could cost an arm and a leg. So even in Korea, the demand for such books on the Korean artistes aren't that big. Strange isn't it?
When BYJ came to SG in 2004, he had one of the biggest reception ever for a Korean star...I'm not sure how is his arrival ranking amongst all the stars, but I'm guessing he should be up there in the top 15. There were about 800 - 1,000 fans at the airport and it was quite a sight.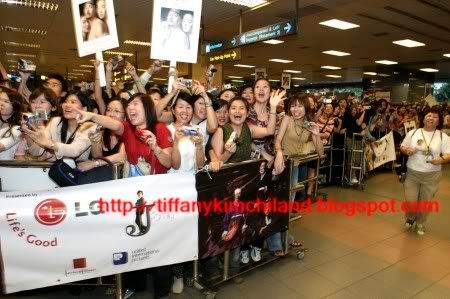 If BYJ should come to SG again, I'm not sure how big the reception would be this time.