I've heard so mcuh about Jeju during all these years and have even been there twice and yet, I feel as if I've not seen the island at all.
Jejudo is the biggest and most developed island of Korea. At 1,848.3km sq, it is 3 times bigger than Singapore but has only about 12% of Singapore's total population. Sigh..now I know why it feels so spacious. It is also popular with Korean honeymooners and tourists. This self-governing island has done much to promote the island, with new tourist attractions, golf facilities and a big exhibition/ convention building and probably one of the most well known casino in Korea. But the town center still feels very much like a small town than a cosmopolitan city to me. Actually, I think it's great that it has managed to retain much of it's charm despite the rapid developments. Afterall, they are promoting Jeju as a resort island.
Jeju is well known for it's many scenic spots but for drama buffs like me, I guess my first contact would be through the drama
'All In'
starring Lee Byung Hun, Song Hye Gyo, Ji Sung and Park Sol Mi.
Sorry, can't really remember much about the drama as I skimmed through it...much as I like Lee Byung Hun. But guess what I saw when I went to Jeju in 2006? A life size cut out figure of Mr LBH in his 'office'. This was inside the Jeju ICC (I think it was on the top floor).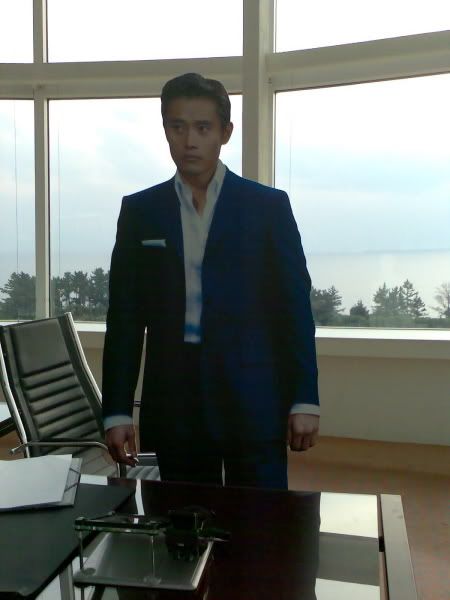 Speaking of
Jeju ICC
, the building was officially opened in 2003, quite young really. In 2006, the Hallyu Expo was held here. There was a lot of hype and publicity for the event, but it didn't quite managed to create the torrents of tourists as expected. The expensive entrance fees didn't help. The place was big but transport was exactly flowing. I remember the group of us were actually quite worried that we may have to spend the night at the convention as there were no taxi in sight at about 6+ in the evening at the end of our visit to the exhibition and we couldn't find the bus-stop!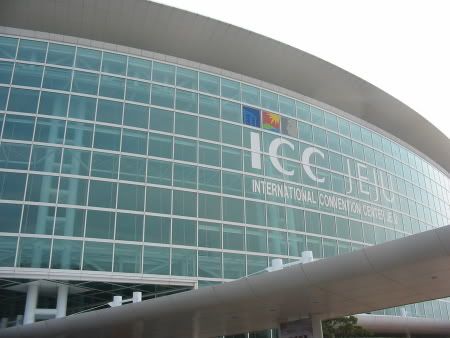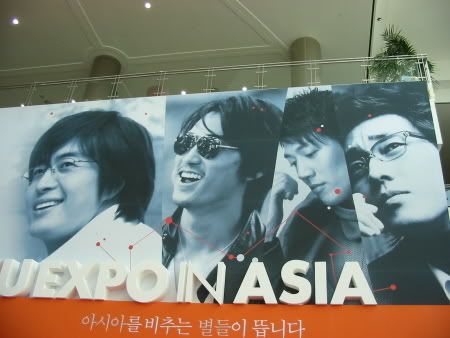 One of the more famous place on Jeju is the Lotte Hotel/ dept store. The hotel was of course well known for the drama,
'All In'
since they were 'staying' there. I don't know...it kinda of remind me alittle of
Everland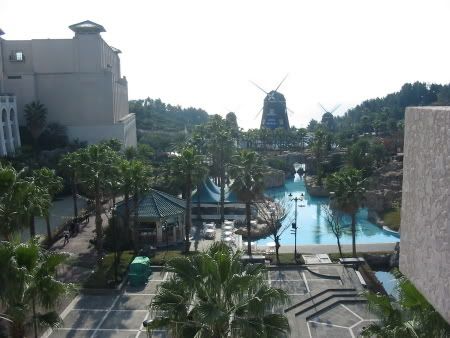 For BYJ fans, Lotte Dept Store will always be associated with him..even though they've changed their spokesperson now (I think it's Rain and Song Seung Hun?)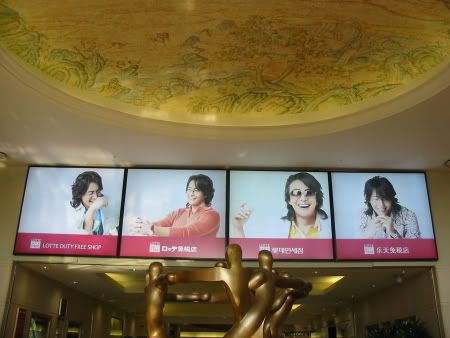 Look what we saw in the basement of the dept store/ hotel..no, not me lah...the big teddy bear.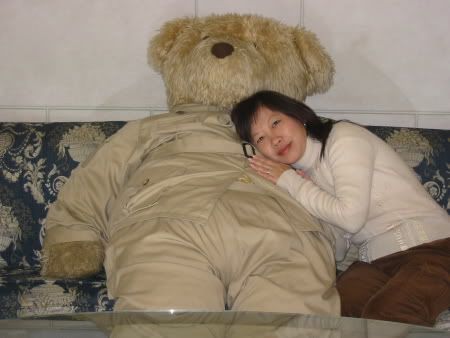 Somehwere in the basement, can't remember if it was in the hotel or dept store, we came across a restaurant, with this menu displayed outside: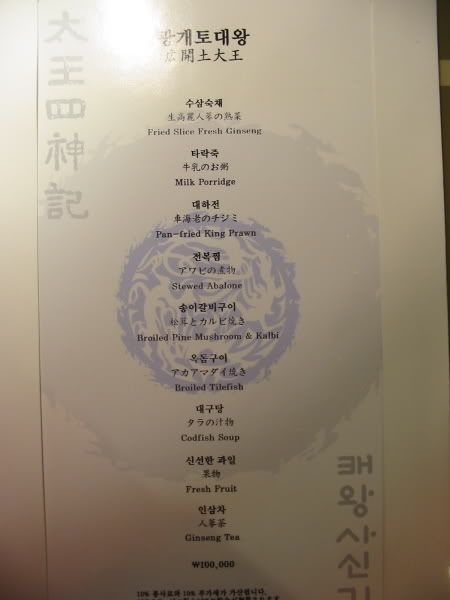 We were going to try it out after our tour of the place but ran out of time. Wonder if it's still there now. But what captivated me was this object outside the restaurant.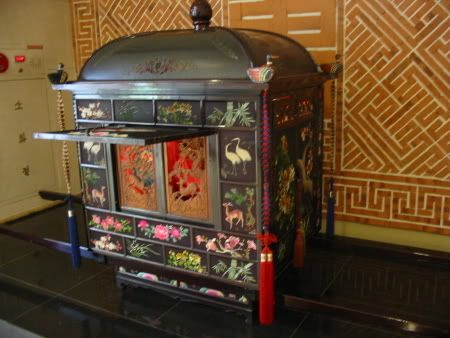 Jeju has it's own food specialities..
This is one of them- black pig.....not very appetising looking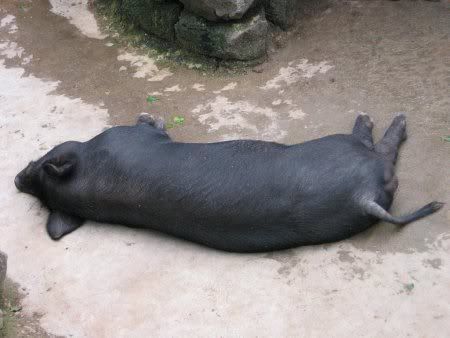 but it becames delicious BBQ pork...yummy...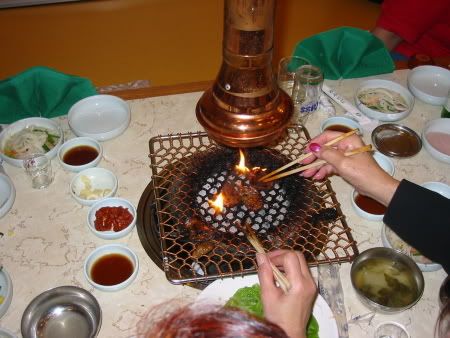 The other is abalone porridge. They are not wild abalones but cultivated.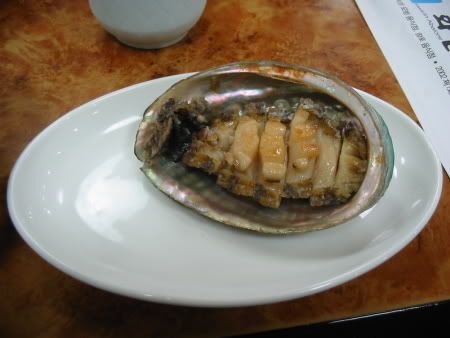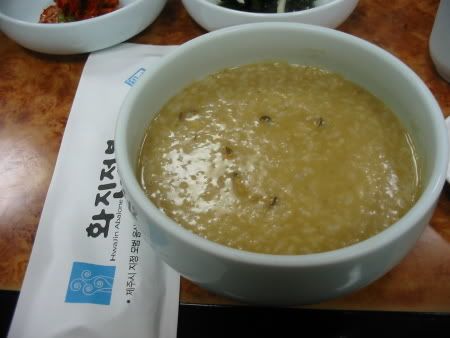 Very nice, but not quite enough abalone leh...hehe! Oh...you do know that BYJ frequents a particular abalone restaurant in Jeju right? Seems he has been going there for a long time...judging from the photos displayed there...and what the lady owner said...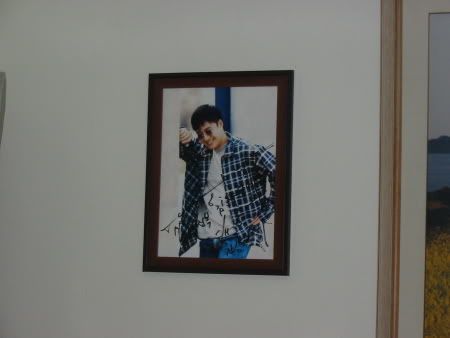 Framed, signed photo inside 'his' room.
Jeju is also well known for its uniquely women divers, called Haenyo divers. These incredible women dive without any apparatus, holding their breath for as long as 3-4 minutes. They look for abalone, clams and other shellfish, which is really, really extremely hard work. Jeon Do Yuen starred in the excellent movie,
'My Mother, the Mermaid'
, centering around this theme.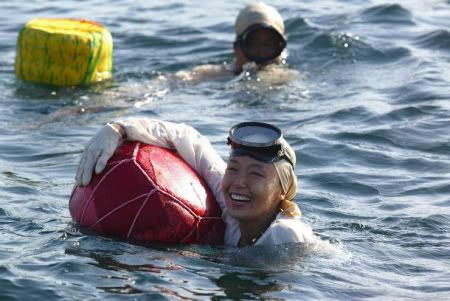 And of course there's the Jeju tangerines...made famous in the drama,
'My Girl'
.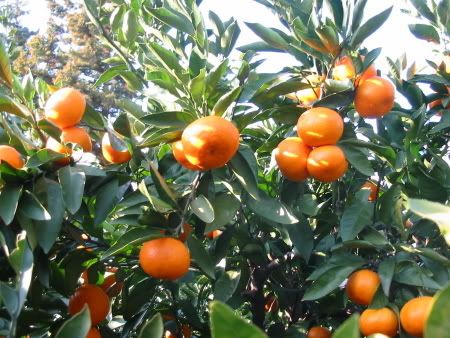 The tangerine chocolate is actually quite nice.
There are plenty of beautiful sights in Jeju and none is perhaps as well known as Mt Halla. An extinct volcano, the sights on this mountain are reportedly beautiful and is the highlight of Jeju. Unfortuntaely, I didn't get a chance to go up :( It is possible to climb the mountain within a day. Remember Sam Soon's climb up Mt Halla in
'My Name is Kim Sam Soon'
? The route is not long (about 10km) but it can be quite tough. But then again, if I have Hyun Bin waiting for me at the top of the mountain, it would have been worth all my sweat. hehe!
If you're planning to go Jeju, visit it for its natural beauty, ranging from the beach, to the coastal line, to the mountains, and the wide open spaces. For a list of the 10 most beautiful scenes, click
here
.
It is precisely because of these various sites that many of the dramas and movies are filmed here. Of course, the push by the Jeju self- governing government helped a lot too.
Here are just some of the movies and titles that were filmed on this beautiful island. Some I already knew, but some caught me by surprise...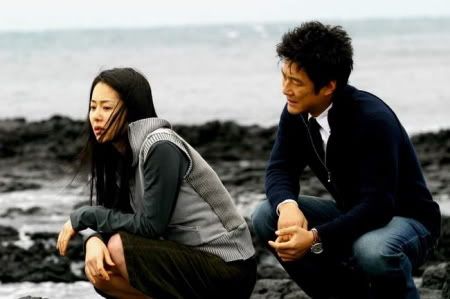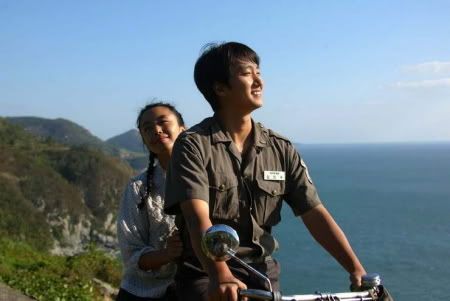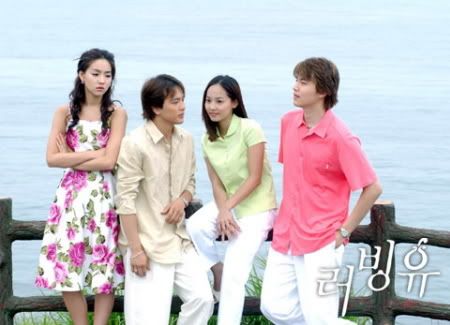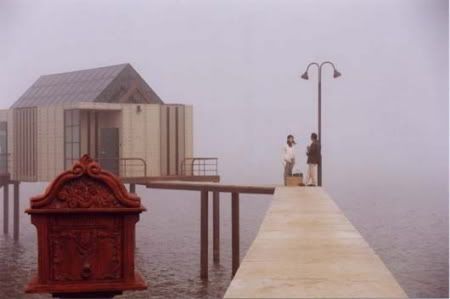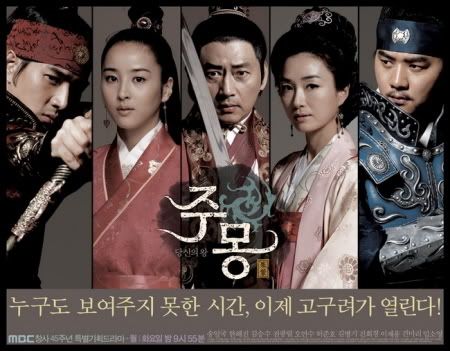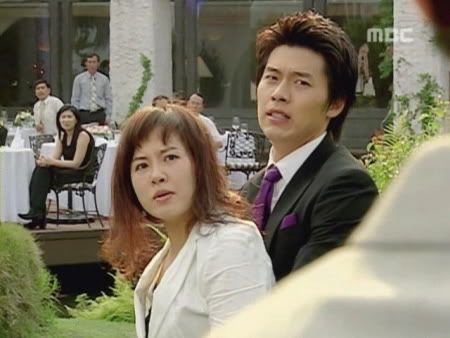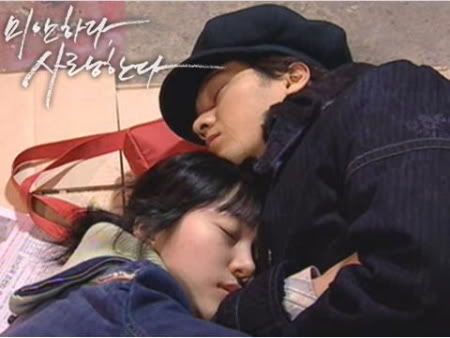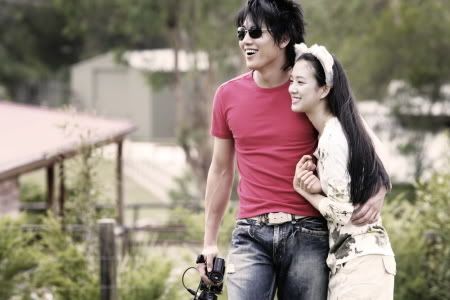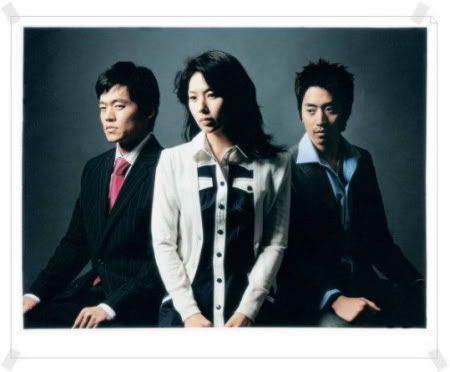 Do you know all these dramas? And oh...here's a really, really old movie from Jang Dong Gun and Ko So Young that was filmed on Jeju Island-
'Love Wind, Love Song'
. Can't seemed to find any decent photos but you can watch the mv of the theme song
here
. Very nice song. And JDG was looking so very young and handsome. hehe!
And of course, the most recent one of all, whereby a theme park was event built for it. The one reason why I went Jeju...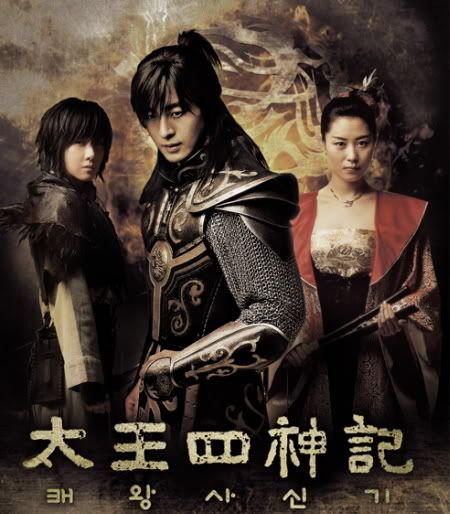 'Tae Wang Sa Shin Gi/ The Legend'
This was how the theme park/ filimg site looked like in 2006..taken from afar...the place wasn't quite ready then.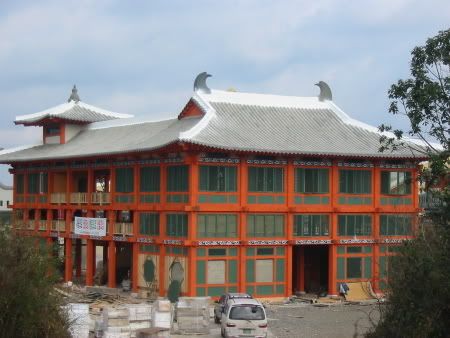 Apparently, Jeju has 3 things in abundance of....Rocks, Wind and women.
I can vouch for the first two on the list but am not sure about the last one. Hehe! Well, I wouldn't be looking for women, would I?
Speaking of rocks, these cute little figures are icons on the island and it's supposed to bring you health, wealth or children...depending on where and how you rub him. I think it's the back for health, the stomach for wealth, the nose if you want a boy and the ears if you want a girl....or was it the stomach if you want a boy and the head if you want a girl? Hmm....better check with your guide in case you rub the wrong places. Who knows what you may end up getting? Wahahaha!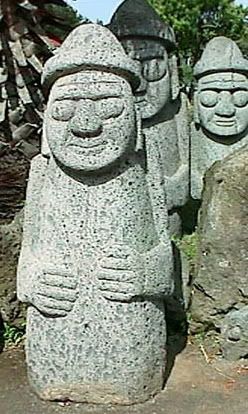 If you are really serious about checking out Jeju Island...then I would recommend that you stay at least 2 to 3 days. At least you would be able to catch some of the well known sites and also at the same time, have a feel of the island.