Remember when I was blogging about
Exporting Kimchi
? Guess what? A few of these kimchi are ready to be sampled by the western world very soon. So will they retain their distictive taste or will they blend in to suit the local taste?
The movie,
'Speed Racer'
is due for worldwide release on 9th May. Of course, the movie has already garnered much hype and publicity
BECAUSE
it is directed by the Wachowski brothers (who brought you
The Matrix
). Helmed by very respectable cast like Susan Sarandon, John Goodman, Christina Ricci and Mathew Fox. Rain or Jung Ji Hoon (the name he prefers to use when he is not singing) shares the spotlight on the main website. Rain will act as Taejo Togokhan, a rival racer. I'm not sure exactly how much screen time he has as he is not the main lead in the movie.
BUT
, he is the main star in promoting the movie in Asia. Too bad, Singapore is not one of the stop in Asia.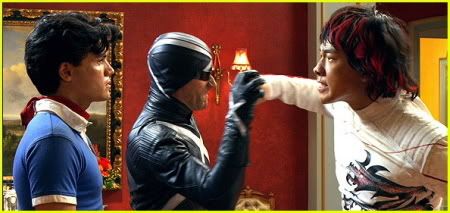 As you would know by now, Speed Racer was originally a Japanese anime and Rain's character in the movie, a Japanese racer. In an attmept to make his charcter more Korean, he apparently requested that Korean words (or rather his charcter's name) be emblazed on his uniform. Quite nice, I must say.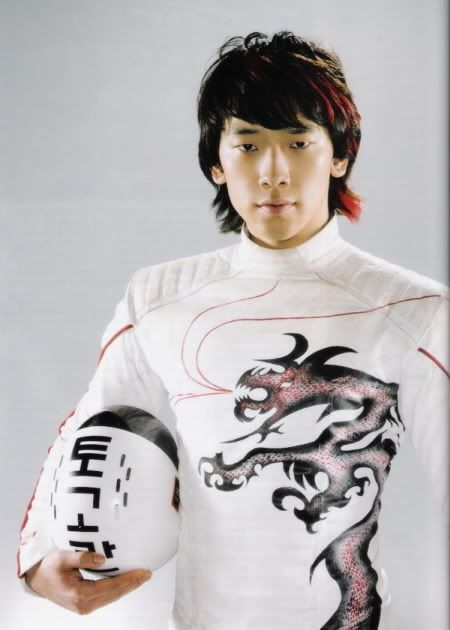 What is really interesting to note is that Rain is not the only Korean in the movie. There is another Korean and a American-Korean in the movie as well.
Joon Park or Park Joon Hyung
, a member of the immensly popular defunt group, G.O.D., was an idol before Rain was. But I guess the present belongs to Rain. Joon Park is going to be a racer in the movie.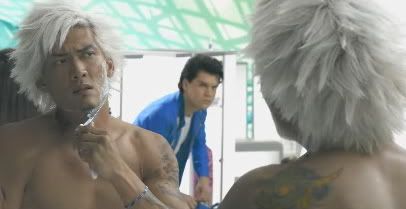 The other one is American-Korean,
Karl Yune
. I thought the name sounded familiar so I did a little search and found out that he's the brother of Rick Yune (whom many may remember him as the baddie in the James Bond movie,
'Die Another Day'
). Karl is Rain's head of security in the movie.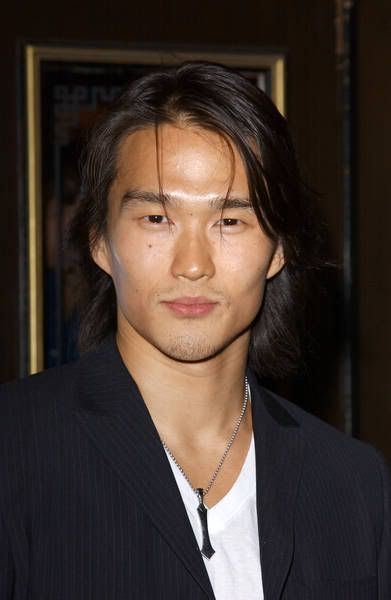 For more infor on the movie, you can refer to IMDB's site
here
.
There are at least 4 trailers, 2 with shots of Rain and 2 trailer without him. Click on the link below to watch.
Speed Racer trailer- wihtout Rain
Speed Racer trailer with Rain
I believe Rain's Singapore fanclub is block booking seats for the show though I'm not sure if it's for the charity premiere. But if you are really keen to catch the show and want to do your bit for charity, why not attend the 6th May charity premiere at GV Vivo City? Prized at S$25, it's in aid of the Singapore Disability Sports Council. Click
here
for more details.
The main action of the other exported kimchi movie is happenning right in Singapore-
'Dance of the Dragon'
. Jang Hyuk, one of the main lead in the movie, stars as Tae, a Korean who has been fascinated by ballroom dancing since he was young. The other main lead is Jason Scott Lee, who has starred in numerous movies, including his signature,
'Dragon: The Bruce Lee Story'
. And the lady in question is our very own, Fann Wong.
Compared to the others, Jang Hyuk has taken on a rather low-keyed movie as his first forey into the Hollywood movie/ English entertainment world. But it may not necessary be a bad thing. Look how well his low-keyed come-back drama,
'Thank You'
did. And besides, he is one of the main lead in the movie.
Considering that STB is a major sponsor of the movie, I am expecting more hype hapenning in the next week or so. Slated for world release on 1st May (when they say world, it's really just Singapore as I don't think they are screening this movie simultaneously in any other countries), there are already posters and banners all over town, as captured by Fann's enthusiastic fans. And of course various promotions are on-going now...from radio, to ebay, to magazines and even the official hairstyling salon! The gala/ world premiere (invited guests only!) is on the 23rd May at The Cathay. Thereafter, there will be a post party at err...can't remember where liao...as obviously I'm not on the invited list. Will the cast be there that night? I'm sure they will be. Btw, if you want to be part of the action and maybe catch a glimpse of the stars, you can be a volunteer for that gala premiere night. Just email to this address
here
. But not sure how much you can 'see' these stars hor.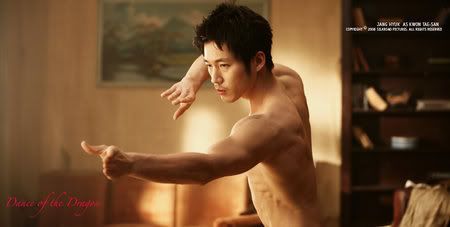 I must say that the official website isn't exactly the most informative, considering that there are only 2 still photos uploaded and both of them are of Jason Scott Lee. Hmm...Anyway, for more information, you can again go to IMDB's site
here
.
Dance of the Dragon trailer
Dance of the Dragon storyline
The last movie isn't officially out. It is slated as a summer release and stars Gianna Jun or Jeon Ji Hyun in the movie
'Blood: The Last Vampire'
. This movie is also based on a Japanese anime and set in Japan. I'm not sure if she plays a Japanese vampire or a Korean vampire or an Asian vampire. Guess we will know more when the movie is nearer to release date. However, she is the main character and it would be interesting to see how she fares in the movie.
In the meantime, here are a couple of the official pics of her so far. Not sure where I got them, but it may be from twitch's site.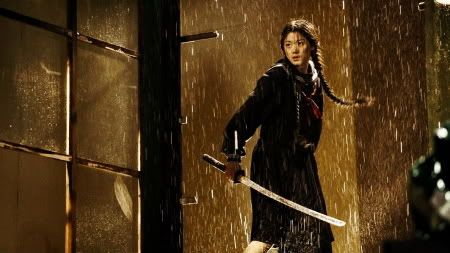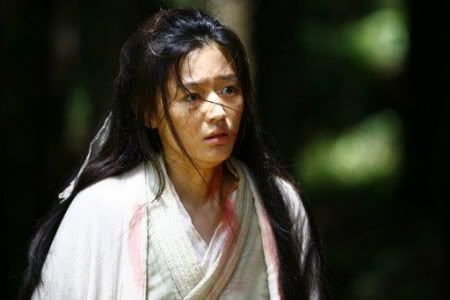 So will they still be Korean kimchi or will they become English salad in the Hollywood world? Or a little of both? I guess only time will tell as they prepare to take on the world.