Guess what?
Lee An has a blog.
Lee who?
Lee An...
The Korean singer who launched his career here in Singapore. I was blogging about him in February and saying how brave he was... to do it here, where even local singers go overseas to launch their careers.
Anyway, I received an sms the other night.....it seems he's started a blog.
Nowadays, it's not uncommon to do so. Lots of artistes do them. I think those in Korea have what's called cyworld.
They are very popular. And many artistes have found it very useful for keeping in contact with their fans. Some of them like Lee Jun Ki updates it regularly enough with his pics and his thoughts. It's great for fans.
Of course, it can also backfire as some fans or non-fans (they call them 'antis' or anti-fans) can create chaos and havoc on the stars' site.
Nevertheless, I feel it's a great bridge between the artiste and the fans.
I think Lee An just started on this blog and there aren't many entries so far. From the looks of it, it seems he's had some problem with the management...poor thing...but he will be producing another album soon. That would be great.
Hmm... he also plants his own lettuce and cooks
Tteokkbokki
(they look quite good actually).
Maybe he can organise a fan gathering whereby he can cook for the fans. wahahaha! Good right? I know Lynn would welcome that. hehe!
Whatever it is, I wish him all the best and hope his career really launches.
리안.....화이팅!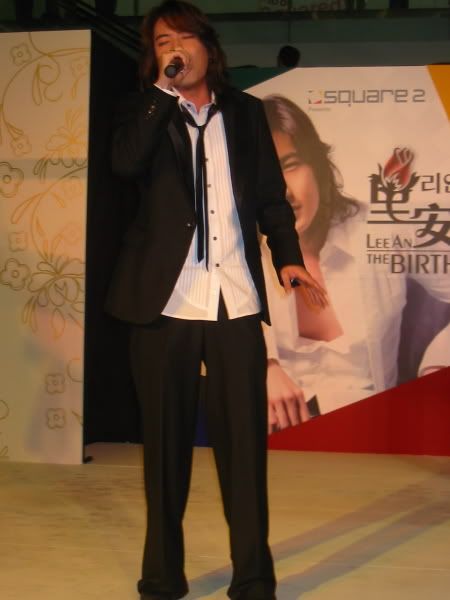 Photo from his performance in Square 2, Feb 07
You can catch one of his song here--->
사랑은 늘 그대
You can read about him in my previous posts:
Birth of Lee An
Lee An @ Square2
Hmm... I still say he should cut off those wavy hair....
And I wonder why is his name written as 리안 and not 이안.
Anyway, do check out his blog here--->
here
. Please do give him lots of support...coz it's a tough life as a 가수 lor and his voice is really not too bad. But he will still have a long way to go...
His link is also posted together with some of the other great bloggers, on the right side of my blog. Do check them out when you are free....
Misc on Jang Hyuk:
Mr Jang Hyuk has left Singapore on Monday night, after spending nearly 2 months here. I'm sure he must be so glad to go back to his hometown, where the weather is not so weird. hehehe! Seems there were quite a few fans at the airport to say goodbye to him.... much better than the one fan- Wendy, who was at the airport when he arrived. I really hope he had a happy stay here in Singapore.