I was in 7th heaven the other night when I had some fantastic kimchi that I bought from Sol-mart. Not those horrible, skinny, shrivelled, dismal pieces of kimchi that you get the foodcourts and sometimes even at restaurants. But proper fresh ones...yummy.
Yup, they export out fresh kimchi nowadays and there's such a variety that I don't know where to start.
It got me thinking...the Korean entertainment has been exporting out their artistes too. Looking at the recent spate of Korean actors/ actresses who are now in some 'foreign' films or dramas, it seems they are setting their sights beyond Korea. So just exactly how many of them are in a 'foreign' production?
I started to make a list and you know what? It's alot more than you and I think. And they are not all recent ones.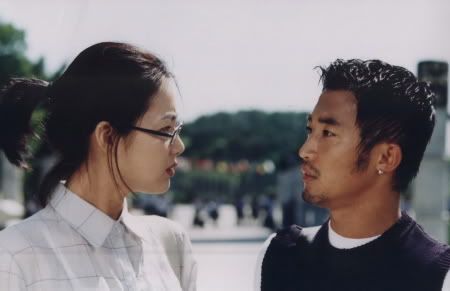 An Jae Wook with Choi Ji Woo in 'First Kiss'.
Probably one of the earliest actor to cross the seas would be
An Jae Wook
. In 2002, he went to China and did a drama called
'Apartment'
or '
White Collar Condominium'
, which is a literal translation of the Chinese title,
'白领工寓'
。You can catch the mv
here
. He was very popular in China then because of
'Star in my Heart'
. Unfortunately, the drama was dubbed over because...well...he can't speak Mandarin lah. Maybe that's the reason why he did only one foreign drama. An Jae Wook is also an accomplished singer and will be starting on a new drama soon with Fanny of FTTS called
'I Love You (Saranghae)'
.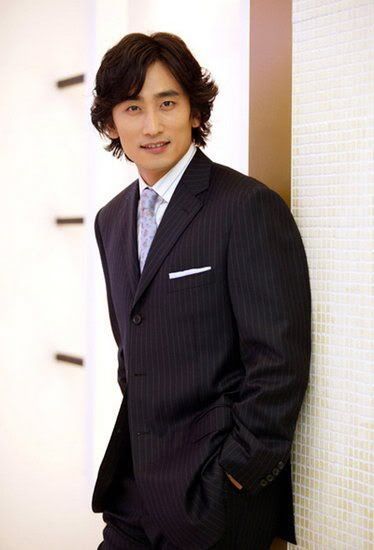 Cha In Pyo
An Jae Wook's co-star in
'Star in my Heart'
,
Cha In Pyo
also ventured into the China market at about the same time. Did they made a pact about this? He did
'The Four Detective Guards (四大名捕)'
in 2002...looking quite dashing in the period drama costume. In a strange reversal...his 2004 China drama,
'If Heaven Pities (天若有情)'
is now being shown in Korea. He was last seen in the critically reviewed drama,
'White Tower'
.
The women seemed to have fared better in China. Both Jang Na Ra and Chae Rim have had success with their China venture.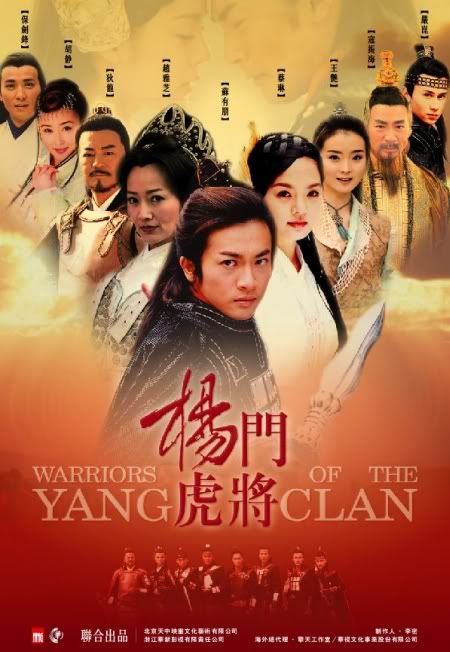 Poster for 'Warriors of the Yang Clan'
Chae Rim has acted in a few dramas in the Chinese market and 2 of them were with Alec Su. Except for
'Love at the Aegeon Sea'
in 2004, the rest were period dramas, including the one that she's filming now,
'The Bratty Princess 2'
. Chae Rim does look very beautiful in period dramas and I believe
'Warriors of the Yang Clan'
was popular. it's a pity she's never acted in a Korean one before. Still, her recent comeback,
'Dalja's Spring'
did well enough and made sure she isn't forgotten with the Korean audience.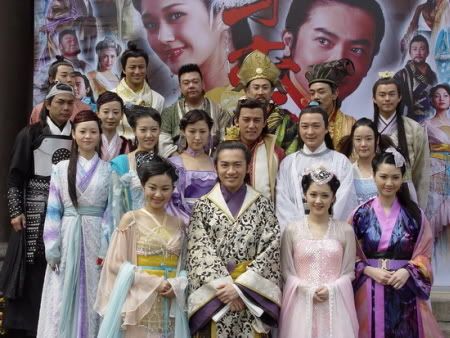 'My Bratty Princess (刁蛮公主)'
The other actress who seems to be concentrating on the Chinese market is
Jang Na Ra
. For some strange reasons, Alec Su seems to have an affinity with Korean actresses. In her first drama,
'The Bratty Princess'
, her co-star was Alec Su. I believe Jang Na Ra spoke in Mandarin for the drama (I may be wrong of course). She's also released albums there. She sings the theme song in her current drama with Shawn Yue,
'Good Morning, Shanghai'
. Her mandarin doesn't sound that bad....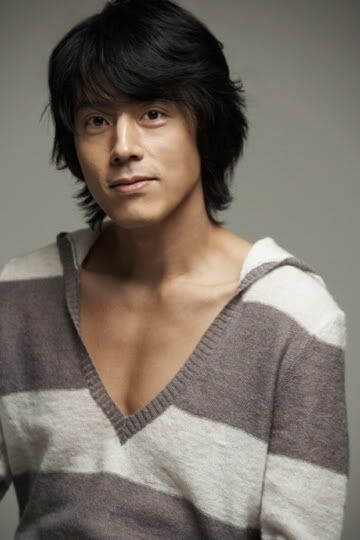 The new Han Jae Suk after army
A few others moved into the Taiwan market. One of them was the infamous
Han Jae Suk
, who was discovered to have doctored his medical records to escape militery service. Apparently, he had to serve an extra 2 months because he was after the age of enlistment when he was caught....
His first Taiwanese drama,
'A'mor de Tarapaca'
was also his last before disappearing for the next 2 years. He is about to stage a comeback and will be appearing in a new drama with Song Il Gook,
'The Lobbyist'
. I really hope he will do well in his new work, even though he is definitely not on my
list of young man
.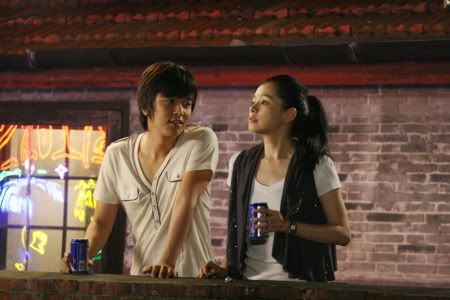 John Hoon with Vivian Hsu
Kim Jung Hoon or John Hoon
as he is known now has also ventured into the Taiwan market after the rather dismal showing of
'Witch Yoo Hee'
. He will be in
'Love Strategies (恋爱兵法)'
with Vivian Hsu. Will this do well and launch his career path in Taiwan and the Chinese market? Who knows. But Taiwan has produced quite a few idol 'hits' so don't under estimate its power. F4 was a good example.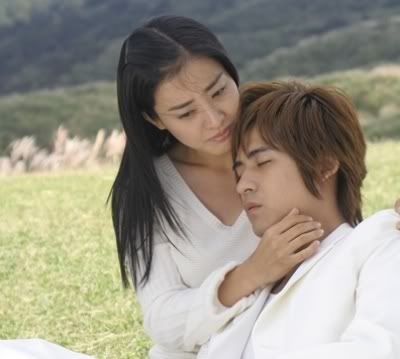 Park Eun Hye with Vic Chou
Not many people may have been aware, as actors normally get more publicity but
Park Eun Hye
appeared in the Taiwanese drama,
'Silence'
last year. One of the problem of acting in foreign movie is speaking in a foreign language. If you are not proficient, you either end up making the audience scratch their head with your tongue twister or your voice gets dubbed over. Either option is not good. So the director did something smart here...Park Eun Hye's character could not speak. Which was probably harder in terms of acting as it requires more effort to convey the emotions. I really love this drama, despite the fact it has a rather routine storyline. Vic Chou was brilliant in it and his chemistry with Park Eun Hye was good. She will be appearing in the 60 episodes MBC drama,
'Yi San- King Jeong Jo'
with Lee Seo Jin this September.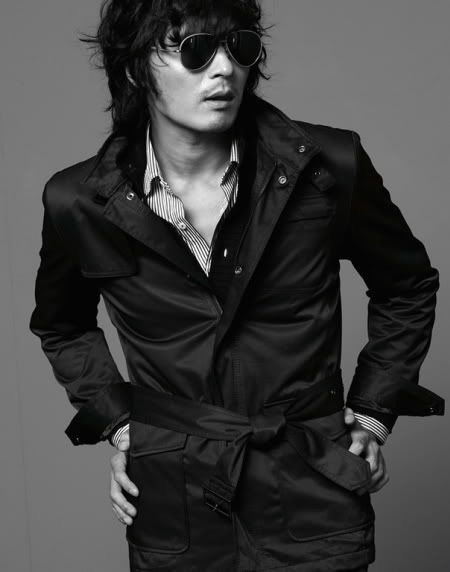 Jang Dong Gun in Giordano
The promise hit of
'The Promise'
never materialised. Despite stars like Hiroyuki Sanada, Cecilia Cheung and a big director, Chen Kaige helming the movie, it just didn't make the cut. I was talking to YP from the movie industry the other day and we both agree on one thing- the movie made us laugh. So a host of stars, a famous director and a big budget does not equal a hit. Nevertheless,
Jang Dong Gun
is determind to break out of the Korean market and is now filming a Hollywood western movie,
'Laundry Warrior'
(Haiyoh, what a title. I hope they change it). The last I read, the storyline is a combination of ancient swordfighting and Hell riders fighting out in the western front. Err...sounds like another disasterous
'The Promise'
in the making.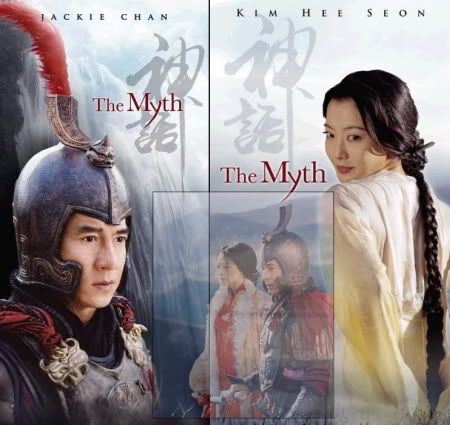 Kim Hee Sun, Jackie Chan in The Myth
Kim Hee Sun
was added to Jackie Chan's long list of female actress when she acted in his 2005, movie,
'The Myth'
. I didn't watch the movie but I heard it was only so-so... However, I love the
duet
sang by the 2 of them. Well, Kim Hee Sun is about to get married soon and I think she's indicated that she will retire from the movie industry...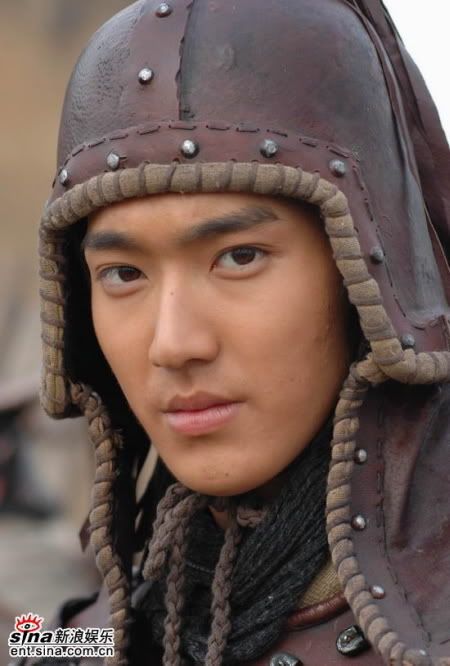 Choi Si Won
Choi Si Won of the Super Junior fame also acted in a epic, ancient battle mvoie recently. He was in Andy Lau's
'Battle of Wits'
recently. The disc is still in my cupboard somewhere so I can't comment but it seems Andy's fans gave him the thumbs up. Anyone any comments on his acting?
With the recent rise of Hallyu in Japan, many artistes have also gone over to the land of the rising sun to further their career.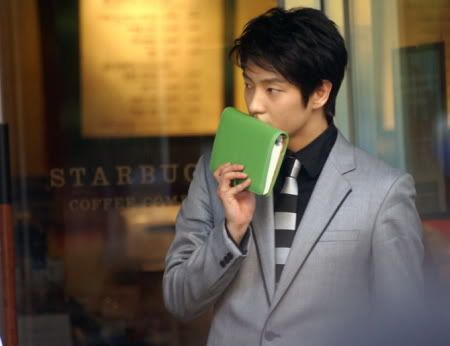 Lee Jun Ki in 'Time of Dog and Wolf'
I'm not sure if he is one of the first Korean to do a Japanese movie but he is certainly amongst the earliest when he did
'Hotel Venus'
in 2004. With his rising popularity, he recently did another Japanese movie,
'Virgin Snow'
with Aoi Miyazaki. Not sure how well it did but it's one of those 'chort sarang' story. After tackling
'King and Clown'
,
'May 18'
, I thought he would do something more interesting. The song is great though. However, I still think he's a great actor and I am thoroughly impressed with his role in the current drama,
'Time of Dog and Wolf'
.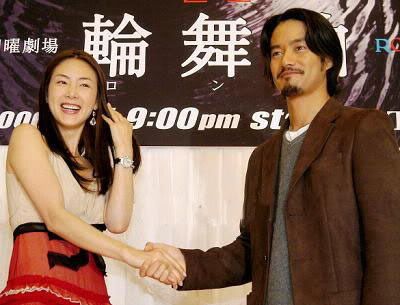 Choi Ji Woo & Takenouchi Yutaka in 'Rondo'
Both of
Choi Ji Woo's
foreign dramas did not do well. Besides a China remake of the Japanese drama,
'101 Proposals'
, she also did
Rondo
with the hunckilicious Tekenouchi last year to much anticipation. Unfortunately, it did not fare quite well even though she is probably the most popular Korean actress in Japan. Recently, she made a come back to the small screen after an absence of 4 years with the sizzling Lee Jung Jae in
Air City
. I like her character in there. It was a refreshing change. Unfortunately the storyline was ......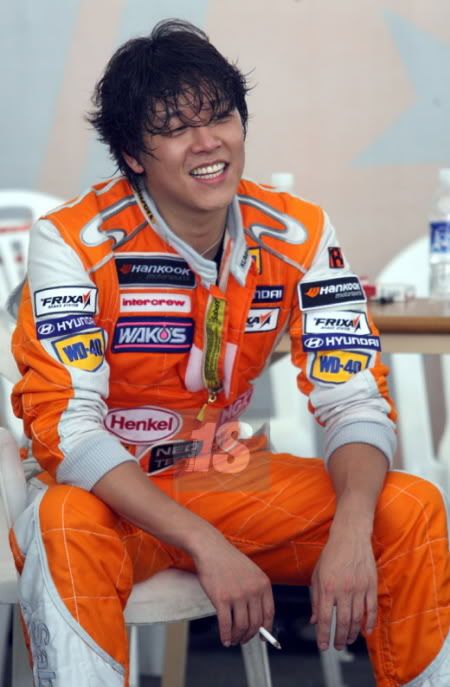 Ryu Si Won
Ryu Si Won
has concentrated both his singing and acting career in Japan to much success. Besides releasing albums, he also has 2 Japanese dramas this year-
'Dondo Bare'
and the soon to be aired
'Joshi Deka!'
where he will have more screen time as Park Ji Won, a Korean who has stayed in Japan for many years. With his own building in Japan, I think he's not going to leave there anytime soon.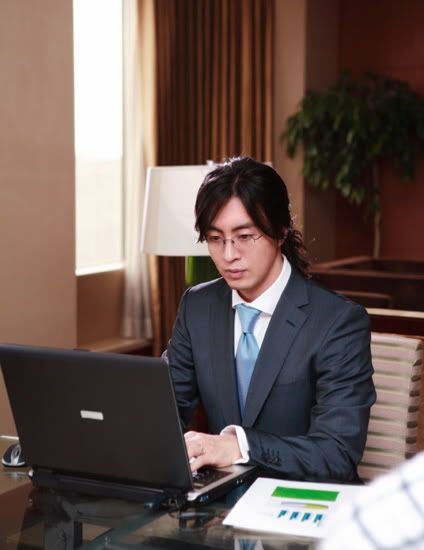 Bae Yong Joon in 'Japanese Hotelier'
Even Bae Yong Joon has made a guest appearance in the Japanese version of
'Hotelier'
. I think he was there for about 15 minutes in total? I much prefer the Frank Shin in the original
'Hotelier'
.
The most ambitious of all desires to break into Hollywood. Because that's when you are truely considered as international.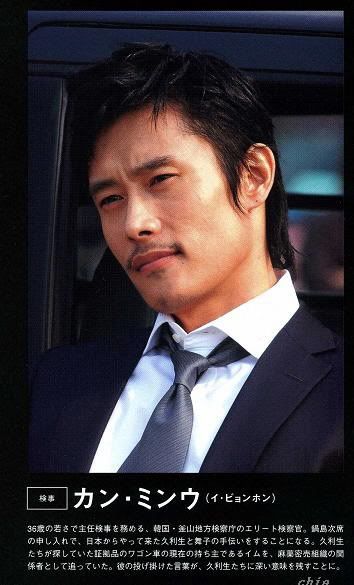 Lee Byung Hyun in 'Hero 9.8'
Lee Byung Hyunz
is entering both the Japanese market with his cameo appearance in Kimura's movie,
'Hero 9.8'
as well as hollywood. Together with Takuya Kimura (again), Shawn Yue and Josh Hartnett, the international cast will be in the movie,
'I Come with the Rain'
directed by Anh Hung Tran. I've always been impressed with Lee Byung Hyun's acting and most of his movies have been well chosen, so I'm looking forward to watching this next year.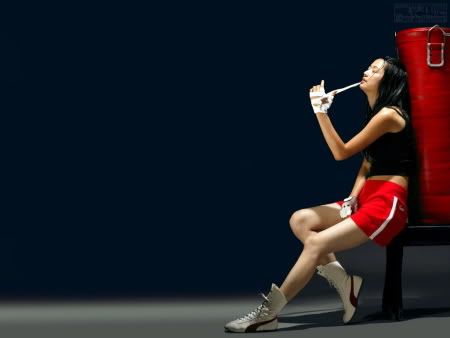 Jun Ji Hyun
Jun Ji Hyun or Gianna Jun
as she is known out in the west, is going to be vampire slayer in the Hollywood movie,
'Blood: the Last Vampire'
, which is errr... based on a Japanese animae. I saw some shots of her....I think she is supposed to be in high school (Japanese animae loves high school girls). But she will be the lead, which is rare for a Korean artiste in a hollywood movie, even more so when it's an actress. There will be plenty of slaying (I keep thinking of
'Buffy, the Vampire Slayer'
) which I have no doubt she can handle well, I just hope her English is good enough.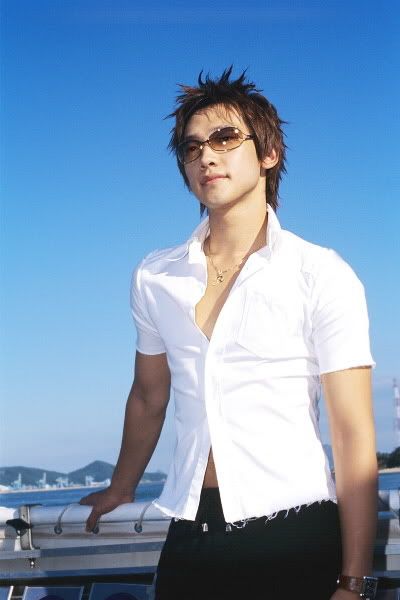 Rain or Jung Ji Hoon
Probably the most anticipated and hyped Hollywood movie involving a Korean actor would be
Jung Ji Hoon
. He has just finished filming
'Speed Racer'
, which is based on, guess what? A cartoon. But the cast for this is truely hollywood with Emile Hirsch, Susan Sarandon (which I greatly respect), John Goodman, Christina Ricci, Mathew Fox, Hiroyuki Sanada and directed by the famous Wachowski Brothers. Truely mind boggling. If it does well, then it will launch Jung Ji Hoon or Ji Hoon Jung (as he is named on the official website) into an international star and advance his singing career in the US.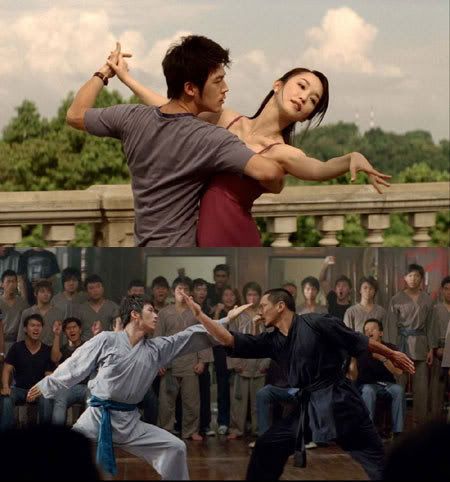 Jang Hyuk, Fann Wong, Jason Scott Lee in 'Dance of the Dragon'
And I've saved Jang Hyuk for last..only because this is happenning right in my own hometown, right under my nose.
Jang Hyuk
caught all of us by surprise by quietly dropping into Singapore to appear in the hollywood/Singapore movie,
'Dance of the Dragon'
. Starring Jason Scott Lee and Singapore's very own Fann Wong, it will also be released next year, like all the hollywood movies mentioned above. I hope it will do well, even though the names aren't as big as those of
'Speed Racer'
. Having participated as an extra (read about my experience
here
and
here
), I am really looking forward to watching it in our own cinemas here next year. The few of us who were extras have even made a pact to watch it together...hehehe!
Whew, that was a long post that took me a good 5 hours to write. Hope you enjoy reading it...
Before I end off, I thought I'd write about this.
Jolin Tsai has just released her new album yesterday and for the first time, she's also done a music video (they are so in, aren't they?). Guess who's in it?
Kim Jae Won.
Catch the
mv
and
preview
and see what you think. My conclusion after watching it...Jolin and Rain should probably do something together. ^^