Well, the 5 dramas that I started out watching is more than half way through. At least 2 of them will finish very soon. After so many weeks of watching and fast forwarding, my initial reviews of these dramas remain unchanged for all, except one.
'Hello! Miss'
I still fail to see the chemistry between the Lee Ji Hoon and Lee Da Hae and between Ha Suk Jin and Lee Da Hae. The plot could have been better and developed faster. It's funny in some parts but just not quite there. Lee Da Hae is really very pretty though.
Watch the mv
here
'Witch Yoo Hee'
I think the writers really do not know what to do with 3 guys because the story is going nowhere. To have to sit through 12 episodes to see the leads confess their love for each other is a little err... tiring. I wanted to wring Yoo Hee's neck so many times for being so wishy-washy. Still there are 3 cute guys in the drama.
Watch the mv
here
'The Devil'
The plot is getting more interesting and the answers to the mysteries slowly being revealed one by one. If you are looking for romance though, there is only a hint of it in here as the drama concentrates more on the character and plot dvelopment. Which is fine with me. Actually, there are some pretty interesting discussion on soompi about Seung Ha and Oh Soo. Which is the real devil?
'Thank You'
This has got to be one of the better drama for a long time yet. There is romance yes, but there is also family love. Very simple, heart warming, heart breaking story. No over-the-top melodramatic acting by any of the cast..thank goodness. The little girl is truely an angel in the drama...
'Que Sera Sera'
This is the only drama that I've changed my initial opinion about. I wasn't very impressed int he beginning, whether with the plot or the characters. But somewhere along episode 9, it got better. Must be the trip to Singapore that did it. Hehe! Episode 9 was based in Singapore.
Not only am I now impressed with all the cast (well, some more than others) but I am totally taken in by Eric's acting. And this was the scene that changed my mind and stopped my heart.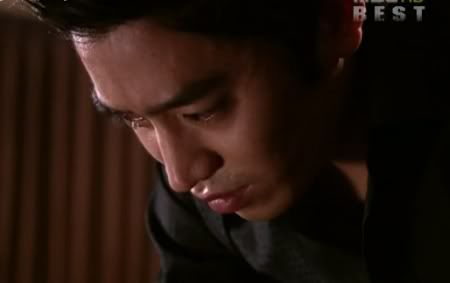 There seems to be 3 mvs for this drama. not sure if they are all official but the songs are from the drama. However, I much prefer the song that I'm playing now- 두손을.
Wtach mv 1
here
Watch mv 2
here
Watch mv 3
here
Initial review for
'Que Sera Sera'
,
'Hello! Miss'
here
Initial review for
'Witch Yoo Hee'
,
'Thank You'
and
'The Devil'
here