I've just finished watching
'The Devil'
but will need to recollect my thoughts before I write a review on it.
So in the meantime, I'll do a short initial thought about
'Air City'
as I've just watched the 1st episode.
For those sick of romantic comedy, romantic tragedy, romantic mushy love story...this may be your cup of tea as it's action from the word, 'Go'. Of course, I'm not saying there's going to be no love story in this drama...this is Korean drama, you know. But I think the romance factor will not be the major focus.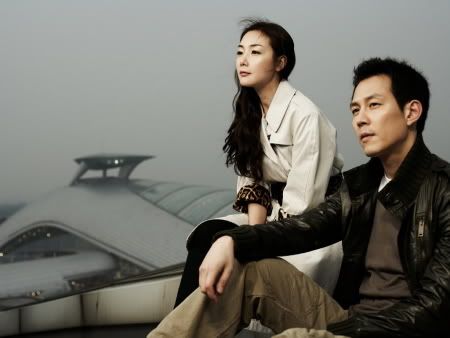 Starring Choi Ji Woo, Lee Jung Jae, Lee Jin Wook and Moon Jung Hee, the drama,
'Air City'
as I mentioned in my earlier
post
was done in celebration of Incheon Airport's 5th anniversary. The drama is an attempt to show the 'scenes and people' behind Incheon Airport- what makes it work, who makes it work, how it works. Actually, it reminds me of the drama,
'Hotelier'
. The daily working routine and environment is the main storyline. Of course, in this case, it is even more dramatic....what with gun chase, fake passport, drug traffickers and terrorists all in just the first episode....whew! I needed to catch my breath after watching it. It makes the mergers and acquisition world in
'Hotelier'
mild.
Without going into too many details at the moment as I've yet to watch the other 3 episodes, I would have to say that the first episode has left a good impression on me.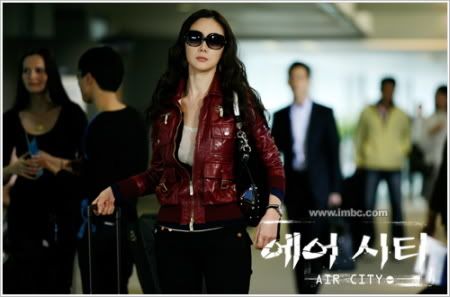 In particular, I'm liking what I see in Choi Ji Woo here- professional and confident (she's already spoken in Korean, English and Chinese so far though of course not fluently). There is a sense of maturity in her (well, she is 32 this year) and with that maturity- a kind of sexiness. Thumps up so far. I'm crossing my fingers that the writer won't make her wail like in
'Winter Sonata'
or
'Beautiful Days'
or
'Stairway to Heaven'
. That would really spoil it. She is no longer the young Yu Jin in Winter Sonata.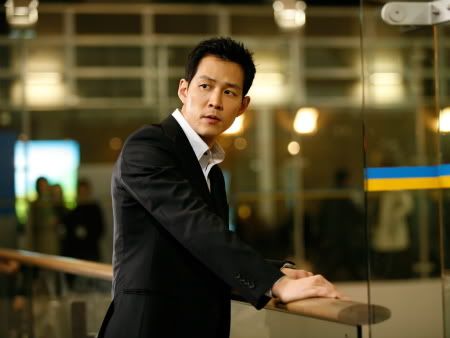 Lee Jung Jae, though not on my list of
Ban Chan
(so far, I may change my mind by the end of this drama) is one fantastic actor- a real pro and he should be, having been in this line for over 10 years. Manly and cool - especially when he's holding that gun....hehe! I think he's a good match for Choi Ji Woo age wise (he's older than her by 2 years).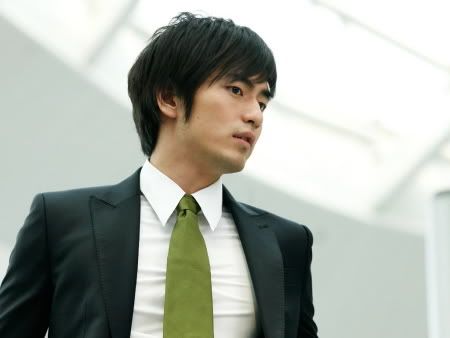 Lee Jin Wook is quite a cute guy and I think acting wise, he's not too bad for someone new. Unfortunately I've yet to see any of his earlier works like
'Smile Again'
or
'Alone in Love'
(this drama is in the queue). But he is really too young and looks it too to be a Choi Ji Woo's primary school mate.
So far, I can't really detect any 'love' chemistry between Lee Jin Wook and Choi Ji Woo. Of course, it is a little too early to conculde but I can see the potential sparks between Lee Jun Jae and Choi Ji Woo.
The 2nd lead actress, Moon Jung Hee, has yet to make her appearance in the 1st episode. I think she appears from the 2nd episode onwards. I'll be interested to see how the equation works out with her in the picture later.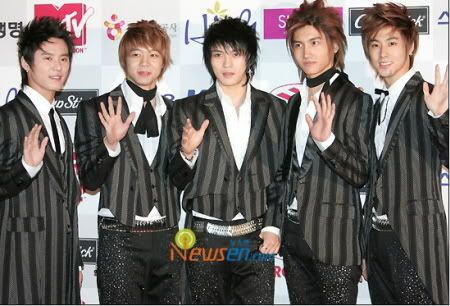 동방신기 (I still can't recognise them!)
The theme song is sung by TVXQ- . Now I can't say I really like their songs but this song is not too bad. I guess it fits with the drama's storyline and content- fast, urban. With Kangta and Super Junior singing the other songs, I must admit that the feel for the rest of the songs in the ost is somewhat similar. . And no, there aren't really any slow songs in the ost. Told you this isn't really a romantic story... hehe! the ost is available
now
.
Here's a
trailer
and a fan made mv using the theme song
All in Vain
by TVXQ.
Ok.. I must admit, there's a personal reason why I like Air City. I used to work in the airport and watching the drama brings back the memories. Though I hated the long hours, the atmospheare in the airport is really quite different. I get a thrill each time I breeze into the transit area with my working pass through the special door. Hehe!
This was a cute scene...hehe!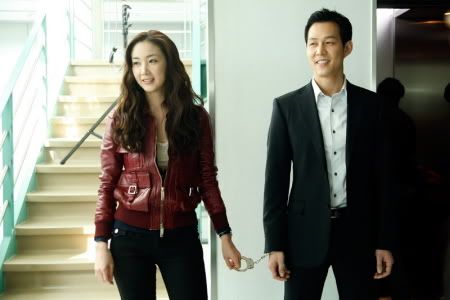 I was debating whether I should start watching Park Shin Yang's
'War of Money'
now as well but after the mad, hectic 2 months of watching 5 dramas at the same time, I have serious doubts if I would be able to retain my sanity if I start watching too many at the same time. Besides, I want very much to finish my
'Freeze'
first. ^^