Besides the last 2 dramas that I blogged about, I'm also watching the following 3 dramas and they are even more 'shiong' (hard) as they fall on the Wed/Thu slot. Which means I get very busy from Wednesday night onwards.
'Witch Yoo Hee'
Cast: Han Ga In (Ma Yoo Hee), Jae Hee (Chae Moo Ryong), Kim Jung Hoon (Yoo Joon Ha), Dennis O (Jjhonny Crooger), Jeon Hye Bin (Nam Sung Mi)
Official Korean site
Official ost
Description in a line-
Too many men spoil the witch
Yoo Hee (Han Ga In) is a no-nonsense but very capable working lady. She has zero social skills and has very little interest in matters except work, yet at the same time, she would like to settle down. Moo Ryong (Jae Hee) became her house helper when he could not pay up the damages after an accident. Although he could have become a doctor, his real interest is actually in cooking and his ambition to become a great chef. Jjohnny (Dennis O) is a renown chef. He likes Yoo Hee, but she isn't aware of it. Her heart belongs to her first love, Joon Ha (Kim Jung Hoon), who went away for further studies years ago. He is now a doctor and back in Korea.
If it all sounds confusing, it's probably because there are too many male leads. It's quite usual to have 2 male leads but to have 3! Me doth think it's a little too much. I think the writer is having problem trying to figure how far he should develop the 3 guys and their relationship to Yoo Hee- which means the charcters are neither here nor there.
I like Jae Hee in
'3 Iron'
. He's too skinny here and acting wise, I felt he could be better. Kim Jung Hoon has very little screen time..I did see some glimpses of his 'cold' character but it was only glimpses, though it's probably not totally his fault as there is very little room for expansion of his character. I wonder if that will change in the future episodes. I'm sure the PD and writer is trying to guage the response of the audience before deciding what to do with the 3 men.
Dennis O surprised me with his fairly fluent Korean (better than mine anyway) but though I really find him a great eye candy...acting wise...like Daniel Henney, he's going to have work harder. However he has definitely improved from his
'Sweet Spy'
days.
And Han Ga In is pretty but ...unfortunately, there is no chemistry with any of the 3 cute guys. Sigh.. And she kisses all 3 of them too!!!!
Which man you want?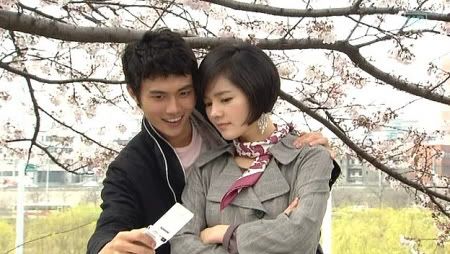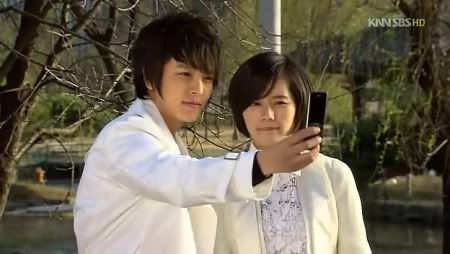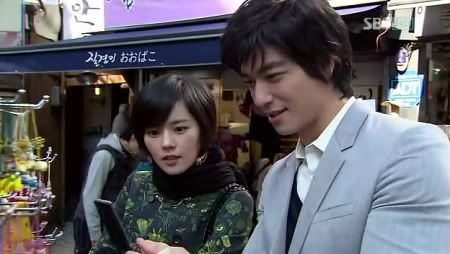 I find Moo Ryong's girlfriend, Sung Mi (Jeon Hye Bin) rather sweet. And Dennis O with the towel on his head is a laugh. haha!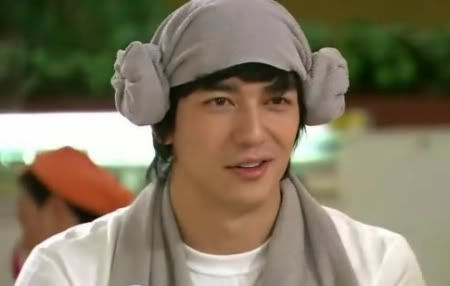 ---
'The Devil'
Cast: Uhm Tae Woong (Kang Oh Soo), Ju Ji Hoon (Oh Seung Ha), Shim Min Ah (Seo Hae In)
Official Korean site
Official ost
Description in a line-
Intriguing plot a la Da Vinci Code
Oh Soo (Uhm Tae Woong) was an unhappy, rebellious youth who killed another student accidentally one day. Full of remorse, he grew up and joined the police force, performing his duties with zealous rightousness, if a little rash. He is determind to become a better person after that tragic incident. Shim Min Ah possess psychometry powers (read explaination
here
). Years ago, she first realised she had such powers when she 'witnessed' the death scene caused by Oh Soo. Seung Ha is the brother of the student killed by Oh Soo. He is now a brilliant lawyer but he is always distant to the point of being cold. His face is often expressionless.
One by one, all those who were connected to the case 12 years ago are being summoned by a mysterious force. Slowly, those who helped Oh Soo escaped punishement back then are killed.
This story is full of plots and surprises. The characters are introduced one by one and slowly revealed to the viewers their relation to the case. The killers for the murders are caught but they were all being used by someone to perform the deeds unwittingly. Seung Ha- through 'fate' ends up being their lawyers. It is as if a mastermind is weaving a little web, playing god and devil at the same time.
There is also much references to literary works and the world of tarrot cards. Everything has inferences, which made it really interesting.
Uhm Tae Woong puts up a brilliant performance here but in a way, his role is a little easier to portray as Oh Soo's emotions are as open as a book for the world to see.
Ju Ji Hoon's character on the other hand is rather difficult to express. There is little feelings in him as he seems to have built a very thick wall around his heart. I think he has done well enough considering that there isn't much room for him to espress his emotions so far.
And Shim Min Ah has totally redeemed herself in my eyes after the disasterous
'A Love to Kill'
. She is just right here though I think she has yet to be given much chance to stretch her character. Perhaps in future episodes?
Unfortunately, the rating is rather low. I supposed the Korean viewers don't really want to think too much at the end of a hard day's work. I however, find the story totally fascinating.
Who is the Devil?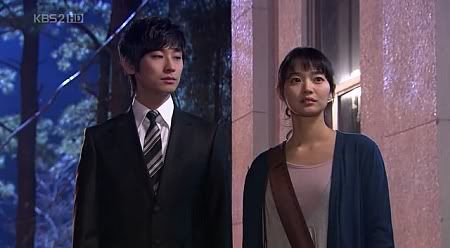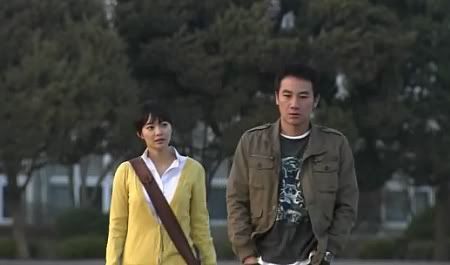 Great performance from both Uhm Tae Woong and Ju Ji Hoon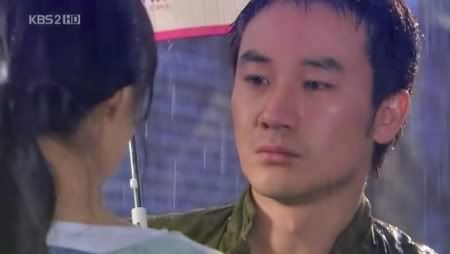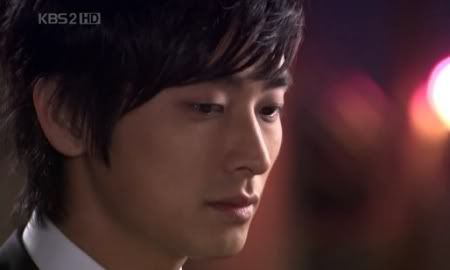 This young man (the younger Oh Soo) caused quite a stir for his acting. I would be keeping a lookout for him in future.
---
'Thank You'
Cast: Jang Hyuk (Min Gi Soo), Gong Hyo Jin (Lee Young Shin), Shin Sung Ruk (Choi Suk Hyun), Seo Shin Ae (Lee Bom), Kim Seung Eun (Seo Eun Hee)
Official site
Official ost
Description in a line-
Thank you for the great cast and great acting
Lee Bom (Seo Shin Ae) is an adorable 8 years old girl infected with HIV through a mistake made by Gi Soo's (Jang Hyuk) deceased girlfriend. Lee Bom's mother, Young Shin (Gong Hyo Jin), is a sweet natured girl, who has to take care of her slightly senile grandfather and her HIV infected daughter. Gi Soo is a great doctor, tormented by the fact that he could not save his girlfriend and so he became an angry man and gave up the profession. Suk Hyun (Shin Sung Rok) is an ambitious man, working for Gi Soo's mother. He is also Lee Bom's father, though he didn't know about it until he returned to the island 8 years later.
This is Jang Hyuk's come back drama after his army stint. Unlike Song Seung Hyun and So Ji Sub, who were both very much in the public eye whether in or out of the army, Jang Hyuk was relatively quiet. I was curious to see how he would be after being away for 2 years. I think I last saw him in
'Please teach me English'
And he is great. Not only does he look better and fitter, his acting has also improved tremendously. There's a certain maturity in him now.
I've only seen Gong Hyo Jin in one drama (
'Sangdo, Let's Go to School'
) and though she was sweet, I thought her acting only ok. But in here, she postively shines. She's sweet natured and naïve without being dumb. She is able to express so much with just her looks.
But I think the star of the show belongs to Seo Shin Ae, the little girl. In the drama, her mother says she is an angel..which she is...even though she is a little mischievous.
Shin Sung Rok is good too and I've been told by Han that he is actually a stage actor and can sing very well. Hmm...I would really like to watch a clip of his stage performance.
The 2 men in Young Shin's life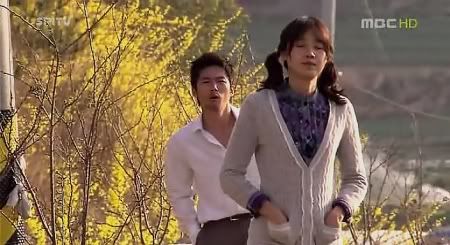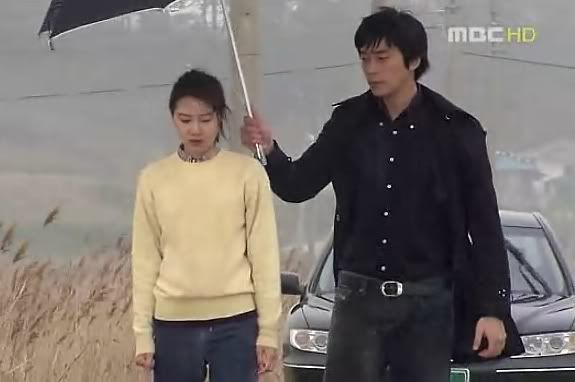 A look can paint a thousand words...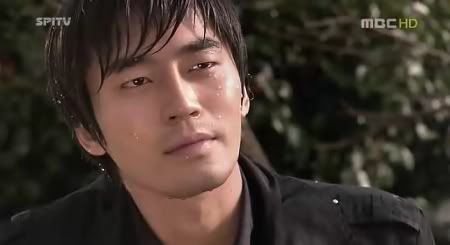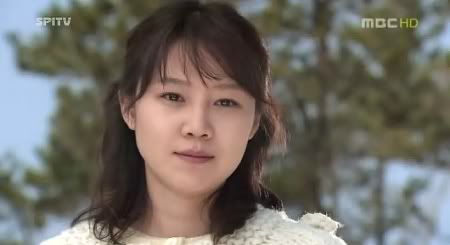 The star of drama- the angel..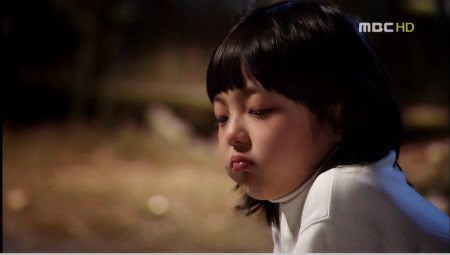 This was supposed to be a sad scene but errr.... I can only think of 'The Incredible Hulk' when he tore his shirt open.. Ooops!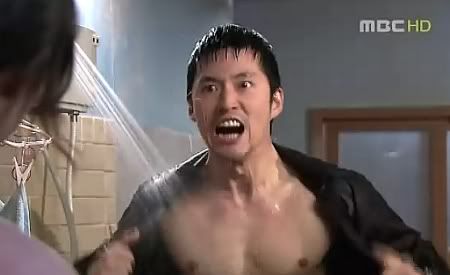 Coincidentally, of all the 5 dramas, the ost for both
'The Devil'
and
'Thank You'
are the best.
Lastly... there are more showers!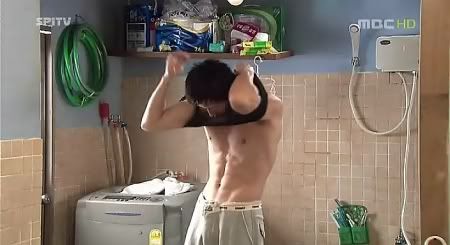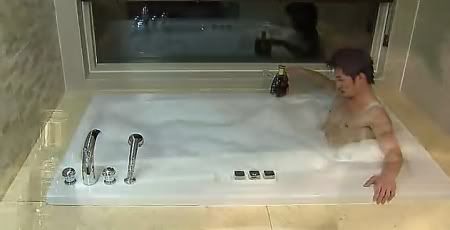 Jang Hyuk takes a shower in episode 6 and a bath in episode 8 (I like the bathtub)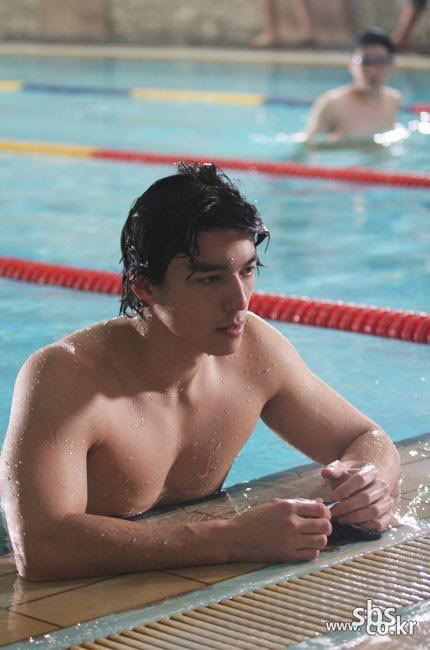 Dennis O swimming in episode 5.