In light of all the nuna/dongseng (older sister/younger brother) relationships that's going on in the Korean drama world, I thought I'd take a look at my affair with my young men as well. Unfortunately or fortunately, the guys in my list seems to be getting younger and younger.. (ok, ok, it could be that I'm getting older shh.....) So as much as I would love to call these guys, 'oppa' (오빠), I'm afraid they are all my 'dongsengs' (동생) and they have to call me 'nuna' (누나). Hmm....actually, that doesn't sound too bad.....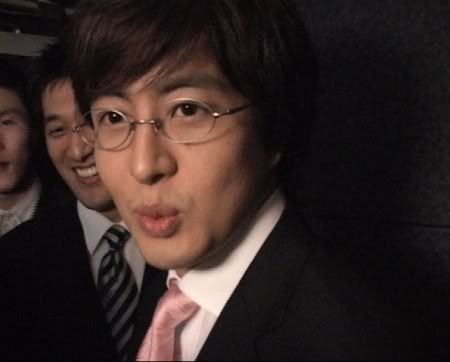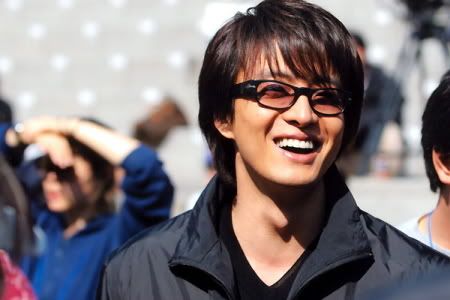 Bae Yong Joon
- 28 Aug 1972
First contact:
'Winter Sonata'
This was the young man that started it all- my kimchi fever. Captured my heart in Winter Sonata. I have never cried so much watching a drama or so mersmerised by an actor. The rest, as they say, is history. One of his best performance was in
'Have we Really Loved?'
His first movie,
'Untold Scandal'
caused a near scandal as it was a complete change from his last character in Winter Sonata. Personally though, I admired his daring decision and I enjoyed the movie, not just because of him but the rest of the cast and the costumes and setting as well. His latest drama,
'Great Kings Four Gods'
(태왕사신기) is looking pretty good. Hopefully, it will go as planned and air in May. Watch a short clip
here
. Thanks to Flower of truelovebyj.com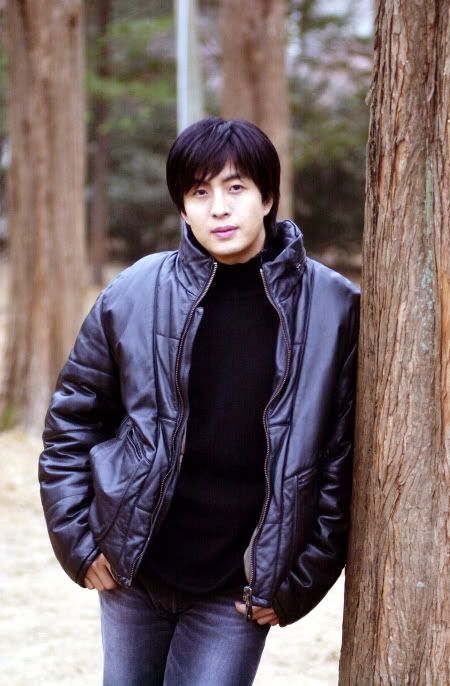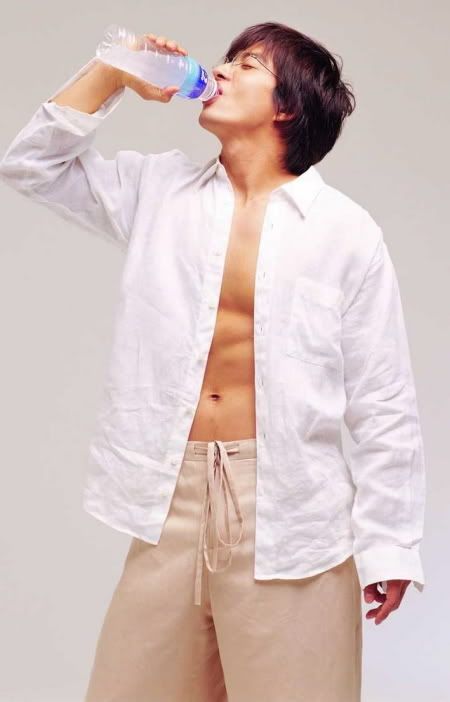 ---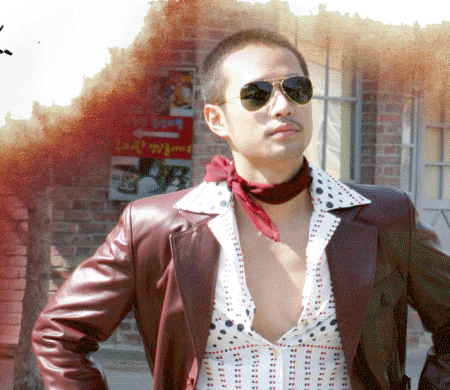 Chun Jung Myung
- 29 Nov 1980
First contact:
'Fashion 70's'
Watch
'Fashion 70's'
recently and was captivated by the rebellious Jang Bin. Still watching
'What's Up Fox?'
But he looks much younger in this drama.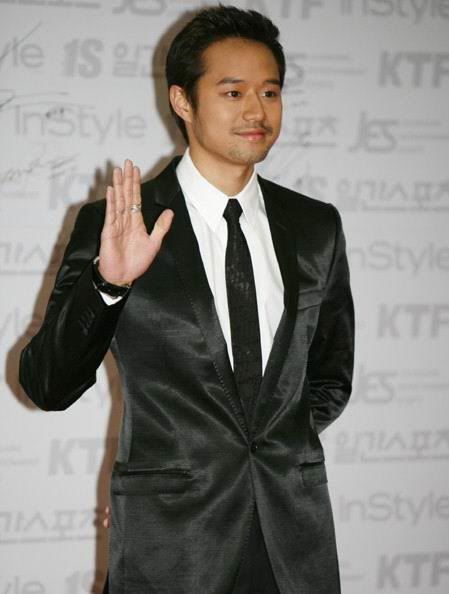 ---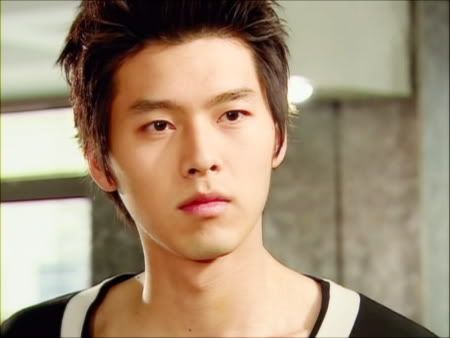 Hyun Bin
- 25 Sep 1982
First contact:
'My Name is Kim Sam Soon'
The runaway hit
'My Name is Kim Sam Soon'
brought him much fame and many fans. One them was me. How to resist those dimples? He was really funny in the drama and I thoroughly enjoyed it. However, Snow Queen is still waiting somewhere in the cupboard. There's not much urge to see him all sloppy and unshaven leh. His first movie,
'A Millionaire's First Love'
was just so-so, unfortunately.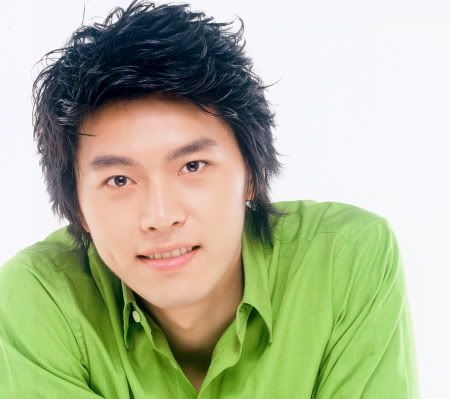 ---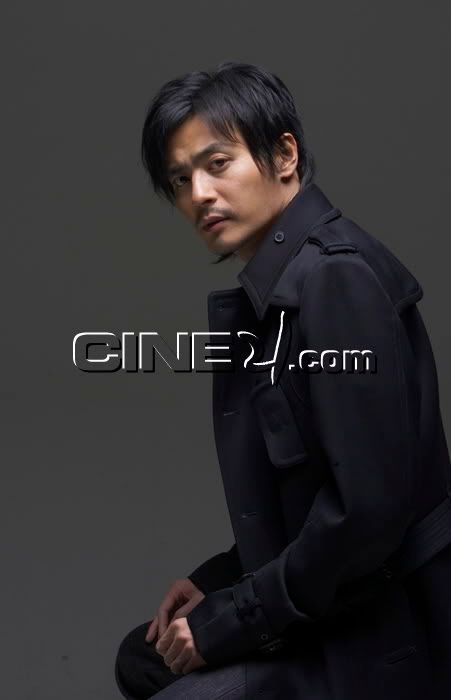 Jang Dong Gun
- 7 Mar 1972
First contact:
'All About Eve'
It was through
'All About Eve'
that I got to know about Jang Dong Gun. The actor with the goldfish eyes has also been praised as a handsome man by fellow actors. He's acted in mostly 'men's movies' ever since like Takeguki and Typhoon but in my opinion was the most handsome in
'Lost Memories 2009'
but really quite silly in
'The Promise'
. Rumours swirling around that he will be in a hollywood movie with Zhang Zhi Yi soon.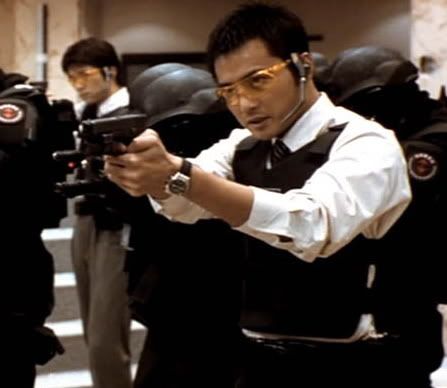 ---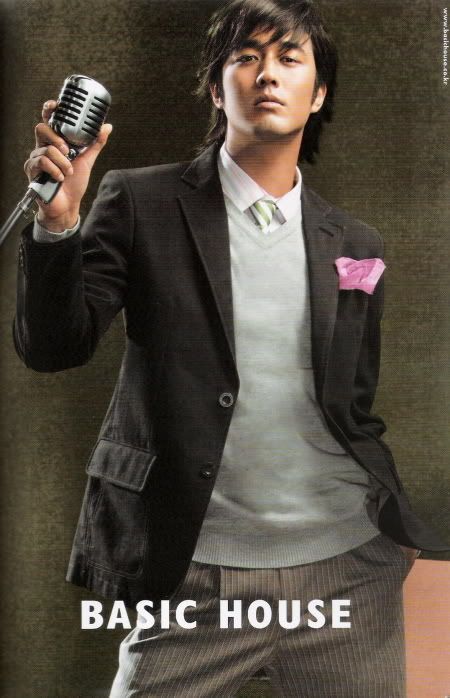 Jo Han Sun
- 17 Jun 1981
First contact:
'Temptation of the Wolves/ Romance of their Own'
This movie gave me 2 sides dishes- Jo han Sun and Kang Dong Won. But I like his character in the movie better. Spurred me to watch April Kiss. Really good looking but terribly boring drama. Fast forward most of it except his parts, just so that I can drool over him. Have yet to catch his latest movie,
'Now and Forever'
with Choi Ji Wo. Not sure I want to either....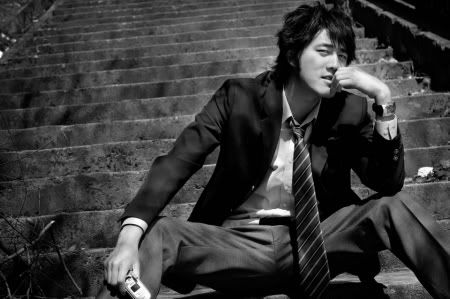 ---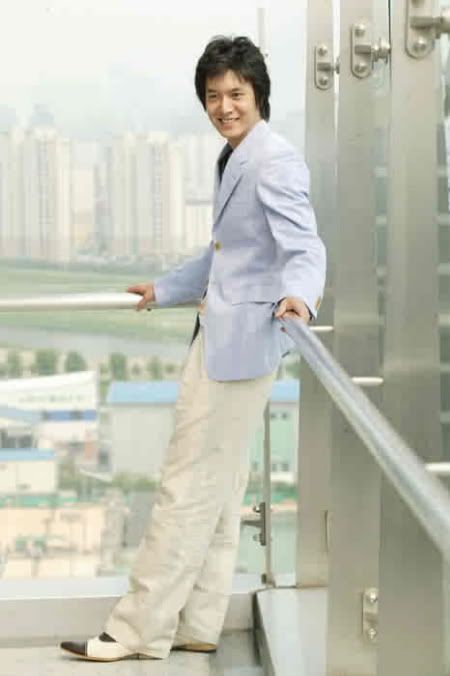 Jo Hyun Jae
- 9 May 1980
First contact:
'Love Letter'
He was so angelic in this drama. I remembered there was quite a bit of discussion in the Koreanfilm.org forum. His first movie was in
'Untold Scandal'
, together with Bae Yong Joon, Lee Mi Sook and Jeon Do Yeon. Recently caught glimpses of him in
'Suh Dong Yo'
, his latest drama and I was impressed.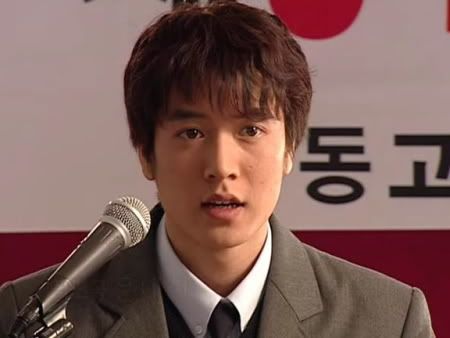 ---
Ju Ji Hoon
- 16 May 1982
First contact:
'Princess Hours'
There was so much controversy when he was casted. Tall and lanky, I think he was perfect as the distant, cold, cooped-up crown prince. Thousands of fans agree with me. I'm afraid I will forever remember Shin goon whenever I have a bowl of Shin rameon. Verdict is still out for his role in
'Ma Wang/Devil'
, which surprisingly did not do as well in ratings as the other 2 dramas. But then, it's only 2 episodes so far, so let's wait and see.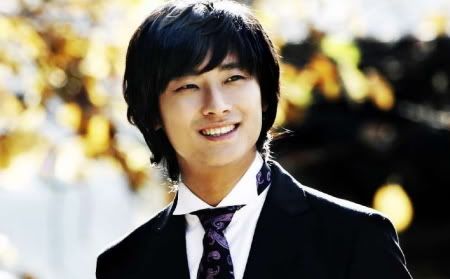 ---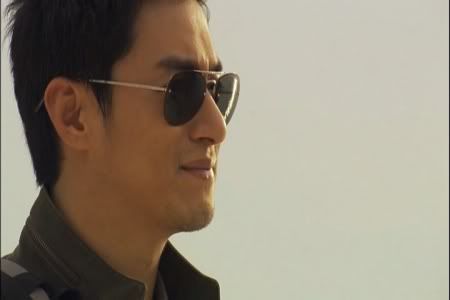 Joo Jin Mo
- 11 Aug 1974
First contact:
'Fashion 70's'
He is one of those manly guy....Especially when he stepped out of the helicopter with those sunglasses. I guess he's one of those who gets better as he gets older because I simply cannot remember him in
'Musa'
or
'3-Iron'
. Recently just wrapped up the drama,
'Queen of the Game'
. But I'm more interested to get my hands on
'200 Pounds Beauty'
.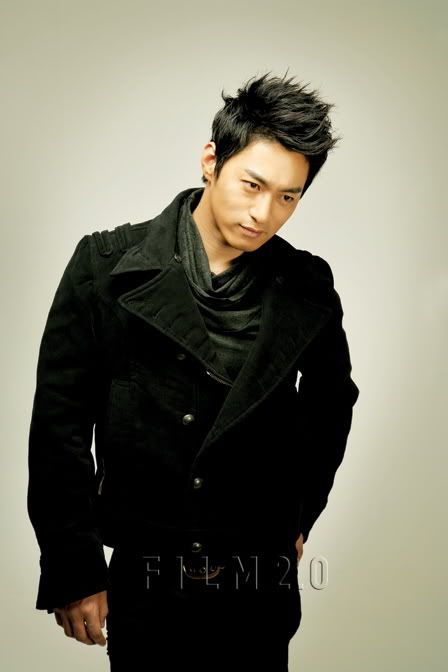 ---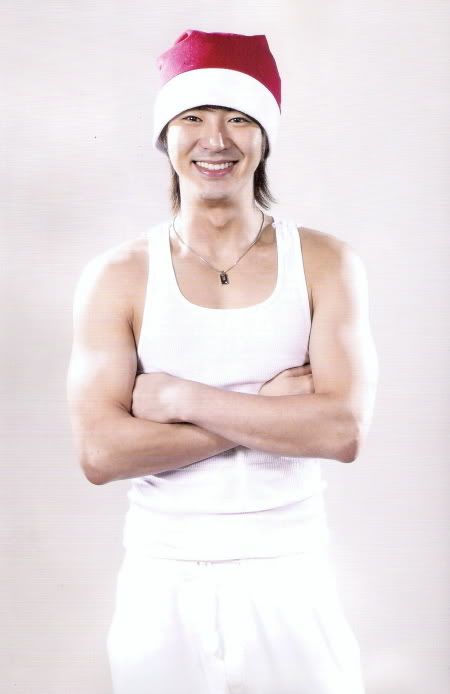 Jun Jin/ Park Joon Jae
- 19 Aug 1980
First contact:
'Legend of 9 Tail Fox'
Although I know the group, Shinhwa then, I was not really into their music at that time. In fact, it took me awhile before I could finally recognise the 6 guys. But this was the drama that got me interested in Jun Jin and also Shinhwa eventually. This was a really interesting, unusual drama..all about 9 Tail Foxes (who looked like human), who needed to eat human's liver to stay alive. Hmm... all these 'foxes' looked so cool in their black leather wear. A 'fox' never looked so good....sigh..they look better than human....Not fair.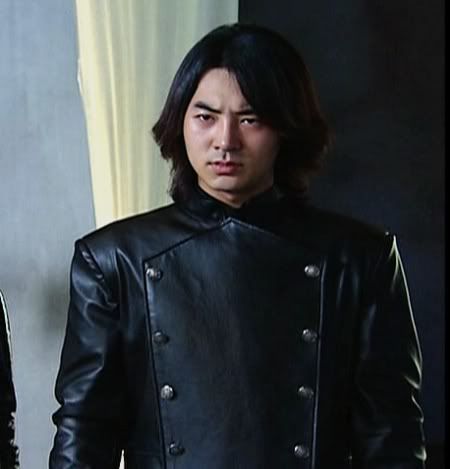 ---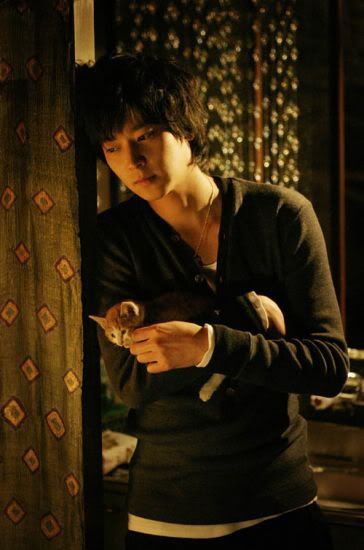 Kang Dong Won
- 18 Jan 1981
First contact:
'Temptation of the Wolves'
It was a toss up between him and Jo Han Sun in the movie. Jo Han Sun just managed to win, though that is not to say I didn't like Kang Dong Won in the movie. He's not really handsome per se, but there is a certain edgy look about him. Heard good reviews about his movie,
'Maudy Thursday'
together with Lee Na Young.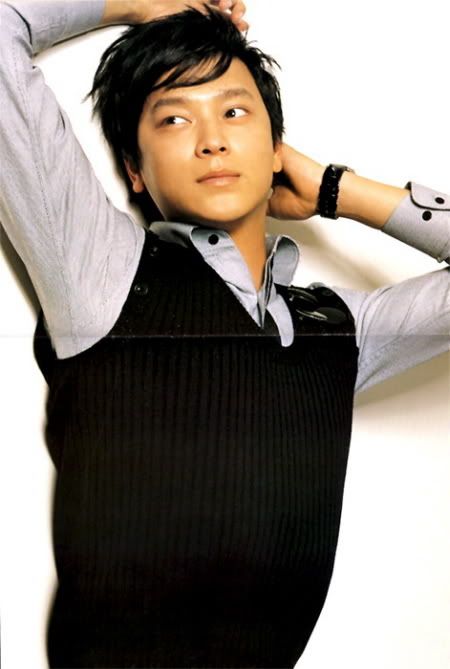 ---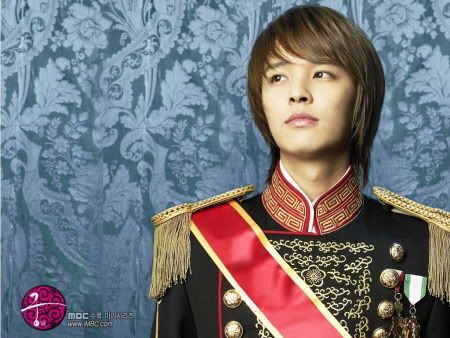 Kim Jung Hoon
- 20 Jan 1980
First contact:
'Princess Hours'
I guess I knew him first as a singer, as part of the group, UN. I saw them performed live in Music Bank. But then of course, I didn't know Kim Jung Hoon as an individual then. When watching
'Princess Hours'
, I was flip-flopping between Yul Goon and Shin Goon. Kim jung Hoon has such nice watery eyes. They really can melt you. He's now in the drama,
'Witch Yoo Hee'
, fighting for the same time slot as Ju Ji Hoon. So far his drama seems to be slightly in the lead for ratings. Unfortunately, he's again not the main lead.