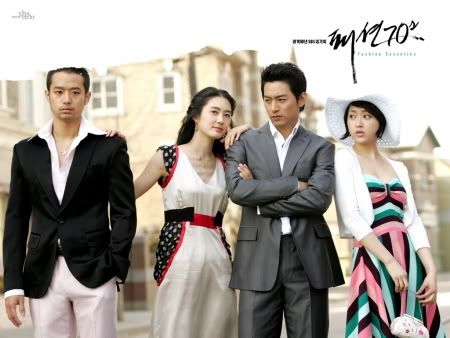 Cast
Joo Jin Mo
- Kim Dong Young (김동영)
Lee Yo Won
- Han Deo Mi/ Go Jun Hui (한더미/고준희)
Chun Jeong Myun
- Jang Bin (장빈)
Kim Min Jung
- Go Jun Hui/ Kang Hee (고준희/강희)
SBS official site
soompi
Hotelier2002
Twitchfilm review
NGs
MV
Jang Bin's theme (fan made mv
Han was asking me why I haven't blogged for such a long time. Well, this drama is the reason- 이드라마 데문에...I have been been watching it for the last one week (during whatever spare time I have) and finally finished it on Sunday.
Fashion 70s
aired in 2005 and had a rating of a rather high 25%. It was extended from the initial 24 episodes to 28 episodes.
Though I was rather apprehensive about it initially and even felt some parts were a little slow, I changed my mind as the drama developed. Like good wine, this one gets better as you watch on.
Fantastic cast from the leads to the supporting characters to the child actors, wonderful storyline, great production and beautiful props, especially the clothes. All these put together made it an unforgettable drama...unusual from the usual crop of Korean dramas.
After reading some of the reviews and thoughts on the various forums, I agree that one of the reason why the show is good (at least to those of us who are crazy about it) is the fact that there are so many aspects of love in this drama. It is not just about love between lovers, but also between parents/children, brothers, sisters and friends.
The first 4 episodes are rather amazing for a drama..it reminds me of MASH with all the props and sets. There's a rather grimy feel to it as it should be during war time. These initial episodes are crucial to the whole story. The 4 child actors were incredible. I've always wondered where the Korean entertainment industry manages to find these talented child actors. Some of them would put many of the adult 'actors' to shame.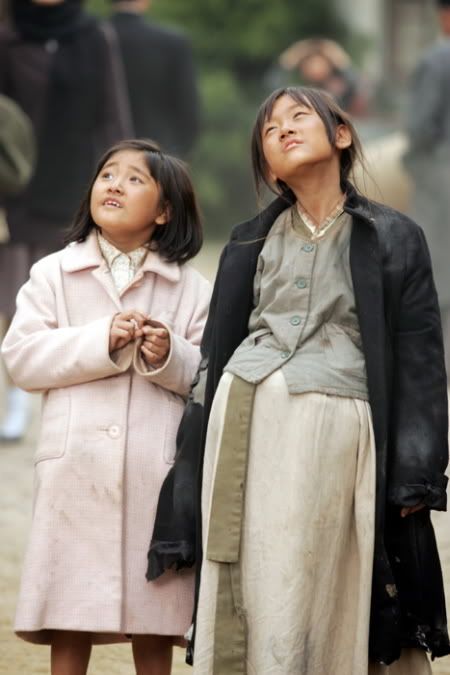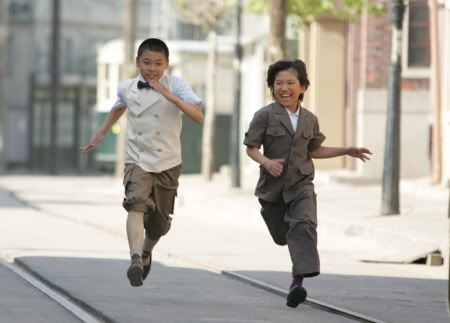 Synopsis:
It is about 1950.. and Korea is on the brink of a civil war. At one of the frontline army post, Jun Hui, the only daughter of a couple running a successful business in the army, befriends Kang Hee, the daughter of a poor, single mother. Dong Young, the son of a military general and Jang Bin, the son of a well known designer met when Jang Bin's mother stages a fashion show for the troops.
War broke out and the 2 girls are separated from their own family. In the months to follow, they found comfort in each other as they attempt to stay alive and locate their own family.
During one of their trespasses into the US army camp, the 2 girls were shot and wounded. Jun Hee's father, believing his daughter to be dead, adopted Kang Hee and changed her name to Jun Hee, because 'otherwise his daughter, Jun Hee, would disappear from the face of the earth and nobody would remember her.'
The real Jun Hee, traumatised by the shock, lost her memory and in a strange twist of fate, is adopted by Kang Hee's mother and is given another name- Han Deo Mi. She did not tell anyone about little Jun Hui being alive and they moved to a little island- Meng Gol Do.
More than 20 years passed and the 4 children are all grown up.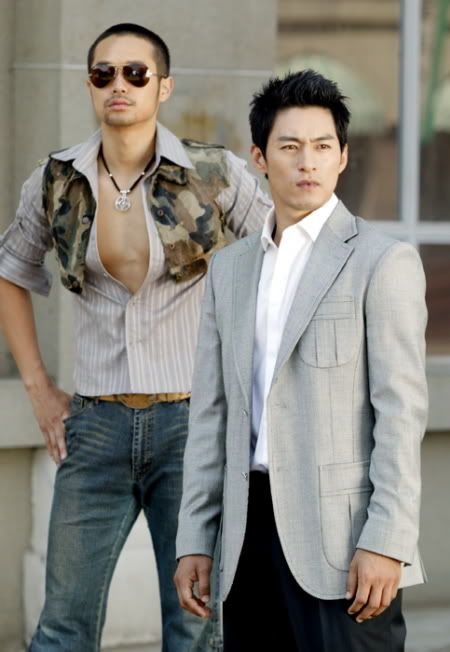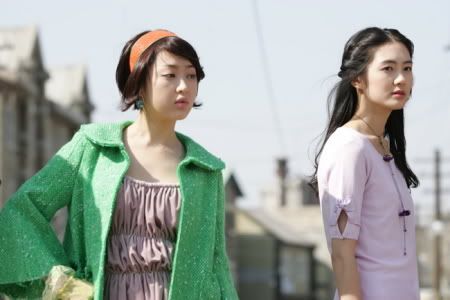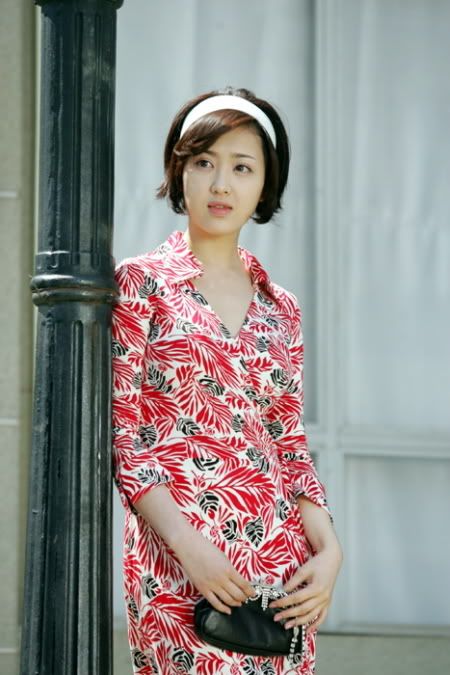 Go Jun Hui (Kang Hee) is the publicly acknowledged beloved daughter of a rich businessmen. She is not in need of anything... seemingly.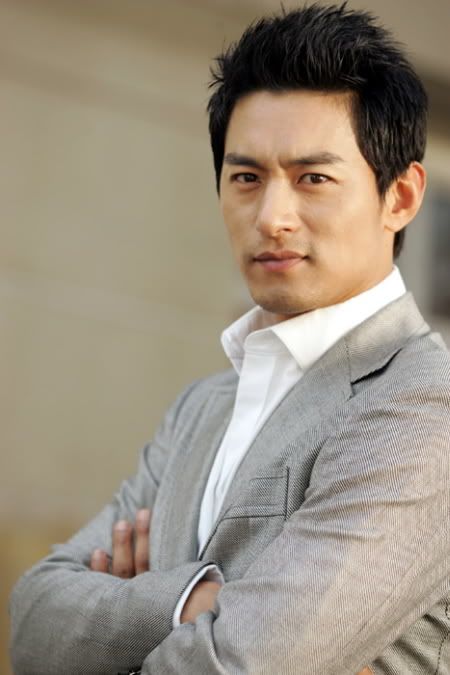 Dong Young, stable and matured, followed his father's footsteps and is an aide to the President.
Jang Bin, grew up to be a rebellious, devil-may-care street smart guy, who steals for thrills. He has never forgotten the little Jun Hui though, who gave him his first kiss.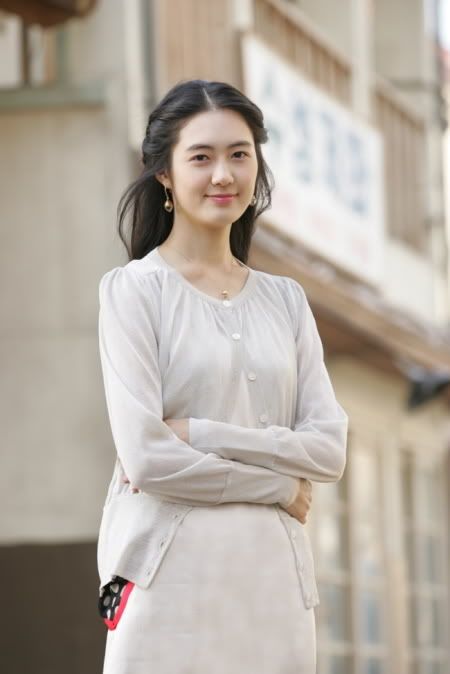 And Deo Mi, with no memory of her earlier childhood, grows up into a headstrong, confident woman, who dreams of becoming a designer.
The 4 of them meet again and their lives become intertwined with each other.
Dong Young and Deo Mi met and fell in love. Jang Bin, who loved the little young Jun Hui back then, fell in love with Deo Mi. And Jun Hui, who has always loved Dong Young since the day when he showed her kindness as a kid, continued to love him even more deeply.
As the wall of lies crunbles and the truth slowly unfolds... it caused much tragedy and sadness, not just for the 4 of them, but also their family and loved ones.
Thoughts:
Where do I start? My heart and mind are still thinking about the various scenes.
As I've mentioned, the story was more than just about the love between a man and a woman. If it was, then the story wouldn't be as interesting. It is the other aspects of love that drew me in and made me cried.
The brotherly love between Jang Bin and Dong Young, who would sacrifice for each other. Even when Bin found out that the woman he loves is actually his hyeong's girlfriend, there was no fight or bitterness towards Dong Young...just a sense of frustration on his part. Because he knows how much Deo Mi and Dong Young love each other too.
The love between Deo Mi and her mother. Though she didn't initially choose to adopt Deo Mi, she grew to love her as a real daughter and took care of her as much as she knows how to.
The love of Jun Hui for her adopted father..whom she loves even more than Dong Young.
The sisterly love between Jun Hui and Deo Mi, despite the rivalry....For having been through life and death, there is a certain deep bond between the 2 girls that binds them together.
Initially, I wasn't very impressed with Kim Min Jun (Go Jun Hui) as I thought she wasn't very good at expressions and seems a little wooden. But I changed my mind as I watched on. She was really good in the last few episodes, when you saw her fear, her dejection, her lonliness when she thought everyone had betrayed her, when she felt that everyone she loves and everything she ever had were taken away by Deo Mi.
I cried, really cried at the prison visitation scene when she told Deo Mi that she hope that she, Deo Mi, their mother and father could be together like a real family in the next life.
And just before her execution, when she told Dong Young that she loves him... it was truely heart breaking.
I could not bring myself to hate Jun Hui even though her selfish acts did cause much grief to everyone. For though she was loved by those around her, she could not feel the love. Their love was for Jun Hui and not Kang Hee. Without the name Jun Hui, she was nothing. Her path to destruction was the result of this insecurity of being neither Jun Hui nor Kang Hee. What kind of live she must have lived in the 20 years... a web of lies and deceit.. And when she sees Deo Mi 'taking' back everything, she must felt lost and hurt. For 20 years, she had lived the life of Jun Hui...how else could she live if not as Jun Hui?
Many will say that Deo Mi suffered. Yes, she suffered in terms of material comforts and of not being with her real father. But she was loved and with no memory of the tragic events, she was happy growing up as who she was. She was naïve, but also strong. In love, she was sure about her stand and I'm glad she did not lead Jang Bin on right from the start. The hug she gave Jang Bin......as a little boy... in need of comfort....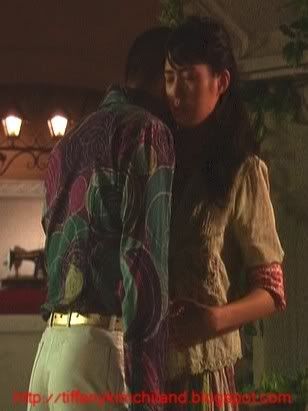 So I was angry with her cruelty when she would not hug Bin when he was arrested. Even as a friend, she could have done that and given some comfort to a man, who may be locked away for many years. And she didn't even visit him in prison!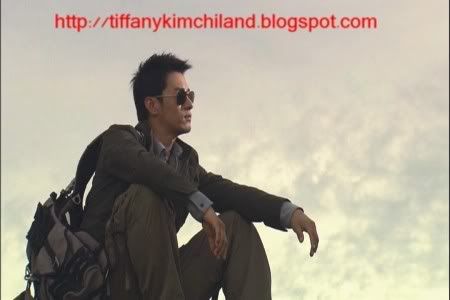 Dong Young is the perfect guy.. the man in shining armour. Did he give the wrong signals to Jun Hui? I don't think so..because he had not discover love then. He likes Jun Hui and understands her well. If he had not met Deo Mi, then he woud probably have married Jun Hui and would not have been unduly unhappy with the choice. And yet, I was angry with him for not being at Deo Mi's side when she needed him most. I can understand why he chose to stay next to Jun Hui in her hour of darkness, yet...I still could not forgive him for this.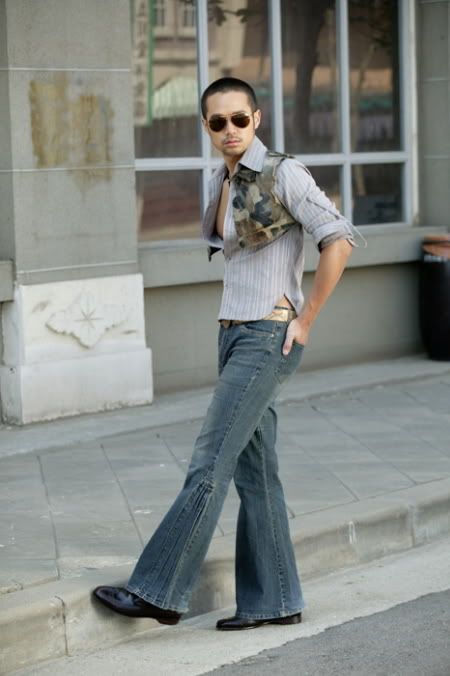 And Jang Bin... ahhh... Jang Bin with his little devil wicked streak...
How he loved Deo Mi, the woman he would like to be hugged by..
A kind hearted guy, who longed for that hug and love from the one important woman- his mother. A lonely boy who grew up and pretend not to care about anything. He was a man and a little boy as well. He learnt to forgive his mother and realised that she loved him in her own ways.
Finally he found peace within himself.
The 70's was an age of creativeness, of free-spirit, of changes. Looking at the clothes, they may seemed rather loud but they were also daring and so much more outstanding.... they also bring back such nostalgia. I really love the clothes in the drama, especially those worn by Jun Hui and Bin's mother.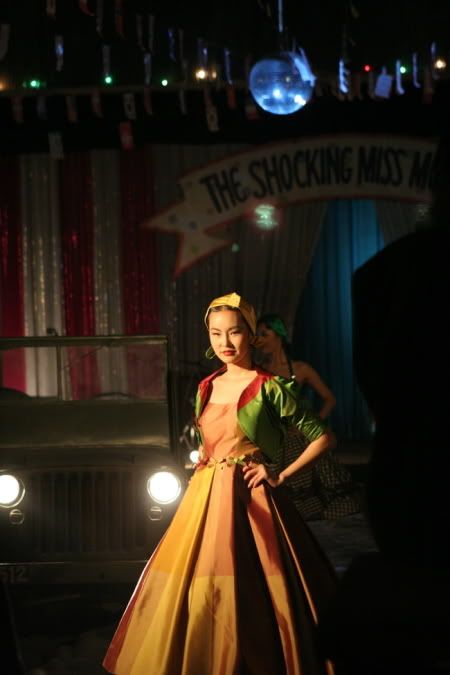 And the island where Deo Mi and Dong Young met again... it's no wonder watching all these dramas make us want to visit Korea.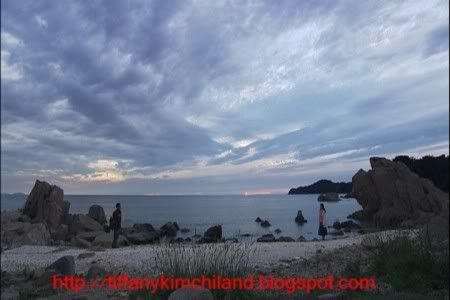 Many of us who watched the drama went gaga over the 2 men... Given a choice...I'll have both...if got no choice... then I guess I'll take Jang Bin. haha!
I think he made quite a few women breathless in the helicopter scene. (Reminds me of Bae Yong Joon as Frank Shin in Hotelier). There's something really magnetic about a man stepping out of a helicopter..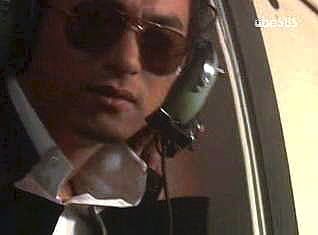 And yet... he can be so sweet when he's with Deo Mi.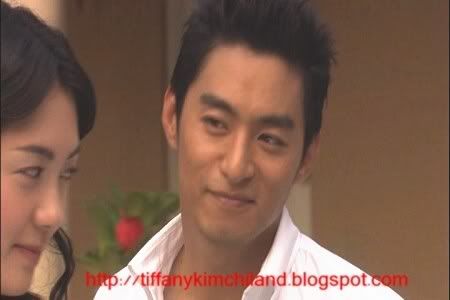 But for me, Jang Bin captured my heart when he did the catwalk dance. The unbutton shirt sealed the fate for me..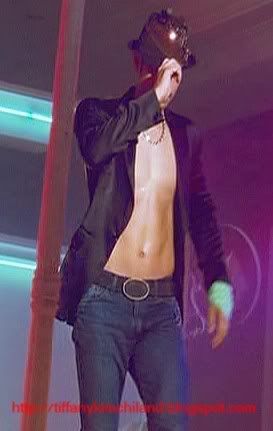 And when he smiles... his whole face lights up.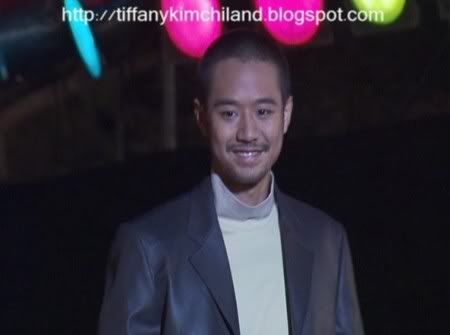 I supposed I couldn't end this without talking about the
ost
.
The main theme song is sang by the group Fly to the Sky. Both the members of the group, Fanny and Brian also sang the song solo. Each of he 3 versions has a different feel to it. A really beautiful song. You can watch the mv in the link above.
But I also love all the other tracks on the ost, especially the one I'm playing now. I think it evokes the feeling and the mood about the whole drama very effectively.
All the leads have their own theme music or song when it's their scene. You can listen to Jang Bin's theme on the fan made mv above. Towards the end, it shows the catwalk dance that I was talking about. You'll understand why he's such a draw to me.
Lee Yo Won is the lead in the rather popular hospital drama,
'Surgeon Bong Dal Hee'
showing on SBS now.
Kim Min Jung's last drama was in
'Stranger than Heaven'
with Uhm Tae Woong and Lee Sung Jae. I don't think it did that well despite the strong cast as the storyline was about the usual lost siblings fighting over a woman.
Joo Jin Mo just finished his latest drama,
'Queen of the Game'
with Lee Bo Young. It had an average rating. He was also in the movie,
'Musa'
. Hmmm... how come I don't remember? But then I only had eyes for Jung Woo Sung then....hehe!
And Chun Jung Myung was in the drama,
'What's Up Fox?'
with Go Hyun Jung, with a storyline that is rather popular now- younger man and older woman. Sigh.. but I think he looks too young in this drama leh. I like Jang Bin..with his crew cut and stubble better.
Don't they look good?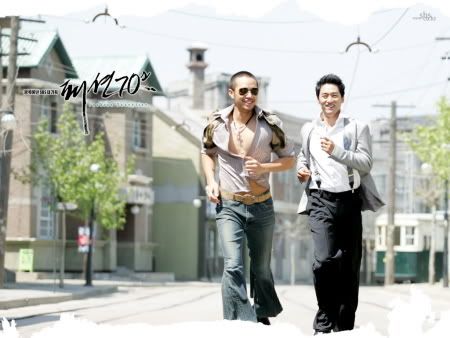 But I still prefer him leh.....