Whilst writing about
'Once in a Summer'
recently, it reminded me about this classic drama of Lee Byung Hun-
'Beautiful Days'
.
If
'All About Eve'
was
THE
Korean drama for Jang Dong Gun, then
'Beautiful Days'
was the one for Lee Byung Hun.
'Beautiful Days'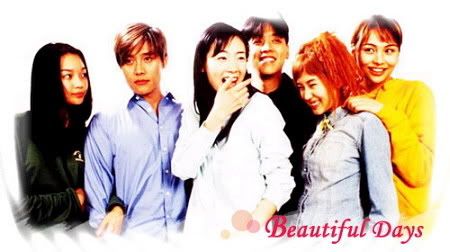 'Beautiful Days'
aired in 2001 at the same time as Hotelier. It was therefore a fight for ratings and viewers between these two.
'Beautiful Days'
stars Lee Byung Hun, Choi Ji Woo, Ryu Si Won, Lee Jung Hyun and Shin Min Ah. It's the classic story of 2 brothers fighting over a girl..only that of course, they weren't really brothers. But then they don't find out about this till much later.
There's Sun Jae (Ryu Si Won), the nice, kind-hearted guy, considerate guy, who is always there for Yon Soo (Choi Ji Woo). They met once when they were very young and had a memorable enoucnter. Their characters are quite similar and logically, she should fall for him (We all know that the girl never falls for the nice guy). But of course, she doesn't because she was swept off her feet by the bad boy, Min Chul (Lee Byung Hun). Sun Jae should have realised that women like their men a little bad. Haha!
Originally, according to my teacher, Lee Byun Hun wasn't meant to be the main male lead. It was supposed to be Ryu Si Won. Both Ry Si Won and Choi Ji Woo had done the drama,
'Truth'
in 2000 and I believe it was quite well received. Ryu Si Won became quite popular because of it.
Lee Byung Hun on the other hand, was not really in the limelight then. His last big drama prior to this was
'Happy Together'
in 1999 (which had many well known stars but unfortunately a rather weak script).
So originally, Ryu Si Won was supposed to be the guy that got the girl.
But he didn't reckon with Lee Byung Hun and his unbuttoned shirt and electrifying eyes.... which is a lethal dose of killer charm.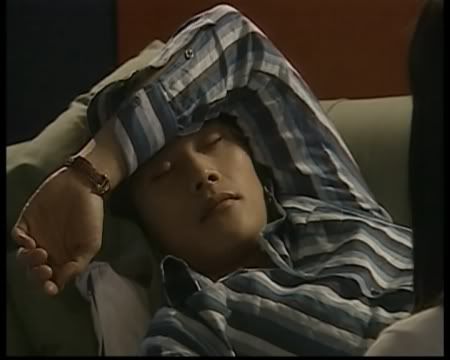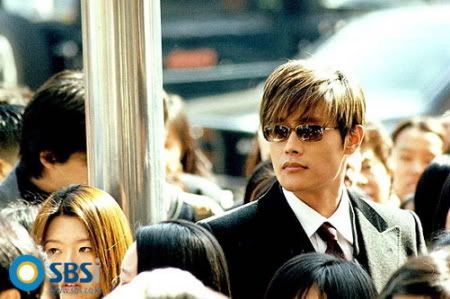 'Beautiful Days'
has the usual dubious siblings relationship AND the terminal illness. But perhaps because it was one of the pioneer in these subjects, it just seemed so right then, and came across as a beautiful love story. The angry, silent Min Chul, the gentle Yon Soo, the kind Sun Jae and the rebellious Sena. Somehow... they worked together well without being too mushy. (Well... except maybe towards the end.) I guess the chemistry between Choi Ji Woo and Lee Byung Hun was a big contribution to the popularity of the drama.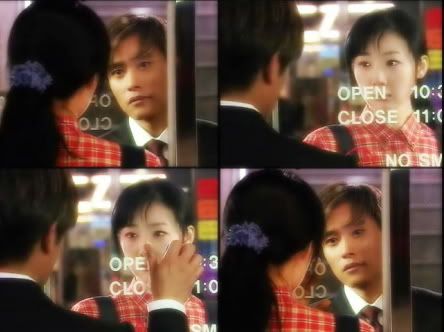 One of the classic scene in the drama- when Min Chul 'wiped' away Yon Soo's tears 'on' the glass door. I know I held my breath when he did it... it sent goosebumps down my skin.
And the 'famous' kissing is well known for being one of the longest and most err... 'in-depth' kiss in a drama. You can watch the kiss
here
and the kissing ngs
here
and judge for yourself just how thorough Lee Byung Hun was. Hahaha!
I read somewhere that Yon Soo (Choi Ji Woo)was meant to die but there was too much protests from fans and they changed the ending... for a happy one. Which I'm really glad. Hehe!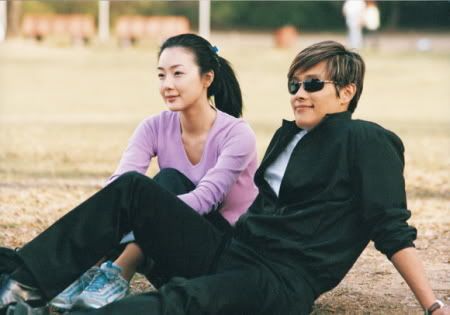 Lee Byung Hun isn't very tall (compared to many of the Korean actors) and yet.. I was totally captivated by him in this drama, especially his back...the air of confidence is so very sexy....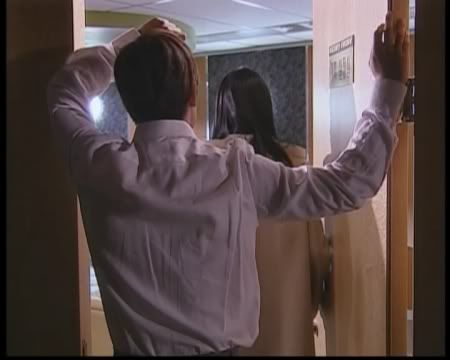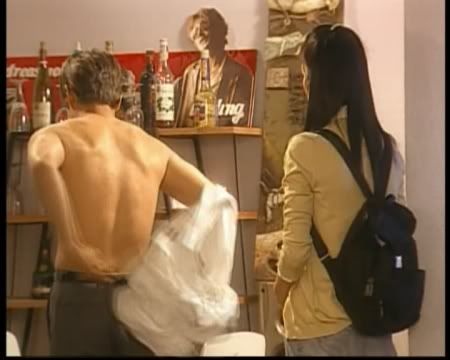 And his eyes.... sigh....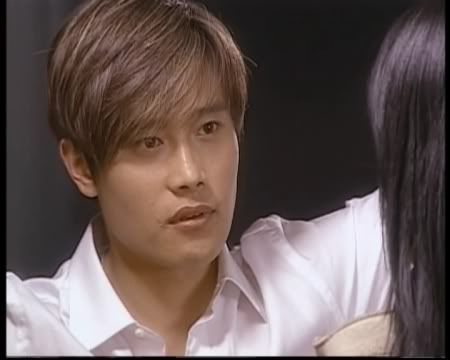 Now who says you have to be tall to be a hunk?
But hor.... again like Jang Dong Gun in
'All About Eve'
... I couldn't stand it when he combed his hair back in the wedding.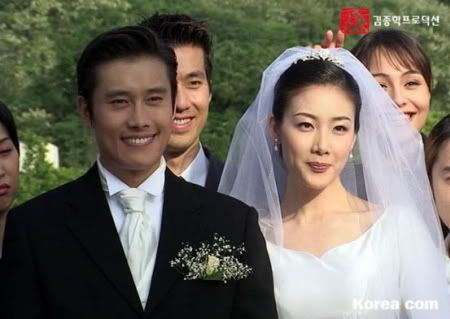 'Beautiful Days'
was the first time I saw Lee Byung Hun and I have come to really like and respect him as one great actor. I still remember the scene when he realised the crime that his father had committed...when he was hitting out and crying... I could really feel his pain.
You know one of the great thing about writing on this blog is the information that I constantly discover.
I found out that Lee Jung Hyun who acted as See Na in the drama is actually an accomplished singer. Sammi Cheng has sang quite a few of her songs in Chinese/ Cantonese. I'm sure you'll find
this
familiar.
Lee Jung Hyun recently appeared in the Japanese drama,
'Rondo'
together with Choi Ji Woo and the hunkalicious Takenouchi Yutaka. Unfortunately, the drama didn't do very well.....
Shin Min Ah's last drama was in
'A Love to Kill'
with Rain. It err... also didn't do well despite the fact that Rain was so very suave in it. The ending was really ridiculous. But Shin Min Ah will be in another greatly anticipated drama very soon. The drama,
'Devil (마왕)'
stars the very popular Shin goon, Ju Ji Hoon and Um Tae Woong and have already started filming. It should air in March.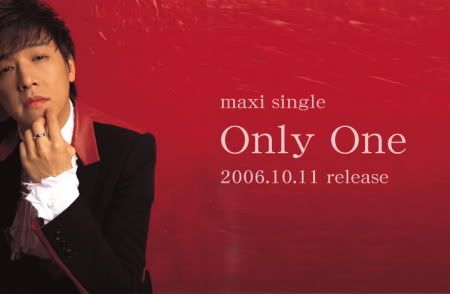 Ryu Si Won has concentrated his efforts in Japan, where he's released his Japanese album. Here's a mv of one of his Japanese song-
Only One
. He's also going to be in a NHK drama. But you know... so many of these cross-cultural dramas are always a little off... His last Korean drama was
'Wedding'
with the funny Jang Na Ra. I heard it's quite an interesting drama. Btw, did you know that Prince Ryu Si Won (as he is called) is a professional car racer? Yup, he is qualified to race and if I remember correctly, has even won a couple of races.
Choi Ji Woo will also be returning to the Korean small screen this year with Lee Jung Jae (yeah, yeah!) and Lee Jin Wook (yeah!) in the drama
'Air City'
. I think it's scheduled to air in May. Her last drama,
'Rondo'
, didn't fare that well and her movie,
'Everyone has a Secret'
with Lee Byung Hun was rather a let-down. It will be great to see her on TV again.
And Lee Byung Hun has been busy with
'Once in a Summer'
. I wonder if he will appear in any drama as well. All the big stars seemed to be returning to the TV. If you have not watched his other movies like
'JSA'
and
'Addicted'
, then you should not missed them. I've not watched
'A Bittersweet Life'
but curiously... Shin Min Ah is in it as well.
Soompi has a great thread on Beautiful Days and if you want to find out more, you should really
check
it out.
You know, most of the time, it is no coincidence that a great drama has wonderful songs. The fact that there is a
special ost+behind the scenes dvd set
only confirms the popularity of this drama.
Beautiful Days ost-
Promise by Zero
Beautiful Days ost-
Goodbye by Zero
Edit- How could I forget about
Ani's post
? hehe....
This collage of Lee Byung Hun/Min Chul photos was taken from the soompi thread. Can't remember who posted it, but thank you...
Lee Min Chul-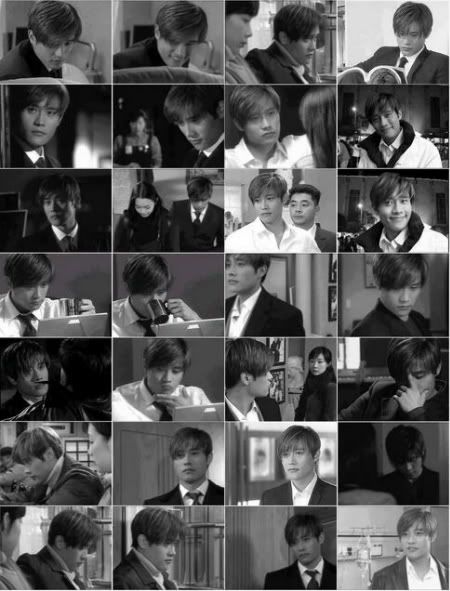 and his unbuttoned shirt..