I'm still trying to sort out my 700+ photos..wondering how and what to write about. Hopefully I'll be able to settle everything over the festive season...provided I'm not too drunk.
Anyway, I wanted to write about this before I went off to kimchiland but didn't have the time. So I guess I'll do it now, even though it's still airing in Korea. I caught 3 episodes of it whilst I was in Korea and it was really thrilling to watch it live, despite me not understanding 70% of the conversation and had to guess some of them.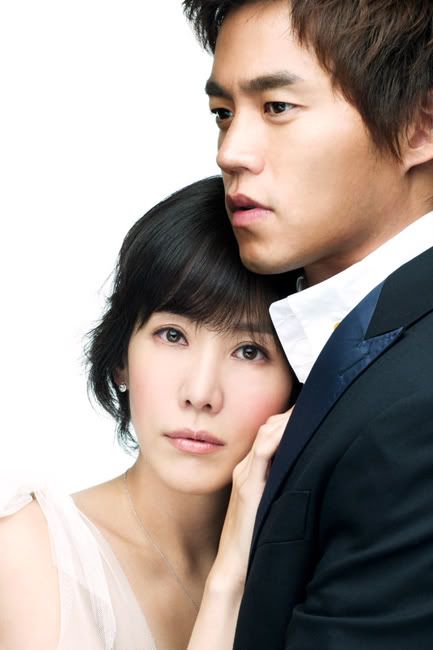 Back to my story. I wasn't going to watch Lovers....not seriously anyway and certainly not whilst it is still airing in Korea. I'd have to wait for a whole week just to watch 2 episodes. These stressed-fill, anxiety-filled, nail-biting moments are only reserved for 'hot kimchi dramas' (meaning kimchi men) on my list. And I must confess I didn't think Lovers would be one....Lee Seo Jin was not on my list, even though I quite like him in Phoenix. No, I didn't have high hopes mainly because of Kim Jung Eun. Ok, fans of KJE, please don't kill me but in her last 2 dramas, she was just a little OTT.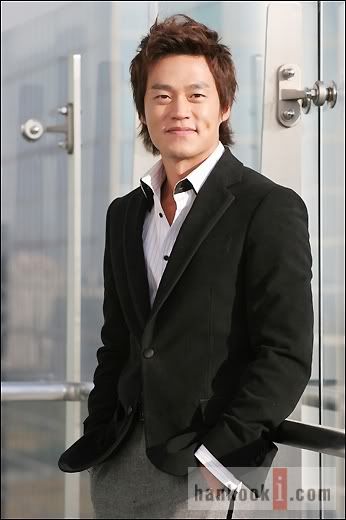 Anyway, I sneaked a peek at the thread on soompi and downloaded one episode out of curiosity.
And then I saw this man...----->
And the next thing I know, I found myself downloading the rest of the episodes, reading all the reviews and analysis.
And now, each week, I wait impatiently for kind souls to upload the latest subbed episode (there are many kind souls out there). Sigh... this is not good.
'Lovers' is the 3rd in the 'Lovers' series by the same PD and writers.
Lovers in Paris
I enjoyed Lovers in Paris, though I was rooting for Lee Dong Gun. But Park Shin Yang was quite funny.
Lovers in Prague
Have yet to watch this. There have been mixed reviews for this. But it stars Jeong Do Yeon, a very respectable and versatile actress, so I guess I'll try and find time someday.
Lovers
This is the latest installment and originally, Kim Ha Neul and Kim Seung Woo were casted in the drama. It was changed to Kim Jung Eun and Lee Seo Jin later. Coincidentally, the storyline is based on a 1998 movie starring Park Shin Yang.
I must say that the story so far has been quite interesting though I can't quite say why. It's the usual story of 2 men (who are probably brothers...this being a Korean drama) fighting over a woman. Of course, there's also another woman on the scene. And of course the 2 men are not on good terms. To know more about the storyline, go to
soompi
Shheesshhh... how 'unpredictable'?
In short:
Kang Jae (Lee Seo Jin) is a gangster, with a long-time girlfriend, You Jin (Kim Kyu Ri). Through various situations, he got to kow Min Joo (Kim Jung Eun) and of course they both fell in love. At the same time, Sae Yeon (Jun Jang), through a forced matching making date, became interested in Min Joo too. Sae Yeon and Kang Jae have been living together since they were teenagers. They have also been rivals since and hated each other guts. You Jin and Min Joo (who is a plastic surgeon) happened to be neighbours. And oh, Sae Yeon's first love was You Jin. Really amazing how everything ties up.
And yet.. there was something in this drama. Besides the fact that the script writers have not allowed it to become too wishy-washy, I must say the 'dimple' man has quite a bit to do with it. Like Park Shin Yang in Lovers in Paris, (also a dimpled man), Lee Seo Jin has this rather straight face look that is absolutely priceless in moments of comic. And there were some funny moments. Hehe! Just look at these pictures...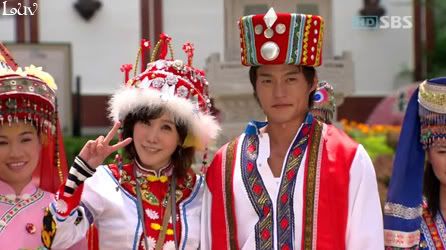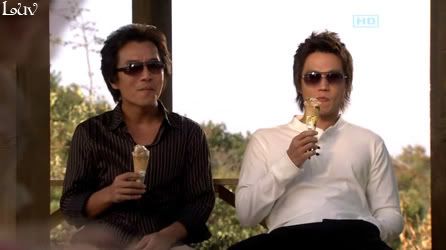 But better than Park Shin Yang (a gf of mine just described him as a typical Korean ajussi yesterday. PSY fans, don't kill me) is his physical attributes (read = 'body') and his 'fighting' scenes. Ok, well, he is supposed to be a gangster in this drama, so I guess he should be able to fight well.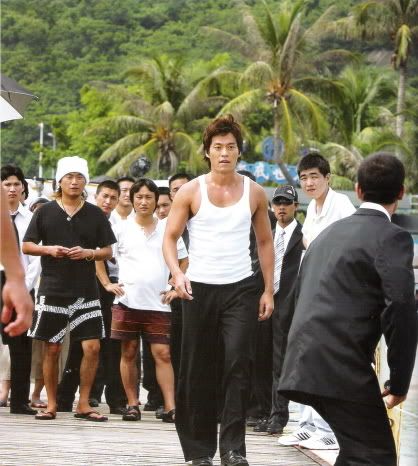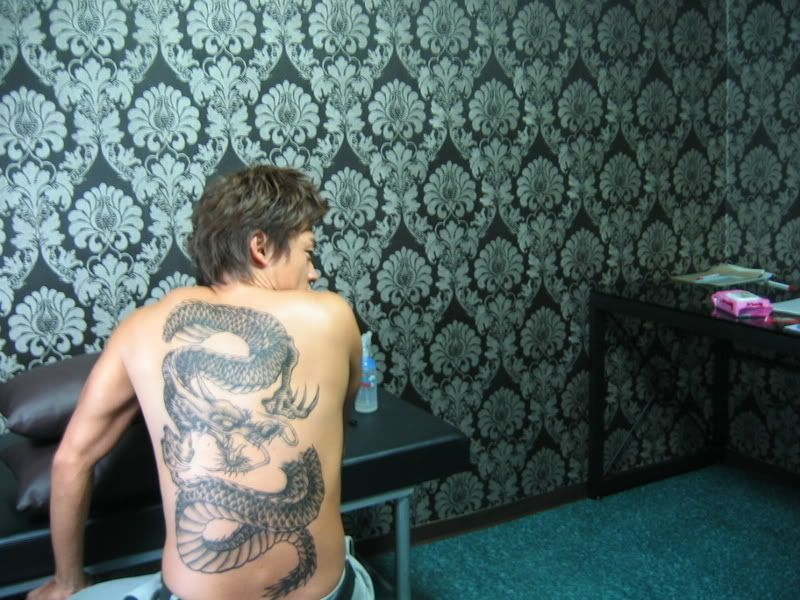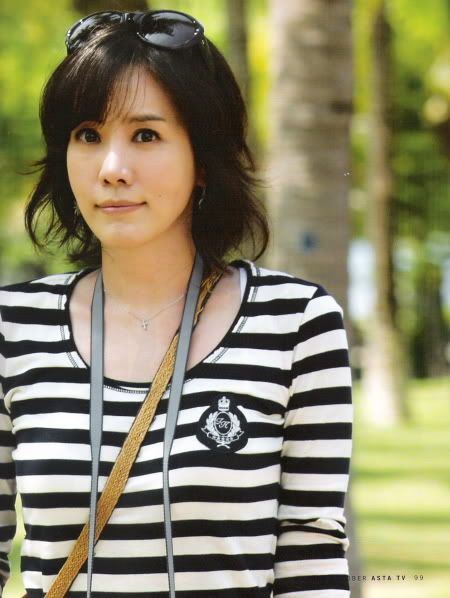 Kim Jung Eun, as I've said before is perfectly ok when she doesn't try to act cute. In fact, I would even go as far as to say she is good when she is 'normal'. She is incredible when she has that watery-eye sad look. But when she tries to be innocent and cutsie, that's when I go ...aarrgghhhh...and I roll my eyes over.
And me doth think the make-up people have put a touch too much make up on her. I really quite like her in 'All About Eve'. (which I just blogged about
here
)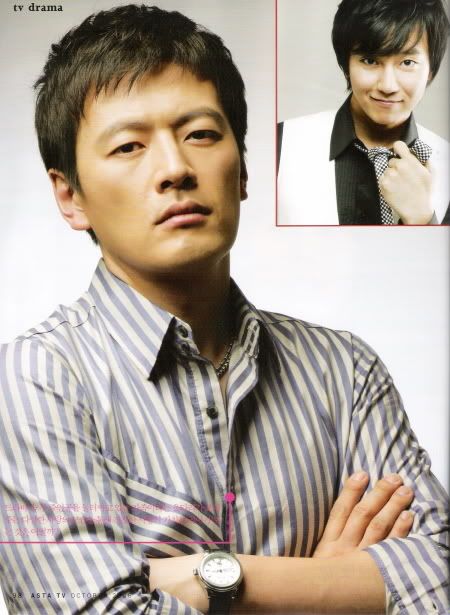 Another surprising fact is that I'm actually beginning to like the 2nd male lead, Jung Chan. To be more precise, I like his deep voice. But he's rather good in his acting too. I thought he was new but my friends pointed to me that he was in
Papa
(yes, the drama starring Bae Yong Joon and Lee Yong Ae. Not the best BYJ drama, unless you want to watch him snowboard...in which he was pretty good and cool looking). Anyway, Jung Chan was LYA's brother in the show...a very young man at that time.
The 2nd female lead, Kim Kyu Ri is pretty though I'm not too familiar with her works. So I guess the cast is at least ok.
And the background is quite interesting as well with all the gangster stuff, internal gang politics etc. Very much like a HK drama.
But so many of these Korean dramas started off great and then went downhill halfway through, so I was waiting breath with episode 8 onwards. Would it become a soggy kimchi drama? So far...thankfully, it still retains its full flavour albeit with some typical scenes. So I'm crossing my fingers and toes.
Lee Seo Jin had another drama on cable tv recently called 'Freeze' where he's a vampire. Now that sounds really interesting to me. You can watch a short preview
here
I have to admit that the dramas that so far, all the Lee Seo Jin dramas that I've watched, have impressed me.
In Damo, he mersmerised many with his portrayal of Naeuri Yoon. I've wrote about Damo a few times in my previous bloggings, and if you haven't watched it, I strongly recommend it. Unfortunately, my heart went out to Jang Seung Baek (Kim Min Jung) in the drama. Btw, Kim Min Jung was also in
Lovers in Prague
and is now in another cable drama called 'Someday'.
If you are really keen about Lee Seo Jin, then you should watch Phoenix as well. It has another hot kimchi guy in it- Eric of Shinhwa in his first full drama. But personally in Phoenix, I think it was Lee Eun Joo who stole the show. Not only was she good in her acting, she was also beautiful. Unfortunately, it was also her last drama before she committed suicide in 2004.
Anyway, it seems that
Lovers
has only 16 episodes (unless that's changed), which means gasp! there's only 2 more episodes to go! Can't believe they can wrao everything up within 2 episodes..so maybe it will be extended.
Meanwhile, enjoy the
MV
You can also get the ost
here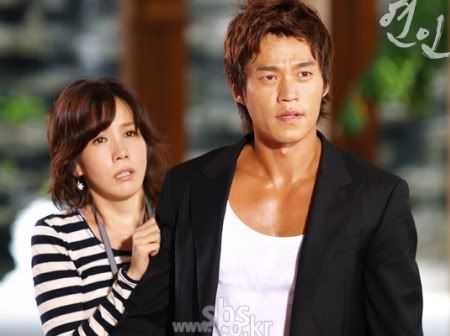 Sigh.....