Millionaire's First Love
Cast: Hyun Bin (Jae Kyung), Lee Yeon Hee (Eun Hwan)
Director: Kim Tae Kyun
Trailer
OST- One by TVXQ
Ost- Insa/ Hero by TVXQ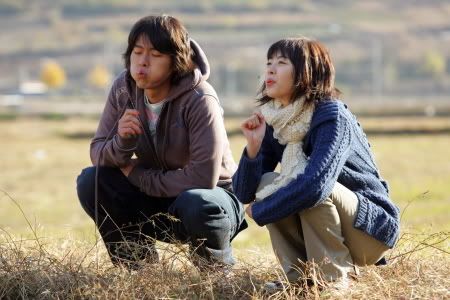 After the immensely popular drama,
My Name is Kim Sam Soon
, most of us were charmed by a dimpled, cute guy called Hyun Bin. Me included of course. I still chuckle to myself when I think of the karaoke scene or the scene when he was stranggling the toy pig. So when he took on this movie, I was pretty excited.
But along the way, I got distracted...mainly by King and the Clown. haha! But over the last weekend, I finally digged it out and managed to watch it.
Synopsis:
Jae Kyung is a spoilt brat, who does doesn't try hard at anything and is rude to everyone. But he is rich and at the stroke of midnight, when he turns 19, he will become a millionaire when he inherits his grandfather's money.
But it turns out his grandfather is rather wise and is determind to guide his grandson beyond from the grave. Jae Kyung is given an ultimatum: graduate from Boram high school in a small little village. If he gives up, then he will only receive 0.1% of the inheritence. And he is not allowed to bring any of his world comforts with him. In other words, he has to rough it out there.
Well, if he can't quit on his own, then he would get the school to expel him, including starting a fight and trying to bribe the principal.
But something happened along the way (this is a Korean movie!). He keeps meeting Eun Hwan, a girl who seems to everywhere in the tiny village and yet, wasn't one bit interested in him.. or is it?
This was Hyun Bin's first movie and every single familiar plot that we know in Korean movie/ drama was employed.
Childhood friends, meeting again after many years, spoilt handsome guy turn good (how come they don't normally have a spoilt pretty girl turned good?), terminal illness etc.
Though the plots may be old, but if they are done well, it can still bring a tug to the heart and a tear to the eye. Unfortunately, I couldn't feel the full development of Jae Kyung changing for the better because of Eun Hwan. Neither could I sense the chemistry betweent the two of them. And I felt that the sub-plot involving Eun Hwan's mother was unnecessary. It did not bring abything extra to the movie, neither did it make me feel more sorry for Eun Hwan's condition.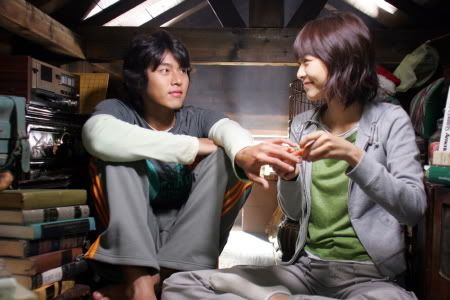 However, I must admit that I like Yeon Hee. She has a fresh face that is very endearing, without being overly sweet. Of course, Hyun Bin looks as good as ever, especially when he is driving that nice flashy car. He is always good eye candy. And there are cute scenes in there, like when Eun Hwan was painting Jae Kyung's toe and finger nails. I think the painting of finger nails with crushed flowers has something to do with meeting your first love... from what I vaguely remembered from Untold Scandal. hahaha!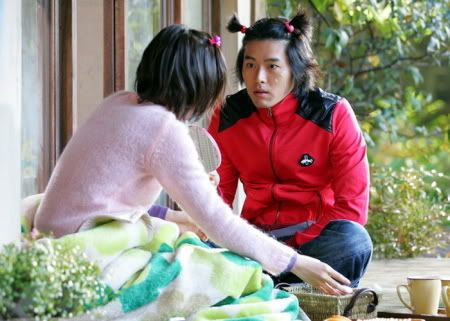 And of course Hyun Bin looks ridiculous but cute when he was being made up. Actually, this reminded me of Jo Ji Hoon in one of the scene in Goong but as I think the movie was probably filmed before the drama, I don't the scene was copied from the drama.
And the Korean scenary never fails to draw a breath of awe in me. That's one of the reason why tourism will continue to do well there. I would say it's a medicore movie, but then, if you just want to drool over Hyun Bin, it's adequate.....
Another thing that I did discover was TVXQ. In my previous blog on
Boy Bands
, I mentioned I didn't know anything about them. Well, they sung two of the songs in the movie and I rather like them. So I'll probably try and find out more about them.
The movie and the ost are available from Yesasia. Click on the images.
Movie
-

Ost
-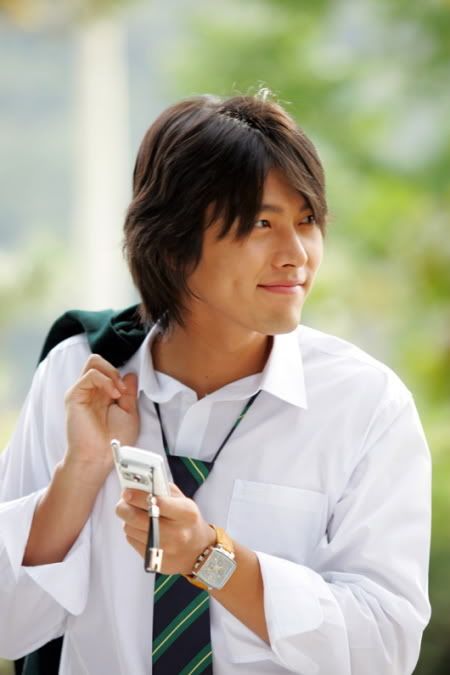 The eye candy