Grapes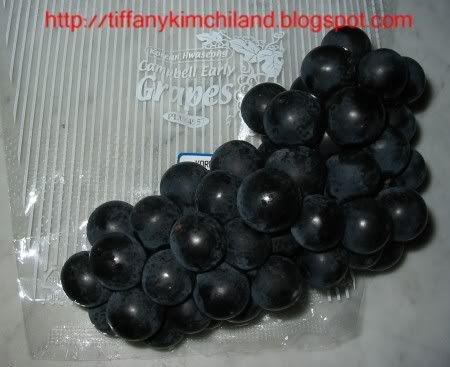 This is a bunch of grapes.
It's not just any grapes though. It says Korean Hwaseong- Campbell early grapes.
In other words, these are Korean grapes. But of course I bought them in our local supermarket here in sunny Singapore lah.
I first tasted Korean grapes when I was in Korea in 2004, also in September. Korean grapes are seasonal and they are a little different from the usual grapes. It tastes like what someone said :"gummy bears". It's also very winery in taste. In fact the salesgirl at the supermarket kept telling me that I can make wine out of it. Err... right, how many bunches of grapes do I have to buy to m ake a cup of wine?
Actually, it seems
HWASEONG
have other interesting aspects besides grapes and their Yongjusa Temple is listed in KNTO as one of the places to visit in that vicinity.
Apple picking
And with grapes, I reminded me of my very first trip to Korea in 2003. We were on our way to Chaum beach (which is rather far away). Along the way, the guide asks us if we would like to stop by an apple farm and pick apples. Of course we said yes. For city folks like us, how often do we have the chance to go pick apples? Unfortunately the apples that I picked were not very big...due to my height limitation..
For those of you who watched the drama, My Name is Kim Sam Soon, besides being captivated by the story and the cast (especially Hyun Bin), I think we were all drooling over the cakes. I know of quite a few chingus who developed cravings for cakes whilst watching the drama.. me included.
O'Sulloc
O'SULLOC
is a green tea shop.. meaning all the food in here are made from green tea. From the drinks to the cakes. They have 2 branches but the most convinient one is in Myeongdong. Unfortunately the website is in Korean but the photos...oh man... I'm salivating already. Fear not, you can get the address from KNTO's website.
Cake shop in Samcheok
I'm not sure what is the name of this cake shop. But we were in Samchecok last year and passed by this shop. We couldn't resist buying the cakes even though we just had lunch. Obviously I gained weight during the trip. Photo from Kaylin.
Korean bbq restaurant
This was a highly recommended restaurant from the Koreans and the food was really good. But I remembered it was pretty crowded and you have to make reservations for a table. I'm not sure if it's still around, so better make a phone call if you are planning to go there. Important thing to note- the smell will linger in your clothes for days after, so wear something that's due for washing if you intend to go there. I think I can still remember the smell now..after 2 years. But it was well worth it.
Name: 석기시대Address: 서울시 종로구 관철동12-11 (T: 02 737 3692)
Roadside stalls and Pojangmacha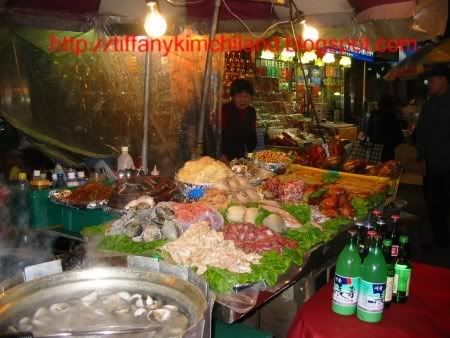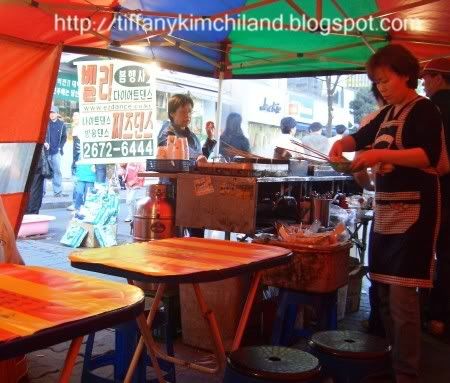 I seriously think some of the best food are from these little roadside stalls (I'm not sure wht they're called), which are prety much everywhere. This stall was in Namdaemoon and if the food looks delicious to you, they are. But you should really have it with a group of friends because
a) there's too much variety abd you end up wanting to try all of them
b) it's not cheap
Pojangmacha is the photo on the right and if you've watched enough Korean dramas and movies, it's where the Koreans normally go to have a soju or two. The food isn't expensive but the soju is...and potent too. But both stalls have my favarouite snack- Eomuk (어묵), which is skewered fish sausage. Have it on a cold night with the soup..it's absolutely heaven.
Other roadside stalls
Singapore has done away with roadside food stalls for so long that I'm always fascinated when I go Korea and see the different types of food available whether from a cart, a van or just err... a box... Maybe the food taste better because they are not as 'clean'? haha! (photo of the BBQ chicken from Jos)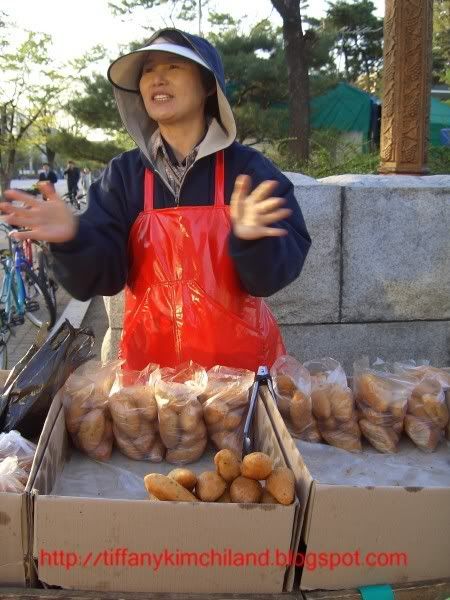 Kimchi aglore
When I first saw this in the Chuncheon market, I was totally drawn by the colours and the variety. If I ever go that way again, I will definitely buy a few types of kimchi to try.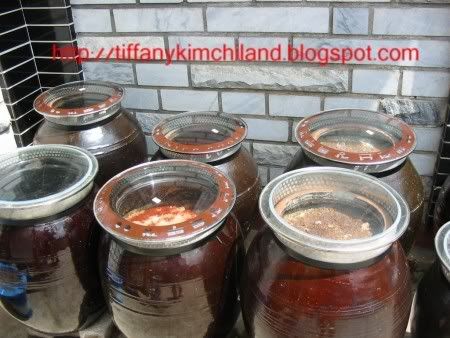 And this is how kimchi is beeing made... the traditional way. Actually looks quite gross but the result, if done properly, is heavenly. Believe me, it's different from the ones you buy from the supermarket.
Bean paste soup
This is one of BYJ's favourite dish- bean paste soup, when he was dieting and when BOF was still at the old address (it's now the BOF Park). I doubt he goes back to that place to eat anymore and I hate to say this, but it tasted really awful. bleah....but it's supposed to be healthy.
Not on my to-eat food.Royal food
This is Gujeolpan, which is a royal cuisine of the Choseon Dynasty. It's really different from the everyday Korean food and the taste is alot more delicate. As with royal food, it's the quality that counts and not quantity. I knowt DaeJangGuem sparked off a craze and interest in Korean royal food. Again, you can go to
KNTO
website for information on where to try this wonderful cuisine. Of course, please don't expect to pay roadside price for royal cuisine but if you can afford it, then it's really worth trying. I can only say I was lucky to have been able to try this at the invitation of KNTO during one of my trip to Korea. : )
Chuncheon chicken spare ribs
But our favourite, favourite food is actually the
ChunCheon chickenspare ribs
... You can also get this dish in Sinchon but the taste just isn't as good. The chicken pieces are fried in this big pan together with vegetables, sausages and tteokppokki in the spicy sweet sauce. You've got to remember to leave some of the ingredients in the pan, and then ask the staff to put in some rice and fry them together. It's so yummy, I don't even know how to describe it. Photo from Esther.
You know, after looking at all the photos and blogging about Korean food, I had a real craving for Kimchi Ramen, and so I had this for lunch today.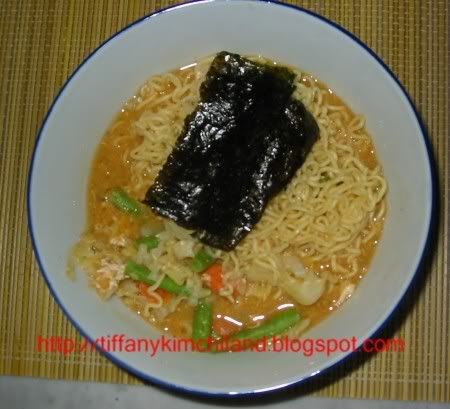 But what I really want is the real thing in Korea... sigh...
I want to go Korea! 한국에 가고싶어서!