Korea produces an amazing number of dramas each year. The three stations have an average of at least 5 dramas on each week.. all competing with each other for viewers during primetime. No wonder a 'new' star arises every few months.
Anyway, according the the latest September issue of Asta TV, the following are the 'to-look-out-for' dramas.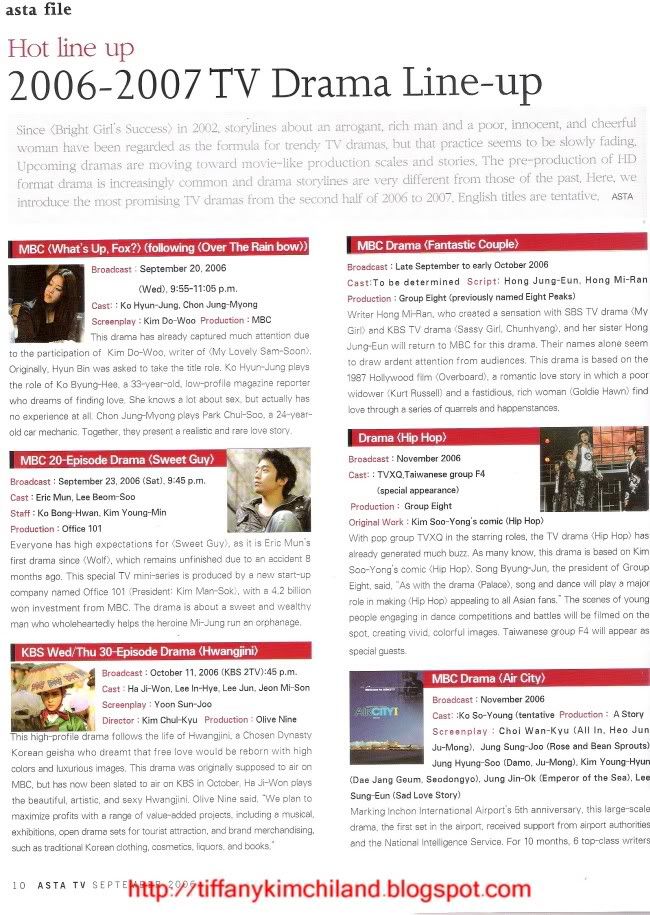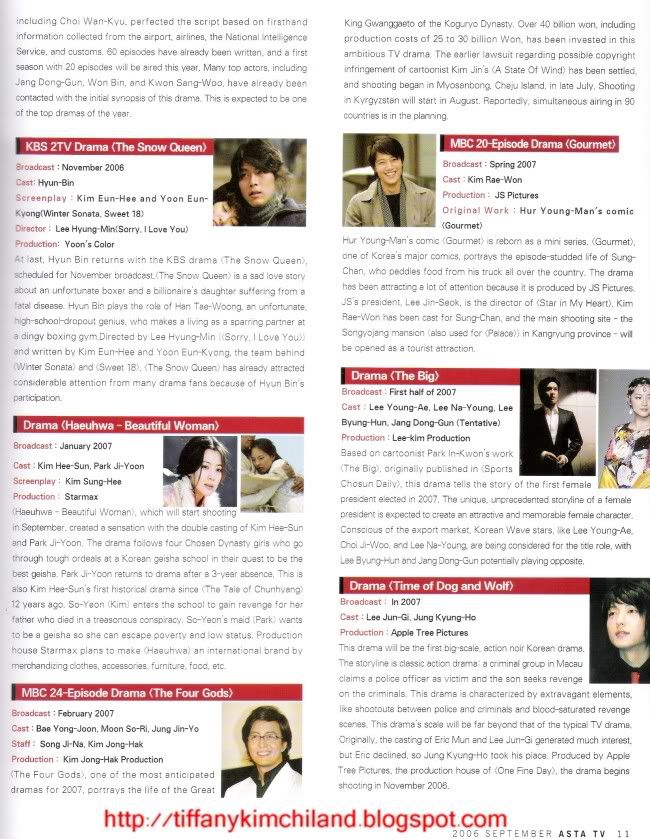 'What's Up, Fox'- I think this is supposed to be hotly anticipated because of Ko Hyun Jung. Can't comment because I have yet to watch Spring Day and I don't think I will have the chance to watch Sandglass, of which she was famous for. But she looks a little hmmm... errr... plumpish lor.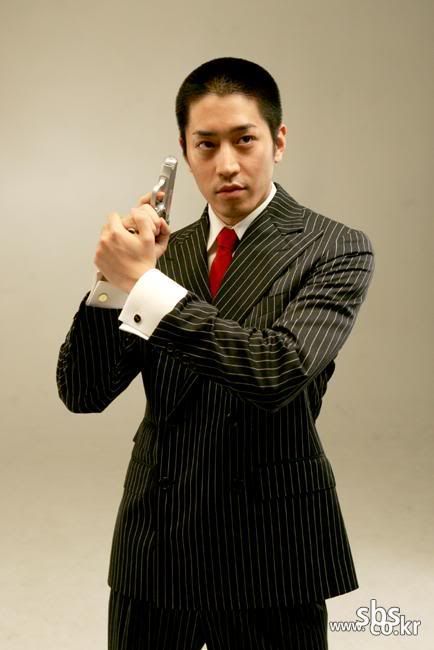 Eric is not going to be in Sweet Guy (according to news, this is being pushed back). Instead he's going to be in 'Invisible Parachute Agent'... and it starts airing tonight! Wow! No wonder his trip to SG is so short. Saw some of the photos.. quite a change from his last 2 roles. Think Eric got good potential in a acting career.
Hwangjini. I've only like Ha Ji Won in Damo, so don't know if this will be any good. Song Hye Gyo is going to appear in the movie version later. Can't imagine her in such a role as I keep remembering her either as all teary eye in Autumn in my Heart or the lop-sided pony hair girl in Full House.
It would be good to see Hyun Bin again on the small screen in 'The Snow Queen'. Missed his dimples. hahahaha!
Hmm... Kim Rae won is pretty busy. He's currently filming a movie, 'Sunflower', which was shortly after his drama 'Which Star Are You From?'. Have only just started on this drama but the chemistry between him and Jeong Ryo Won seems pretty good so far. Oh.. there's also a movie version being filmed at the same time but cannot remember who's in it.
Another super busy person is Lee Jun Ki. He's also filming a movie now, 'Magnificant Vacation' though not as the lead. The article says he starts filming in November. Hmm.. that means not much time to rest after finishing the movie. But I thought he's supposed to be filming a K/J movie, 'First Snow'? How many is he doing????
And finally, finally, finally, Bae Yong Joon (my fav of course) has finally started filming on GKFG properly on Jeju Island. Seems there were quite alot of fans at the airport. How did these people get the news??? can't wait to see how he looks in the drama.
Don't have much news for the remaining dramas listed so will have to wait and see.
There are quite a few other dramas they didn't mentioned because there are just so many. Eg, I would be interested to find out Soon Yoon Ah and Kim Sung Soo's drama, 'Nuna', which is being aired now over the weekend. And Um Tae Woong is in 'Stranger than Paradise Now'. hehehe!
Sigh.. so many dramas, so little time...