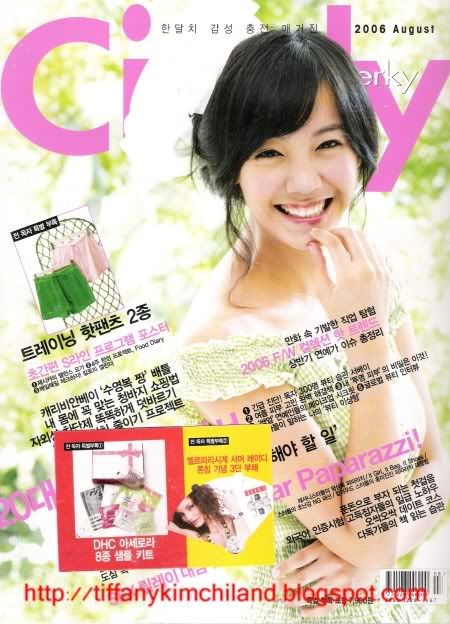 As I flipped through the latest edition of
Cindy the Perky
, I was drawn to the following pages..... hehehe! I just wish I understand Korean more though...
If someone could translate them into English. I bet there would be lots of grateful hungry tourists out there.
Any takers?
Tiffany says hopefully...*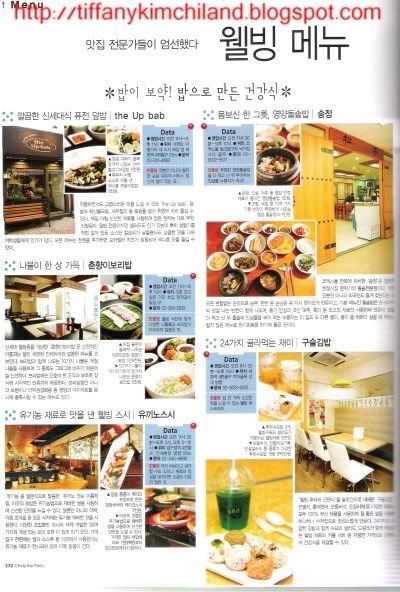 There's a introduction of the best menu from 40 different restaurants. Guess which one made my mouth watered? The one from the top right... the restaurant 송정. Unfortunately don't know enough Korean to understand the description but understand enough to know that it's open from 11.30am to 10pm. Most importantly, the phone number is there. : ) hehe!
I really love the side dishes that always come with the Korean meal. These sides dishes, which come in small portiions, are meant more as appetisers. But they are refillable and there's been a couple of times when i ate more of the 'side dishes' than the main dish. hehehe! The best one I had so far was the restaurant in Samchuk, where BYJ often ate whilst filming April Snow. It cost only 10,000won and I think there's about 20 side dishes. The place is called 은헤식당. Yummy! If you want to read about my journey to Korea last April, you can go
here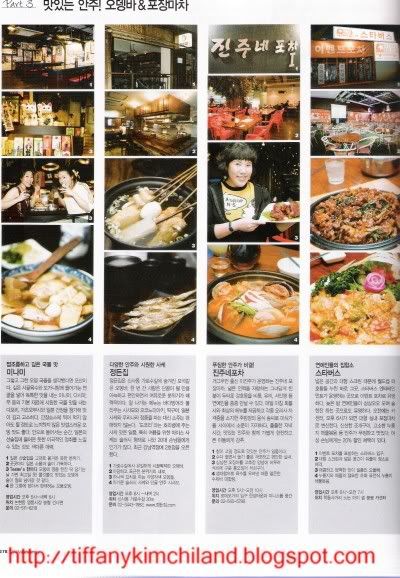 And these, these.. omo, omo... I'm practically drooling just looking at these pictures.
I really, really like those fish cake thingy (must remember to go find out the Korean name for it)
Actually, I remembered some of the best meals I had in Seoul was in those 'tents'. It's especially good when the weather is cold and you have the hot kimchi soup. Share the meal with a few good friends and I guarantee you'll have a most memorable experience.
These 'tents' are not cheap either , so do be prepared to pay, more if you are drinking. Which would really enhance the whole experience. hehe!
Soju anyone?
bb?
And speaking about food, Dae Jang Guem, the most popular drama in recent years has often been associated with food. There are even tours to Korea just to try the kind of food featured in the drama. Guess what? Someone from the drama is actually going to be in SG today (well, it is Wednesday already). No,no, not Lee Young Ae. Not Ji Jin Hee either.
It's Yang Mi Kyung or Lady Han in the drama. Seems she has been invited by the Korean Embassy here for some cultural events. She will arrive here on Asiana Airline at 7.25pm on Wednesday night. Then on Thursday, there will be various media interviews and also an autograph session. The autograph session will be held at Jurong Point form 12pm to 1pm (But why Jurong Point? Very far away leh. And such odd times too. How to be there???)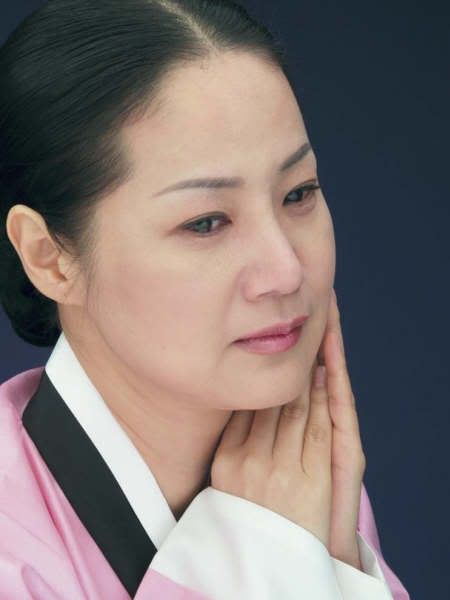 Ok, who's Yang Mi Kyung? This is Yang Mi Kyung. Quite pretty right? Very graceful looking.
So please do down and support her if you have the time on Thursday noon, ok?
And I can't talk about palace food without thinking about Gosireh (BYJ's restaurant in Tokyo). I wonder if it's really good... I heard it's fully booked till October. Sigh.... You can read more about it at
bb's blog
Strangely, in my other blog tonight,
Breakfast with Tiffany
where I reviewed a local movie, "Be With Me", food also featured strongly there too...
All these talk is making hungry. 배고프다! Think I'd better to go to bed before I drool over my laptop.