I've been mesmerized by a very pretty young man lately. No, he's not my toy boy. Can't afford him. This boy earns more than this auntie here.
I'm talking about Li Jun Ki from the drama My Girl and the record office breaking movie, The King and the Clown.
Above: 왕의남자 The King's Men, aka The King & the Clown
Left: 바이걸 My Girl
(fr Asta TV Eng Ed, Mar 06)

I've seen and heard about Li Jun Ki since last year because of his drama and movie but dismissed him completely then. Indeed when I first saw photos of Lee Jun Ki, I kept thinking... now why and how on earth would he be popular with the ladies. He's too pretty and looks...... I'm sorry I have to use the word, "sissy". And then at the urging of my K Drama friends, I started to watch My Girl.
What can I say? At the end of the 2nd episode, after 2 fight and chase scenes, I was totally charmed by this 'pretty man'. How could anyone look so pretty emit such a manly air? If you see him in action, you will realise that the words, "sissy, soft, gentle" do not fit this man at all. There is a certain charisma about him.
My Girl was enjoyable not just because of the on-screen chemistry between Lee Dong Wook and Lee Dae Hae. But also primarily because LJK brought the character of
'Seo Jeong Woo'
to life.
'Jeong Woo'
has a certain 'madness', a 'don't-mess-with-me' in his eyes and actions. This is one man I wouldn't want to trifle with. And yet, those same eyes could brim with tears that would make you cry with him.
I thought the scene in the last episode when he realised that he had again missed his chance to be with Yoo Rin, in the office.... those trembling hands, the shaky voice and the teary eyes, as he tried hard to control his tears, when he said: "Why is it that I still can't see what's in front of me again?" He was truely heart broken.
But there's also much liveliness about him that's enduring. I was especially tickled by his antics when I watched the Making of Grace mv (By Lee Soo Young). And yes, I've bought Lee Soo Young's latest album. Sigh... see what a pretty young man does to me? (Actually LSY's album isn't too bad. There are quite a few songs that I like)
Of course now I'm looking forward to watching The King and the Clown, which by the way has since been watched by 1 in 4 Koreans or 12 million people. There is a hint of gay theme in it but this is nothing like Brokeback Mountain. For a review of this highly anticipated movie which is about 2 lowly clowns and a mad king during the Chosun dynasty, go to
http://www.koreanfilm.org/kfilm05.html
And the chances are high that I'll be able to watch it in the cinema here. Hurrah!
Pretty, sexy, mischievous Lee Jun Ki
As I was going through this month's supply of Korean magazines, I'm afraid I succumbed to temptation and bought the April's issue of Screen just for this poster.... Sigh.....This is not good.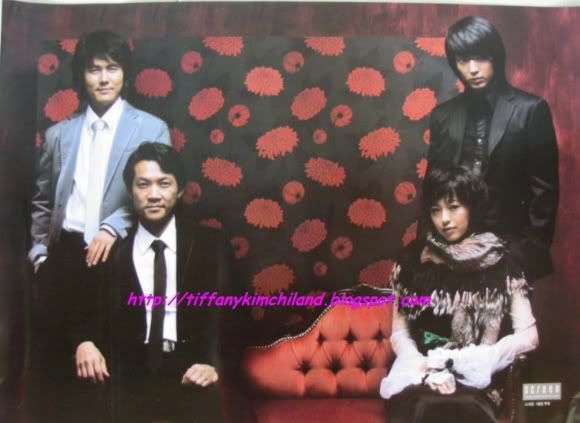 Poster from Screen, April issue